Taiwan's architecture prize aims to help Syrian refugees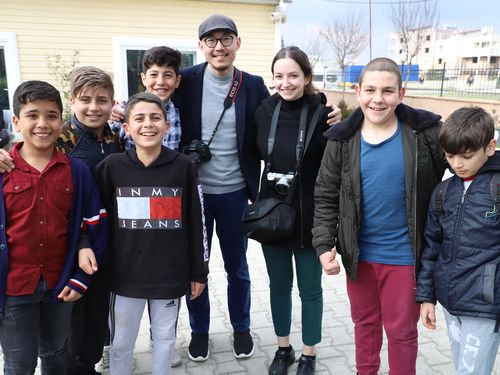 Taipei, June 8 (CNA) The 2019 Taiwan Prize of Building 4Humanity Design Competition (B4H-DC) is seeking architectural designs that will contribute towards social inclusion of Syrian war refugees into the Turkish border city of Reyhanli, according to the competition's website.
The competition, organized by Taiwan's Alliance of Architectural Modernity, the Department of Architecture at Shih Chien University and other architectural organizations from Germany and Portugal, has begun accepting submissions for designs that help Syrian refugees integrate into Reyhanli, a city whose refugee camp accommodates nearly 120,000 Syrians, according to the website.
With a 25,000-square-meter site located in the southwestern outskirts of Reyhanli, the B4H-DC challenges students and professional architects to propose "radical but applicable design ideas for transitional shelters," according to the website.
The shelter design should include 5,000 square meters of indoor floor area for 400 Syrian settlers to live in and should consider including facilities that provide food, healthcare, first aid and indoor leisure activities for the wounded elderly, war widows and orphans, the website reads.
For professional applicants, their designs have to include a social and intercultural service center for both Turks and Syrians, which promotes cultural exchanges between the two groups of people, according to the requirements for the designs.
The intercultural service center should engage Syrians in Reyhanli's social, economic and cultural life and build resilience for the community, the regulation reads.
The B4H-DC offers US$3,000 and US$5,000 as the top prize for the student and the professional category, respectively, the website shows.
The deadline for design submission is Oct. 10 and an award ceremony is scheduled on Nov. 22 in Taipei.
Reyhanli, near Turkey's border with Syria, is under constant threat from the Syrian civil war, and began providing shelter for Syrian refugees in 2011.
In 2013, 52 people were killed in Reyhanli due to mass car bombings that the Turkish government said were backed by Syria's government.
After the Turkish Armed Forces launched Operation Olive Branch against Syria at the start of 2018, the city suffered from multiple Syrian ballistic missile attacks.
Chiu Chen-yu (裘振宇), a B4H-DC competition director and an assistant professor of architecture at Bilkent University in Turkey, said the Reyhanli-based Syrians are in urgent need of secure accommodations.
"The Syrian civil war has entered its eighth year, but there are no decent architects building decent shelters for the refugees," Chiu said. "Not even a single building."
Chiu has taken his team to measure and photograph the competition's design site that is several kilometers away from the Turkey-Syria border.
He said he believed the B4H-DC achieves humanitarian aid through architecture and will really save people.