Penghu station opened to promote Taiwan's underwater cultural assets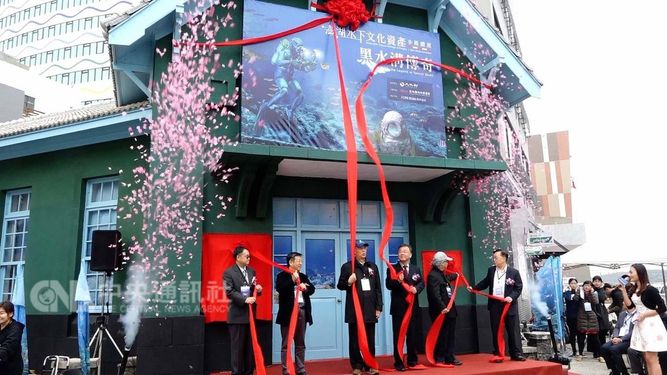 Taipei, Dec. 26 (CNA) The Ministry of Culture's Bureau of Cultural Heritage (BOCH) on Wednesday opened an underwater archaeological work station in the offshore island county of Penghu to preserve and exhibit Taiwan's underwater cultural assets.
The workstation, formerly the historical Penghu Post Office, was officially opened by BOCH chief Shy Gwo-long (施國隆), Penghu County Magistrate Lai Feng-wei (賴峰偉) and other local officials.
Shy said before the promulgation of the Underwater Cultural Heritage Preservation Act on Dec. 9, 2015, Academia Sinica was asked in 2003 to conduct a survey of underwater cultural assets in the waters around Taiwan.
For more than a decade, underwater cultural assets have been recorded in the waters around Penghu, Shy said, revealing that as of September this year, a total of 87 shipwreck sites of historical value had been found, spanning from the Ming and Ching dynasties to the Japanese colonial era.
To complement the official opening, a multimedia exhibition, which kicked off that day, will run until the end of November next year, showcasing artifacts from the British steamship S.S.Bokhara, which sank in a typhoon on Oct. 10, 1892 near Penghu.
The building of the work station, originally constructed in 1926, is located at the corner of Minzhu and Zhongshan roads, close to Magong Harbor, an area that was first developed under Japanese colonial occupation, Penghu County's Cultural Affairs Bureau said.
The site was a post office under the Japanese and after Retrocession became a combined post and telecommunications office, the bureau said.
In 1972, the office and its staff were relocated to their current location on Zhongzheng Road, the bureau pointed out.
The original building was designated a historical building in 2013, the bureau noted.
According to a separate statement issued by Penghu County government Wednesday, the work station will in the future serve as a museum showcasing underwater-related exhibitions to promote Taiwan's rich array of underwater cultural assets.