Germany unveils commemorative plaque of German Empire consulate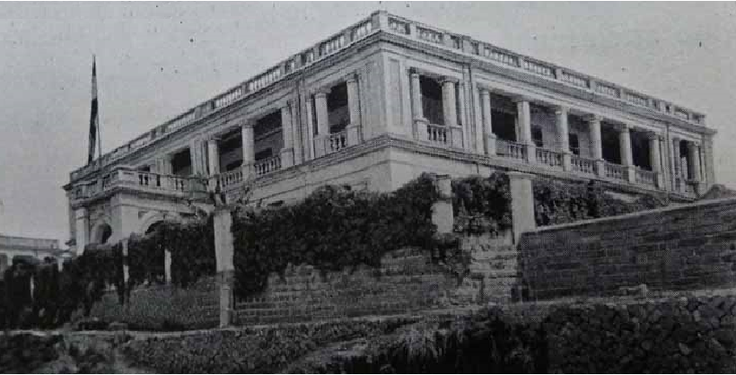 Taipei, Dec. 12 (CNA) Germany's top envoy to Taiwan unveiled Wednesday a commemorative plaque at the former site of the German Empire's consulate in Taiwan.
Thomas Prinz, director-general of the German Institute Taipei, which represents Germany's interests in Taiwan in the absence of official diplomatic ties, unveiled the plaque on a wall outside the Zhongxiao Junior High School located in Taipei's Dadaocheng district.
The school is built on the former site of the Kaiserlich Deutsches Konsulat für Formosa or consulate of the German Empire in Formosa. Opened in 1895, the consulate was the first official consulate of the German Empire in Taiwan.
"I am honored to be here for the ceremony, which means our official relations (between Taiwan and Germany) have over a century of history," Prinz said at the ceremony.
He said he was happy to find that the original site of the consulate has been taken over by a junior high school, where young Taiwanese are learning every day.
Prinz said his office will work closely with the school in the future on possible cooperation due to their shared history.
Ke Liang-ruey (柯良叡) from the foreign ministry's Department of European Affairs, who attended the ceremony, said the mid-19th century was an era of Taiwan's growing economic development and external trade.
German traders came to Taiwan in the late Qing Dynasty. The booming trade led to the rise of Dadaocheng as the commercial center of Danshui port.
Dadaocheng later developed and prospered thanks to its links and trade, he noted.
The German Empire Consulate in Taiwan was established in 1895, just about the time when Taiwan came under Japanese rule. Although the consulate operated for only 13 years in total, it still made a quite special footprint in the history between Taiwan and Germany, Ke said.
With the efforts made by the German Institute and the high school, the piece of history has now regained public attention.
According to the German Institute Taipei, after many years of research into old documents and history books, it finally found the exact location of the consulate in 2016.
According to the institute, the impressive two-story building was built right on the banks of the Danshui River.
Arthur von Butler, a German businessman living in Taiwan, was in charge of constructing the building on behalf of the German Foreign Office. Constantin Merz was the first consul designated to Taiwan. In 1908, the consulate was closed and handed over to the Japanese administration. Later, the building was torn down.