Taiwanese TV drama to be aired in countries across the world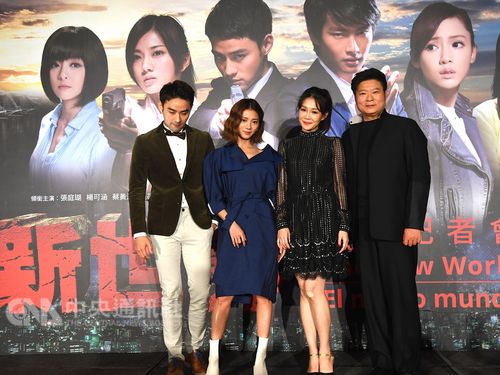 Taipei, Dec. 4 (CNA) The Taiwanese TV series "The New World" will soon be broadcast in several other countries around the world, including some of Taiwan's diplomatic allies, in an effort to expand Taiwan's soft power, the foreign ministry said Tuesday.
Henry Chen (陳銘政), head of the ministry's Department of International Information Services, said at a press conference that the series is currently being dubbed in Spanish and English in preparation for broadcast in parts of Latin America, the Caribbean, Asia and the United States.
Airing the TV drama in other counties across the world will help promote Taiwan's culture and soft power, in line with the ongoing efforts of the Ministry of Foreign Affairs (MOFA) and the Ministry of Culture, Chen said.
Starring Mini Tsai (蔡黃汝) and Chang Ting-hu (張庭瑚), "The New World" is about the reunion of four childhood friends who grew up in the same village but drifted apart over time. Set in Taiwan, it includes elements of suspense, crime and romance.
Such stories can find a place outside Taiwan, said Jasmine Huggins, the ambassador to Taiwan of St. Kitts and Nevis, one of the English-speaking countries in which the series will be aired.
A quality film with a powerful narrative, "The New World" can help other audiences understand the culture of Taiwan and experience its beauty, Huggins said at the press conference.
The 2015 series will be broadcast on 21 TV networks in 16 countries, including the Philippines and Indonesia, which are listed in the Taiwan government's New Southbound Policy, according to MOFA.
Outside Asia, the TV drama will be aired in Los Angeles in the U.S., and in Belize, St. Vincent and the Grenadines, St. Lucia, and St. Kitts and Nevis, four of Taiwan's diplomatic allies in the Caribbean.
It will also be broadcast in the allied Latin American countries of Guatemala, Nicaragua and Honduras, as well as in Mexico, Peru, Colombia, Argentina, Uruguay and Ecuador.
Since 2014, MOFA and the Ministry of Culture have launched three similar initiatives.
In 2014, they organized the broadcast of the 2010 Taiwanese TV drama "The Fierce Wife" (犀利人妻) on 10 TV networks in eight Latin American countries.
The following year, the 2014 Taiwanese romance drama "The Way We Were" was also aired in Latin America, and last year "A Good Wife" was broadcast in most of the same countries.