Japanese textbook exhibit highlights practical aspects of education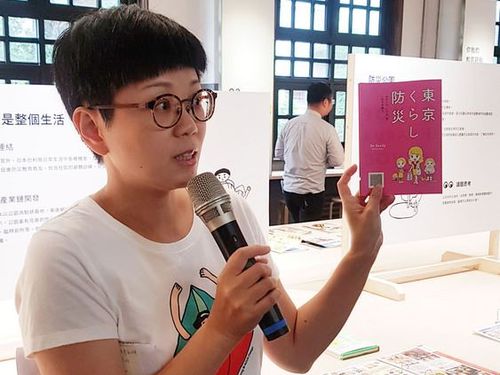 Taipei, June 20 (CNA) A collection of Japanese textbooks is now on display in Taipei, showing how practical knowledge can be conveyed to the public, according to the organizers.
The exhibition, titled "The most beautiful textbooks in the world," presents more than 150 books that contain practical information about issues such as disaster prevention and can serve as model for a revision of Taiwan textbooks, according to Chou Yu-ju (周育如), the founder of the exhibition's organizer City Yeast.
"After organizing numerous activities for more than a decade, we have found that the best way to change the aesthetics of a place is to begin with education," she said.
Chou said that after a visit to Japanese schools earlier this year, she began thinking of how Taiwan textbooks could be revised to change people's perceptions of everyday life.
She said she noticed that the logic and aesthetics of Japanese textbooks are intertwined with practical aspects of life.
For example, Japanese children learn about safety in the event of an earthquake or tsunami, Chou said.
However, Japanese books should not be the only model for a revision of Taiwan textbooks, she said.
"Learning from Japan is only the start, Chou said. "We hope our study of textbooks worldwide will continue to enrich ours in Taiwan, make learning in Taiwan a lot of fun, and more importantly will be linked to everyday life."
The textbook exhibition is being held June 15 to October 3 at Songshan Cultural and Creative Park in Taipei, with support from the Ministry of Education.
(By Sabine Cheng and Hsu Hsiao-ling)Endtem/pc