Decent working environment key to quality journalism: IFJ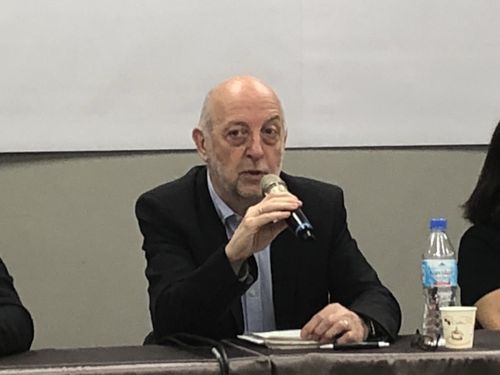 Taipei, May 11 (CNA) A decent working environment, in which journalists are free from editorial interference and fake news production, is fundamental to maintaining quality journalism, International Federation of Journalists (IFJ) officials said in Taipei on Friday.
"Press freedom cannot be (achieved) if you don't defend the working conditions of journalists," IFJ President Philippe Leruth said ahead of the organization's two-day annual general meeting starting Saturday.
The fact that press freedom in some media is subject to its ownership must be changed, Leruth said, giving as an example the group resignation of journalists from a newspaper in Cambodia.
Thirteen journalists resigned from Cambodia's Phnom Penh Post to protest perceived interference of independent reporting after the English-language newspaper was sold to a Malaysian investor.
According to The Economist, the Post's new owner, Sivakumar Ganapathy, is an executive at Asia Public Relations Consultants, a Malaysian firm which once worked on behalf of the Cambodian government.
On May 7, he demanded that an article about his purchase of the paper be removed from its website. A series of journalists refused, which led to the firing of the editor and the resignation of 13 more staff in protest, it reported.
According to the BBC, the article that the new owner asked to have removed included quotes raising concerns about the new ownership and its ties to the government, which has suppressed press freedom in the country.
Editorial autonomy should be protected, Leruth said, adding that the scope of press freedom has been expanded beyond journalists' personal safety in their quest for the truth to whether they can practice their profession in a proper environment.
IFJ General Secretary Anthony Bellanger said the increasing amount of fake news has also infringed on quality journalism, and to fix that problem, stricter ethics should be followed.
"In the present media landscape where everyone pretends to be a journalist on the Web, the only way for professional journalists to make a difference is to publish checked information," he said.
It will be the first time the IFJ, the world's largest organization of journalists, holds its annual meeting in Taiwan.
Representing around 600,000 members in more than 140 countries across the world, the IFJ meeting will focus on press freedom in the Asia Pacific, according to the event's organizer, the Association of Taiwan Journalists.