'Bravo' introduced as Taipei mascot, embraced by over 1,000 fans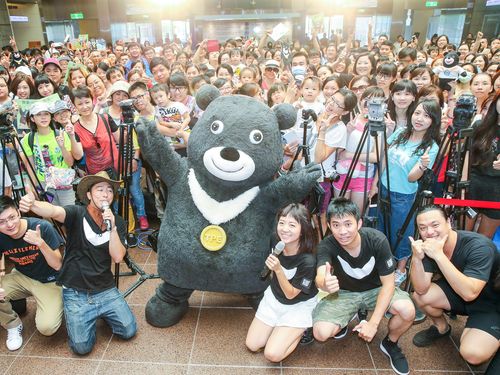 Taipei, Sept. 26 (CNA) The former Taipei Universiade mascot "Bravo," which became the city's official mascot earlier this month, was greeted by more than 1,000 enthusiastic fans on Tuesday.
The Formosan black bear Bravo arrived at Taipei City Hall in style, surrounded by reporters from over 20 media outlets, with fans queuing for hours to get a photo taken with the bear.
Bravo was asked many questions, including "Do you have a girlfriend?" "Did you lose weight after campaigning for the Universiade?" and "Do you think you are more popular than Taipei Mayor Ko Wen-je (柯文哲)?"
The city government team in charge of marketing for Bravo helped the mascot answer questions, adding that more events are planned.
Bravo will most likely appear in charity events and campaigns to promote the city's new policies, said Wang Ta-tung (王大同), a specialist in the city's Department of Information and Tourism.
Fu Chiu-feng (傅秋鳳), 47, a self-described Bravo fan, said that although she knows the mascot is operated by human beings, she is mainly attracted by its "personality."
"Bravo is nothing like other mascots, that are dull and boring," Fu said, adding that she follows the bear's Facebook page every day, which currently has nearly 141,000 followers.
For three-year-old Su Kuan-chieh (蘇冠傑), the most exciting thing in life is asking his parents what Bravo has been up to.
Jossie Wu, a Hong Kong fan who flew to Taipei for the event, said Bravo is known to many Hong Kongers, who are keen to buy related merchandise.
"I will come back again if there are similar events in the future," she said.