Replicas of Taiwan's earliest human fossils to go on display Friday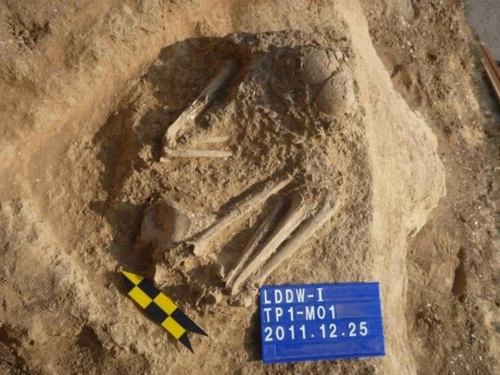 Taipei, Dec. 10 (CNA) Replicas of Liang Islander fossils, two ancient human skeletons excavated from Taiwan's outlying Matsu Islands, will go on display Friday in Taipei.
"The Liang Islander and Prehistoric Culture of Matsu Islands" exhibition at the National Museum of History will feature replicas of the skeletons, as well as tools made from animal bones, pottery and stoneware discovered at the same archaeological site as the skeletons.
The museum said it hopes the exhibition, which will run until Jan. 25 next year, will help visitors gain a deeper understanding of the Liang Islanders and Matsu Islands.
In late 2011, an archaeology team from Academia Sinica discovered a skeleton at a historic site on Liang Island, one of several islets that comprise the Matsu archipelago off the coast of China's Fujian Province.
The skeleton was found to date back 8,200 years and was named "Liang Islander No. 1." In July of 2012, another skeleton, dubbed "Liang Islander No. 2," was discovered at the same site and is believed to be 7,590 to 7,530 years old.
The two skeletons are the oldest human fossils discovered in an area that stretches from Hangzhou Bay in the East China Sea to the Vietnam coast.
According to the findings of DNA biochemistry analyses, the Liang Islanders were related to the Austronesian peoples, who were dispersed throughout the islands of Southeast Asia and the Pacific, including Taiwan and the Philippines.
The discovery of the skeletons was one of the most significant archaeological finds in Taiwan in recent years and sheds new light on the way of life of the Austronesians' predecessors and the spread of the population in the region.
Public access to Liang Island was strictly prohibited until 2011, when a ceremony was held there to celebrate the 60th anniversary of the Nationalist army's arrival on the island.
On that occasion Lienchiang County Magistrate Yang Sui-sheng noticed what looked like seashell mounds along the roadside and informed Academia Sinica, which sent an archaeology team that uncovered the human fossils.
(By Christie Chen)ENDITEM/pc