Vice president attends canonizations at Vatican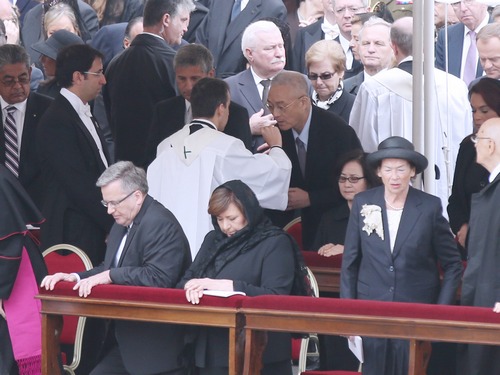 Vatican City, April 27 (CNA) Vice President Wu Den-yih and his entourage attended the canonizations of late Popes John Paul II and John XXIII Sunday at the Vatican, where he met with Pope Francis and several heads of state of allied nations.
Sunday marked the first time in 2,000 years that two popes were canonized. It was also the first time a vice president of the Republic of China attended such a ceremony in the 73 years of diplomatic relations with the Holy See.
The canonization was presided over by Pope Francis in a grand ceremony that lasted over four hours.
Wu told CNA that both Popes John Paul II and John XXIII were "great advocates of peace," reserving special praise for John Paul II, who "always saw peace and philanthropy as humanity's hope during his 27-year tenure."
The memory of John Paul II is particularly cherished, the vice president added, when reflecting upon all the turmoil in the world today.
Wu was accompanied by his wife Tsai Ling-yi, Vice Foreign Minister Vanessa Shih, former director of Taipei City's Department of Social Welfare and recipient of the Order of Pope St. Sylvester, Chiang Yi-wen, and the Ambassador to the Holy See Larry Wang.
The momentous occasion brought millions of followers to Vatican City to celebrate the life and achievements of the two popes alongside 150 of the world's 200 cardinals and another 1,000 bishops.
Sunday's canonization was also the first to be attended by a former pope, graced by the presence of Benedict XVI, who renounced his papacy in February 2013 over health concerns.
Vice President Wu and his wife sat close to the front of the ceremony, after which Wu exchanged words with Pope Francis.
He told the pope of President Ma Ying-jeou's strong admiration for his appeal to the common people, particularly after Ma attended Pope Francis' inauguration ceremony last year.
The two spoke of Wu's friendship with the late John Paul II that began when Wu, then-mayor of Kaohsiung, traveled to the Vatican in 1998 to attend a mass in which the late Pual Shan Kuo-hsi was appointed a cardinal.
The vice president also met with friendly heads of state, including Paraguayan President Horacio Cartes, Honduran President Juan Orlando Hernandez, El Salvadorian President-elect Salvador Sanchez Ceren, Guatemalan Vice President Roxana Baldetti and Belizean Deputy Prime Minister Gaspar Vega.
Meanwhile, the ROC embassy to the Vatican passed on President Ma's greetings and congratulations to Pope Francis in the form of a letter, along with a portrait of the pope commissioned by the president.