Shandong heading north after passing through Taiwan Strait: MND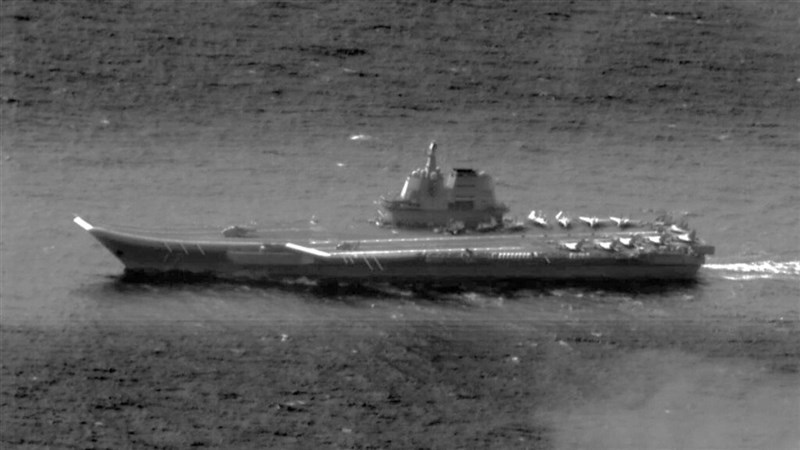 Taipei, Nov. 9 (CNA) The Chinese aircraft carrier Shandong was detected in waters off of northern Taiwan early Thursday after sailing through the Taiwan Strait, according to the Ministry of National Defense (MND).
In a press release, the MND said that beginning Wednesday afternoon, the People's Liberation Army (PLA) Navy Shandong Carrier Strike Group had conducted a northbound transit through the Taiwan Strait on the west side of the median line.
As of 8 a.m. Thursday, the strike group had passed through the strait and was located in waters off of northern Taiwan as it continued to head north, the MND said.
The MND said it was keeping close tabs on Chinese military activity at all times through its joint intelligence and surveillance systems.
On Oct. 26, the MND announced that it detected the Shandong passing through the Bashi Channel south of Taiwan and into the western Pacific. It also released a black and white aerial photo it captured of the Chinese aircraft carrier's activity that day.
According to a press release from Japan's Joint Staff Office, the Shandong Carrier Strike Group sailed into the South China Sea on Monday, passing through the waters between the Philippines and Taiwan.
The release also included each sighting of the carrier strike group.
The Joint Staff Office said a total of 420 fighter launches and recovery and 150 helicopter take-offs and landings were conducted by Shandong between Oct. 28 and Nov. 5, adding that Japan Air Self Defense Force fighter aircraft had been scrambled to monitor the situation.
The Shandong, commissioned in 2019, is China's second aircraft carrier and the first to be built domestically.