DEFENSE
/
Be ready for Chinese military operations by late 2020s: Ex-U.S. official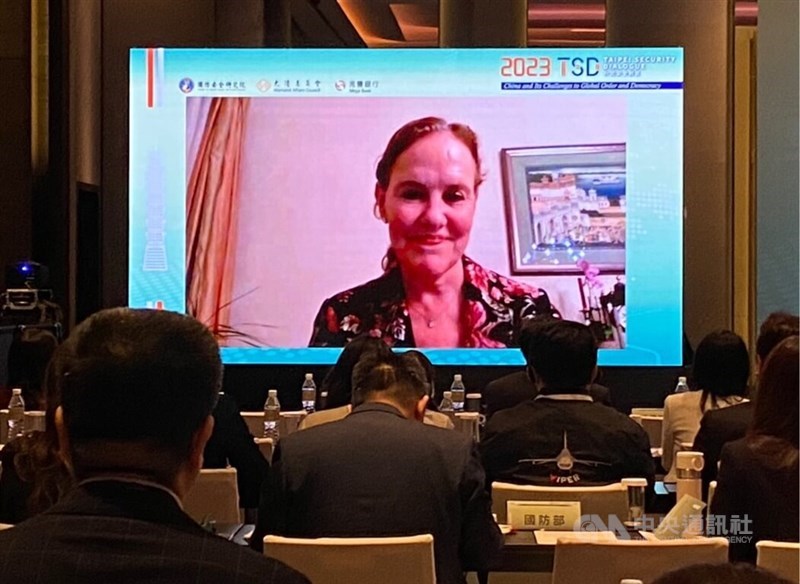 Taipei, Nov. 8 (CNA) A former American defense official on Wednesday called on Taiwan, the United States and their allies to be prepared for "a moment in the late 2020s" when China's People's Liberation Army (PLA) might launch military operations against Taiwan.
Speaking virtually at a security conference in Taipei, Michèle Flournoy, former under secretary of defense for policy under President Barack Obama, said the Indo-Pacific region is now facing the rise of a "more assertive China."
It is "trying to change some of those rules of the international order and to assert its will as its economic and military power grows," she said.
She argued that increasing Sino-U.S. tensions in recent years were not because of a change of U.S. policy but because of the Chinese Communist Party's leadership change from former President Hu Jintao (胡錦濤) to President Xi Jinping (習近平) in 2012.
Under Hu and his predecessors, "China was very much internally focused on its own economic development, on bringing elements of its population out of poverty into the middle class, building its own economy," she said.
With the arrival of President Xi, however, China sort of "dropped the mask or the veil" and "started to really flex its muscles economically, taking coercive measures against other countries militarily, building up its military," she said.
"Deterrence," Flournoy said, is the key to preventing a potential U.S.-China military conflict over Taiwan, both by "denial" and "deterrence through cost and position."
Denial means convincing Xi that "he can't be successful using military force to achieve his objectives," while deterrence through cost and position means that "even if he could succeed, it would be at such great cost that it would be a pyrrhic victory," she said.
On Taiwan, the former U.S. official said Xi was focused on both economic and political coercion in shrinking Taiwan's international space, putting pressure on Taiwan to change its posture.
Xi also instructed the PLA to continue its ongoing buildup to give him military options against Taiwan by 2027, she said.
"And so I believe we, the United States, our allies, Taiwan, the international community, we collectively need to be ready for a moment in the late 20s when deterrence may be tested.
"And we need to be prepared for that and to be confident that President Xi, if he does test the waters of using force, that he will conclude that it's too risky and too costly and he cannot succeed," she said.
Despite China's military posture, Flournoy said the U.S. still needed to engage with China due to shared interests and challenges and to reduce current level of tensions to stabilize the situation.
She said Xi's planned visit to the U.S. for the APEC summit later this month to meet with President Joe Biden could be a good start.
"I don't expect there to be any major policy changes on either side. I don't expect more than somewhat symbolic deliverables," she said.
"But I do think increasing dialogue, whether it's restarting military-to-military dialogue or dialogue on arms control, on other issues, I think that's very, very important," she said.
Flournoy's comments were made during a speech at the 2023 Taipei Security Dialogue, organized by the Taiwan government-funded think tank Institute for National Defense and Security Research (INDSR).
Speaking during the opening ceremony of the one-day forum, President Tsai Ing-wen (蔡英文) reiterated that the Taiwanese people recognize the importance of safeguarding their homeland, not just for their own survival but for the security of the whole world.
"It bears reminding that Taiwan's security is tied to the security of the Indo-Pacific as well," she said.
"With democracies around the world facing their greatest test in a generation, it is crucial that we come together in deterring adversity and aggression in the region to ensure a peaceful future and the continuation of our shared values," she said.
View All