ELECTION 2024
/
Avoiding war top priority for any Taiwan leader: KMT's Hou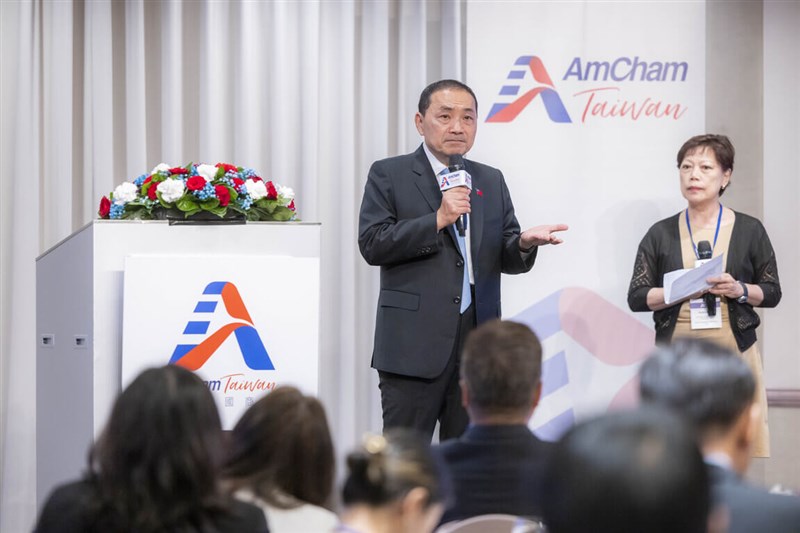 Taipei, Sept. 29 (CNA) The top priority for a leader of Taiwan is avoiding war with China at a time of escalating tensions across the Taiwan Strait, said Hou Yu-ih (侯友宜), the presidential candidate of the opposition Kuomintang (KMT).
In a speech delivered at the American Chamber of Commerce in Taiwan (AmCham) in Mandarin, Hou said Taiwan must avoid war with China and that only a safe and stable Taiwan can attract investors around the world to pour resources into the country.
Hou, the incumbent New Taipei mayor, was invited to speak on a wide range of topics such as ties with China, national defense and international relations, and Taiwan's economic development after visiting Singapore in April, Japan in late July, and the United States earlier this month.
He said that if elected he would maintain his long-held principles of safeguarding the country and bringing peace to the Taiwan Strait and security and prosperity to Taiwan.
In terms of Taiwan's national defense and foreign ties, Hou said Taiwan has to take proactive and pragmatic moves to strengthen its self-defense capabilities to avoid the threat of war.
At the same time, the two sides of the Taiwan Strait should launch a dialogue and conduct exchanges to reduce conflicts under a footing of equality, dignity and friendship, Hou said.
Hou said he outlined a "3Ds strategy," referring to deterrence, dialogue and de-escalation, during a meeting with American scholars at the Brookings Institution to promote peace and stability across the Taiwan Strait.
Under such a strategy, Hou said, Taiwan would be able to facilitate peace and reduce risks, while continuing to cement ties with Washington to allow the two sides to maintain peace in the Indo-Pacific region.
In the economic arena, Hou said, industries in Taiwan are facing a tremendous challenge on energy and electricity, and he advocated an orderly transition to renewable energy to secure energy supplies.
When he unveiled his energy policy in August, Hou pledged not to phase out nuclear power and reopen decommissioned nuclear power plants
In his AmCham speech, Hou said his government would carefully inspect and repair Taiwan's first three nuclear power plants, two of which have already been shut down for decommissioning, and establish a safety review committee to re-examine the decision to discontinue construction of the fourth plant.
Taiwan would also continue to pursue green energy development, while raising energy use efficiency by investing in energy conservation, energy storage, and smart electricity grid networks.
He would also push the development of hydrogen power and small-sized power plants in a bid to allow Taiwan to achieve net zero emissions.
In terms of industrial development in Taiwan, Hou said the county has a strong semiconductor cluster and could take advantage of its existing tech strength to develop emerging technologies such as electric vehicles, smart cities and the aviation sector.
Taiwan could also use its health care capabilities to develop telehealth systems and meet the demand for borderless medicine, the KMT candidate said.
Hou advocated maintaining Taiwan's important role in the U.S.' "friendshoring" policy, referring to an act of relocating supply chains to countries where the risk of disruption from political chaos is low, to prevent over-dependence on China economically.
But Taiwan should also actively seek participation in regional trade blocs, he said.
View All