Peace, stability in the Taiwan Strait beneficial to all: President Tsai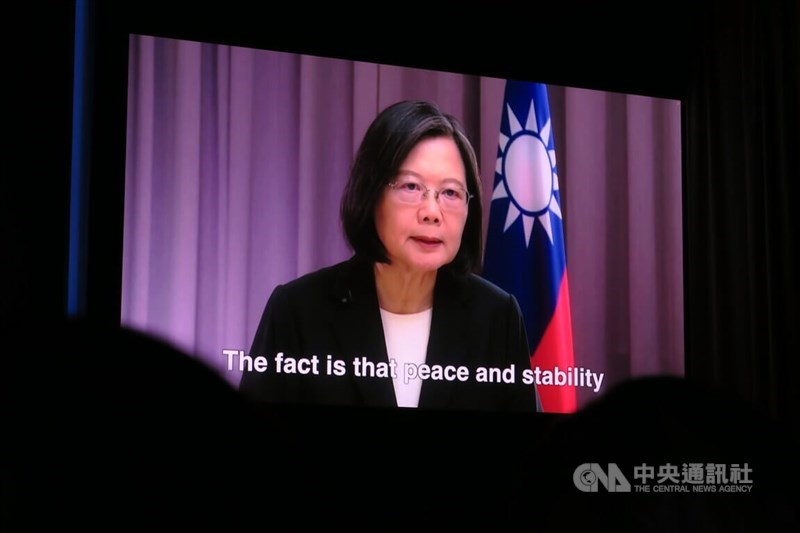 Taipei, Sept. 21 (CNA) President Tsai Ing-wen (蔡英文) said Wednesday that Taiwan is a key partner in the international democratic community, and it is in the interest of all people to maintain peace and stability in the Taiwan Strait.
In a recorded video address at the 2023 Concordia Annual Summit in New York, Tsai said she was grateful that many countries had vocally supported Taiwan's international participation, because with greater inclusion, Taiwan could do even more to advance sustainable development and global interests.
Taiwan's security and international participation are about more than just maintaining the common economic interests and progress of countries, she said.
It is also about "defending the universal values of freedom, democracy, and respect for human rights, that are integral to our wellbeing," Tsai said.
By standing together and holding fast to those ideals, people can overcome the challenges and spur greater progress in the whole world, she said at the annual summit, which brings together national leaders attending the U.N. General Assembly in New York, high-level U.N. officials, and representatives of international and civic organizations.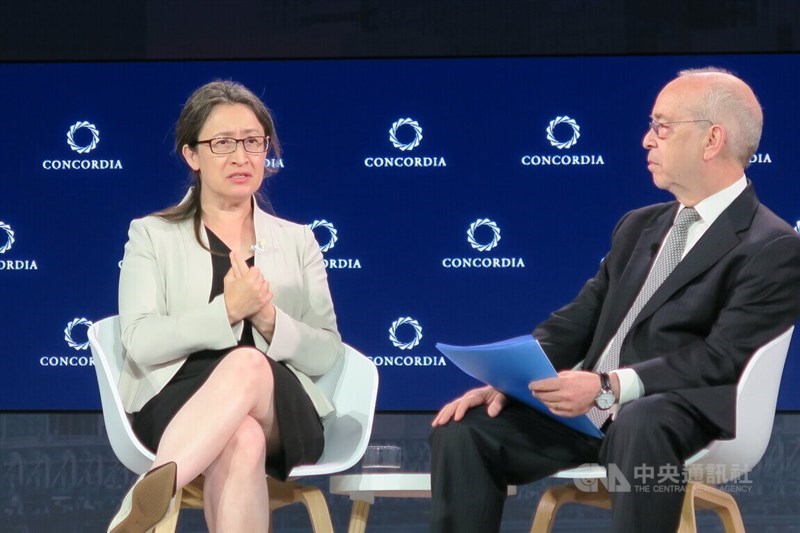 Tsai said the themes of this year's Concordia summit helped shed light on the path forward, as they highlighted the importance of democracy, global security, and human rights in fostering social progress, an issue that is highly relevant to Taiwan's agenda.
Taiwan's commitment to upholding those values lies at the heart of everything it does, and its international engagement is driven by cooperation with allies and like-minded partners that share those democratic values, the president said.
In addition to being a key partner in the international democratic community, Taiwan holds a vital position in global supply chains, as it produces 90 percent of the world's most advanced semiconductors, while about half of the world's container ships pass through the Taiwan Strait each year, Tsai said.
This makes Taiwan's security and that of the broader region all the more critical, and any disruptions in the Taiwan Strait could send ripples across the world, as has happened in the wake of major events elsewhere in recent years, the president said.
"The fact is that peace and stability in the Taiwan Strait are in the interests of us all," Tsai said.
Taiwan is facing security challenges every day, however, as its "authoritarian neighbor" initiates millions of cyberattacks daily and conducts frequent military exercises and other forms of gray-zone activities to pressure Taiwan and its friends, she said.
"We must therefore be relentless in our efforts to maintain peace and protect our hard-earned democracy," the president said, adding that Taiwan bears the brunt of those frequent threats.
In addition, international cooperation is imperative, if the international community wants to address China's increasingly aggressive actions and ensure stability within the region and in the rest of world, she said.
It is heartening to see that many world leaders share Taiwan's concerns, Tsai said, citing U.N. Secretary-General António Guterres' statement earlier this year that the U.N. would do all it could to help ease tensions in the Taiwan Strait.
Video source: Presidential Office
She also noted that the leaders of the U.S., Japan, and Korea last month reiterated that peace and stability across the Taiwan Strait were indispensable to the security and prosperity of the international community.
At a time when the world is witnessing a widespread backsliding of democracy, people should not forget how democracy was achieved in the first place, she said.
Taiwan, for example, overcame decades of authoritarian rule and martial law to attain democracy, and today, its robust democracy should be an incentive to those who are pushing back against the worrying trend of growing authoritarianism that is threatening global security, Tsai said.
Gatherings like the Concordia summit are very important because they provide an opportunity for people to come together and envision a way forward, she said, adding that she was looking forward to the combined efforts to create a more secure and prosperous future.
Other speakers at the summit included Paraguay President Santiago Peña, Ecuador President Guillermo Lasso, Nambia First Lady Monica Geingos, former Croatia President Kolinda Grabar-Kitarović, former Estonia President Kersti Kaljulaid, former United Kingdom Prime Minister Tony Blair, and Secretary-General of the International Telecommunication Union Doreen Bogdan-Martin, according to the Presidential Office in Taipei.