Ex-Singapore foreign minister moots cross-strait 'commonwealth'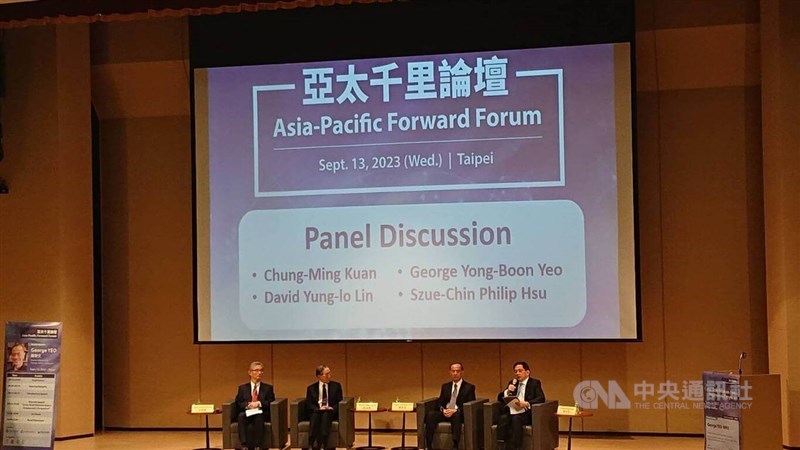 Taipei, Sept. 13 (CNA) Former Singaporean Foreign Minister George Yong-Boon Yeo (楊榮文) on Wednesday proposed a "Chinese Commonwealth" as a potential framework for future political integration between Taiwan and China.
Speaking at the Asia-Pacific Forward Forum in Taipei, Yeo said that the division between China and Taiwan was "at the political level; not at the cultural and civilizational level."
When a young Taiwanese told him, "I'm Taiwanese, not Chinese," Yeo said he could understand because the person "was expressing a political feeling" and saw a political danger of being absorbed into the People's Republic of China (PRC).
"If I were a young Taiwanese I would view it the same way," Yeo told the forum co-hosted by the Fair Winds Foundation, an organization founded by former Premier Jiang Yi-huah (江宜樺).
However, Yeo asserted that "to be Chinese, however, is not to be a PRC citizen," suggesting Taiwan further develop its "One China" interpretation to allow for a looser form of union.
Insofar as Beijing has claimed "anything can be discussed" under the "one China consensus," Yeo said that "Taiwan has a right to its own interpretation of 'one China.'"
One prospective arrangement to bring both sides of the strait to the negotiation table, Yeo said, was a "Chinese commonwealth."
As to the mechanism or form that this commonwealth would take, Yeo said that the details could be discussed and developed further once talks open.
"How long it will take for the Chinese Commonwealth to evolve into 'One China,' and what the nature of that One China will be, no one can foresee today. By then, it is entirely possible that there will neither be a PRC nor an ROC but, just simply, China," Yeo said.
"Iceland for many years had tribal meetings every year to make common rules and settle disputes, and Switzerland had a similar beginning in the Old Swiss Confederacy, Yeo said, also offering ASEAN as a possible model.
During a panel discussion with former foreign minister David Lin (林永樂) and National Taiwan University (NTU) political science professor Philip Hsu (徐斯勤), moderated by former NTU president Kuan Chung-ming (管中閔), Yeo said he thought "the initial process [of building this commonwealth] would be more like ASEAN," in which every country is sovereign.
"More and more ASEAN countries at the U.N. and international meetings are getting closer together; they become ASEAN citizens," Yeo added.
Lin said it would be more attractive to Taiwanese people if it were more like the U.K. and Singapore being in the same Commonwealth, "rather than like Hong Kong in the 'one country, two systems.'"
Hsu pointed out that similar ideas had been proposed in academic discussions or through second-track diplomacy before, but "we have never heard of any positive response from almost anybody in mainland China."
Hsu added that there are also practical obstacles to overcome if any serious discussion is to happen.
"The first is the disparity in the comprehensive national powers between Taiwan and China, a drastic difference from past successful supranational integration such as EU; the second is that Beijing's official canon about unification has always focused on a unitary state, rather than a confederacy, and this is related to the third instance, and that is the issue of national representation at governmental organizations, which I think is very hard for Beijing to accept…for example, full membership in the U.N.," Hsu said.
On the idea that China and Taiwan should share the same political framework because the two share cultural ties, Yeo was asked by the CNA reporter in the meeting with the press whether Singapore - "a relative but not part of this Chinese family," in Yeo's words - would be willing to join the commonwealth if it is one day established.
"Maybe in the economic and cultural sense, but never the political sense," Yeo said.
"We are multiracial. Singapore has to affirm that very strongly and cannot afford any political association in a Chinese commonwealth," Yeo added.