Taipei mayor touts win-win scenario in meeting with Shanghai counterpart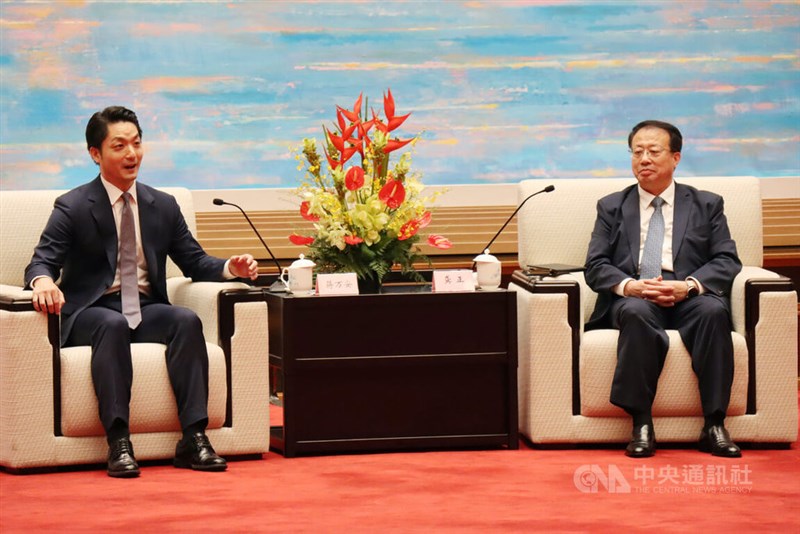 Shanghai, Aug. 29 (CNA) Visiting Taipei Mayor Chiang Wan-an (蔣萬安) said on Tuesday that Taiwan and mainland China should pragmatically address the development of cross-strait ties and seek to achieve a peaceful win-win scenario for both sides.
Chiang, who arrived in Shanghai earlier in the day for the annual Taipei-Shanghai forum, said he was very much impressed by Shanghai Laogang Ecological Park, a former refuse dumping ground, and broached his city government philosophy that "cities must be run sustainably."
Turning to the history of Taipei and Shanghai, Chiang said the two cities are very much alike as both were victims of imperialist invasion and both fought hard for their freedom.
Noting that national troops and Shanghai people fought fiercely against the invading Japanese forces in the Battle of Shanghai in 1937, Chiang said Taipei was the hub of opposition to Japanese colonial rule in Taiwan (1895-1945), citing democracy pioneer Chiang Wei-shui (蔣渭水) and his resistance movement in the 1920s.
"This is clear evidence that relations between Taiwan and mainland China as well as those between Taipei and Shanghai are always closely linked to the flow of history," Chiang noted.
Citing his grandfather, Chiang Ching-kuo (蔣經國), who served as president of the Republic of China (Taiwan) from 1978-1988 until his passing, the Taipei mayor said "the world is changing, the environment is changing and so are the trends," and as such "we must adjust our pace simultaneously to address the changing situation."
Chiang Ching-kuo's political opening led to fast social and economic progress in Taiwan, which helped foster a historical breakthrough in cross-strait relations, he said.
China's economic reform and opening-up also boosted cross-strait dealings across a vast range of areas, evidence that "we should pragmatically face the development of cross-strait relations and seek to achieve a peaceful win-win scenario for both sides," he explained.
Chiang made the comments during a meeting with Shanghai Mayor Gong Zheng (龔正) on the sideline of this year's Taipei-Shanghai forum from Tuesday through Thursday -- the first in three years to be held in person after the COVID-19 pandemic.
For his part, Gong stressed that peaceful cross-strait ties and exchanges are the common desire of people on both sides, adding that he believes the forum will help provide fresh momentum for broader cooperation between the two cities and lay a solid foundation to build peace across the strait.
Launched in 2010 by former Taipei Mayor Hau Lung-bin (郝龍斌) of the Kuomintang under the administration of former President Ma Ying-jeou (馬英九), the twin-city forum continued under Hau's successor Ko Wen-je (柯文哲), an independent, who later founded the Taiwan People's Party, during the term of the incumbent Democratic Progressive Party President Tsai Ing-wen (蔡英文).