ELECTION 2024
/
Ko discusses his cross-strait stance with international media outlets in Tokyo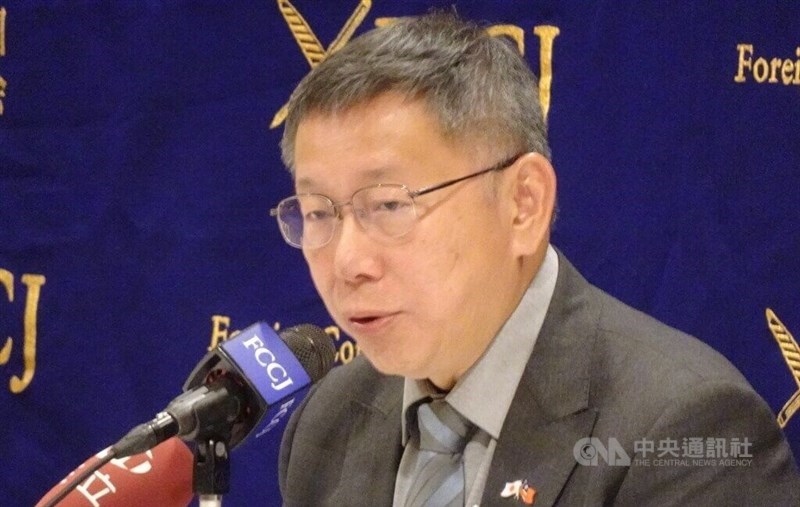 Tokyo, June 9 (CNA) The rule of Chinese President Xi Jinping (習近平) will not last forever, and people should not equate the Xi administration with China, Taiwan People's Party (TPP) founder and Chairman Ko Wen-je (柯文哲) said in Tokyo Thursday.
The TPP presidential hopeful made the remarks after giving a speech at the headquarters of the Foreign Correspondents' Club of Japan in Tokyo when asked by a German media outlet for his view on Xi's government.
To elaborate, Ko quoted former Chinese Premier Wen Jiabao (溫家寶): "If the achievements reached through economic reforms are not followed up with political reforms, then in the end economic achievements will be lost."
Ko said he had "never bought into" the idea that China could maintain strong economic growth while continuing on with a relatively backward political system.
Ko recalled that during his visit to the U.S. Department of State last month, he asked U.S. officials: "If we all believe in universal values, why do we assume China will never embrace democracy and freedom?"
Ko, switching to English, said he told U.S. officials: "Never give up to transform China."
Asked what was the key to maintaining peace in the Taiwan Strait, Ko said it was "deterrence and communication."
Forming a deterrence strategy is crucial because "the security of one country must not rely solely on the goodwill of another country," Ko said.
Therefore, to deter a military invasion, Taiwan must develop defense autonomy to the point where its enemies feel that attacking it would exact too heavy a toll, he said.
He added that "deterrence" was the word used most frequently by officials he spoke with in Washington last month.
Once Taiwan has developed a strong enough deterrence, it can engage in a dialogue with China, Ko said.
Underlining the importance of communication, Ko said that during his two terms as Taipei mayor, he and his administration participated in eight Taipei-Shanghai forums, and although each time the two sides disagreed over certain issues, at least they were able to develop a certain level of mutual trust.
Asked whether his stance that "two sides of the Taiwan Strait are one family" would persuade Beijing to engage in a dialogue with Taiwan or be accepted by the people of Taiwan, Ko said it was at least a better approach than "the two sides of the Taiwan Strait are enemies."
He said the Chinese Communist Party (CCP) refuses to engage in talks with Taiwan's ruling Democratic Progressive Party (DPP), so it deliberately laid down terms that it knew the DPP would not accept -- acceptance of the "1992 consensus," the CCP's "one China" principle, and a Taiwanese version of the "one country, two systems" scheme.
He said he would try to persuade China to change or soften its stance on "its insistence" with the five mutual actions he put forward in 2015: to know, understand, respect, cooperate with, and forgive each other.
He said with the frequent contact across the Strait, a more pragmatic approach to dealing with cross-strait relations is needed, pointing out that 43 percent of Taiwan's exports end up in China, resulting in trade surpluses of more than US$100 billion annually and that there are approximately 380,000 Chinese spouses in Taiwan and about 1 million Taiwanese studying or working in China.
He noted that when the whole world was riveted by the military exercises China staged around Taiwan in August 2022 following a visit by then-U.S. House Speaker Nancy Pelosi to Taiwan that month, most Taiwanese seemed to be unfazed. It was likely due to the DPP downplaying the severity of the situation out of concern that too much panic would tilt election results against its favor, he reasoned.
Related News
June 8: China should clarify its definition of '1992 consensus': Ko Wen-je
May 20: TPP's Ko kicks off presidential run, says will extend goodwill to China
May 10: TPP demands explanation after party lawmaker denied entry to China
April 28: Ko returns from U.S., set to begin presidential bid Saturday
April 21: Taiwan must 'prepare for war' but seek dialogue with China: TPP chairman
ANALYSIS / Strategic clarity best way to counter China's gray zone warfare: scholar
ANALYSIS / China fears 'internationalization' of Taiwan issue: Experts
ANALYSIS / As presidential race kicks off, China policy takes center stage
View All