#METOO
/
Chinese dissident Wang Dan denies sexual harassment accusation by Taiwanese man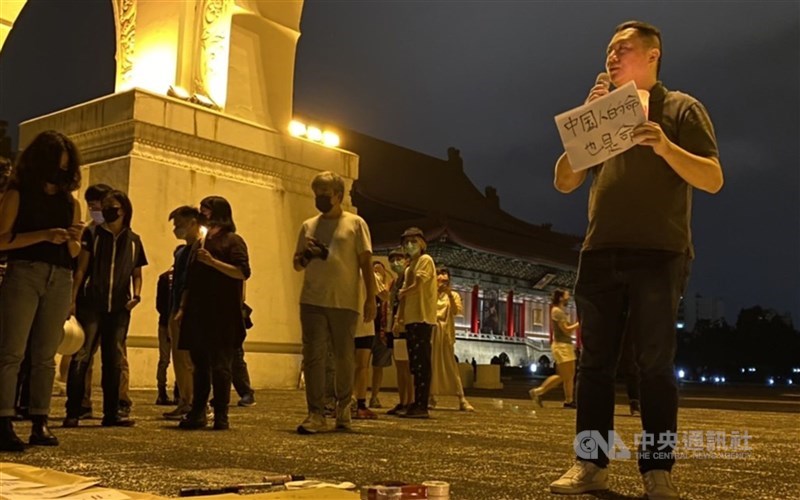 Taipei, June 2 (CNA) Chinese democracy movement leader Wang Dan (王丹) on Friday denied an accusation made by a former Taiwanese political worker Lee Yuan-chun (李援軍), who said Wang sexually harassed him in a hotel room in New York nine years ago.
Lee posted his accusation on his Facebook page on Friday and wrote that he had patiently kept the incident a secret for many years, but decided to publicize it after seeing many political workers in Taiwan share their experience of being sexually harassed at work.
In response, Wang wrote on his Facebook page that when he saw Lee's accusation on the Taiwan-based Chinese-language online media Up Media earlier in the day, he felt a bit helpless, saying the accusation was completely unfounded.
Wang, one of the leaders in the June 4th student demonstration held on Tiananmen Square, Beijing, said Lee was simply using the movement's anniversary as a timing to make the accusation, indicating his political intentions, which he said did not surprise him.
"The sexual harassment mentioned by the author (Lee) did not exist," Wang said. "I have a lot of things to do now and will not make any additional response (to the accusation)."
"My political activity plans will not be affected by the accusation and will proceed as scheduled," Wang added. "The June 4th Museum opened today. Please pay as much attention as possible to it."
He was referring to a museum he and other Chinese dissidents opened in New York to commemorate victims of the crackdown on pro-democracy protesters in 1989.
Lee, a former aide of independent Taipei City Councilor Lin Liang-chun (林亮君), said on his Facebook page that he met Wang and Wang's aide for the first time in Taichung nine years ago.
He wrote that when he was invited by Wang to the United States, he was about to turn 20 and had started to participate in social movements in Taiwan. He said he had been happy to take the invitation from Wang, thinking it would be good to take a trip with the famous Chinese democracy movement leader.
Lee said that during the trip to the U.S., Wang forcefully kissed him and even attempted to rape him in a hotel room located in Flushing district of New York on the night of June 6, 2014.
Lee said that night he, Wang and Wang's aide were in the hotel room at the time. After Wang's aide left the room, leaving Lee and Wang in the room by themselves, Wang approached him while he was working on his notebook computer and told him not to focus so much on the computer and to go to the window and take a look at the scenery of New York.
According to Lee, he was not interested in the scenery, but out of respect for Wang, he walked to the window and that was when Wang held him from behind and kissed him without his permission.
Lee said he was stunned and could not figure out what had happened before Wang pushed him down on the bed, while continuing to kiss him.
Lee added that Wang started to take off his own pants and tried to have sex with Lee, but Lee pushed him away saying he had undergone an anal fistula surgery just before he departed for the United States and asked him to stop.
Wang stopped, according to Lee. But over the following week, Wang flirted with Lee from time to time and cracked jokes with sexual implications and even hinted he wanted to sleep with him.
Lee said Wang's political allies were pro-Taiwan independence politicians and the Democratic Progressive Party (DPP), urging the public to be cautious when they make friends with others.
Lee added that bad behavior could not be ignored just because he has the same political stance as Wang, otherwise he would wallow in the mire with the bad guy.
Lee also called on people in the political circles to be alert over what Wang has done and keep a distance from him.
Update
June 4: KMT pledges to probe sexual harassment allegation against its lawmaker
June 3: TV writer accuses exiled Chinese poet Bei Ling of sexual assault
June 3: Tsai apologizes for DPP's mishandling of sexual misconduct complaints 
View All