Taekwondoist holding Chinese flag at Korea event to be probed: Premier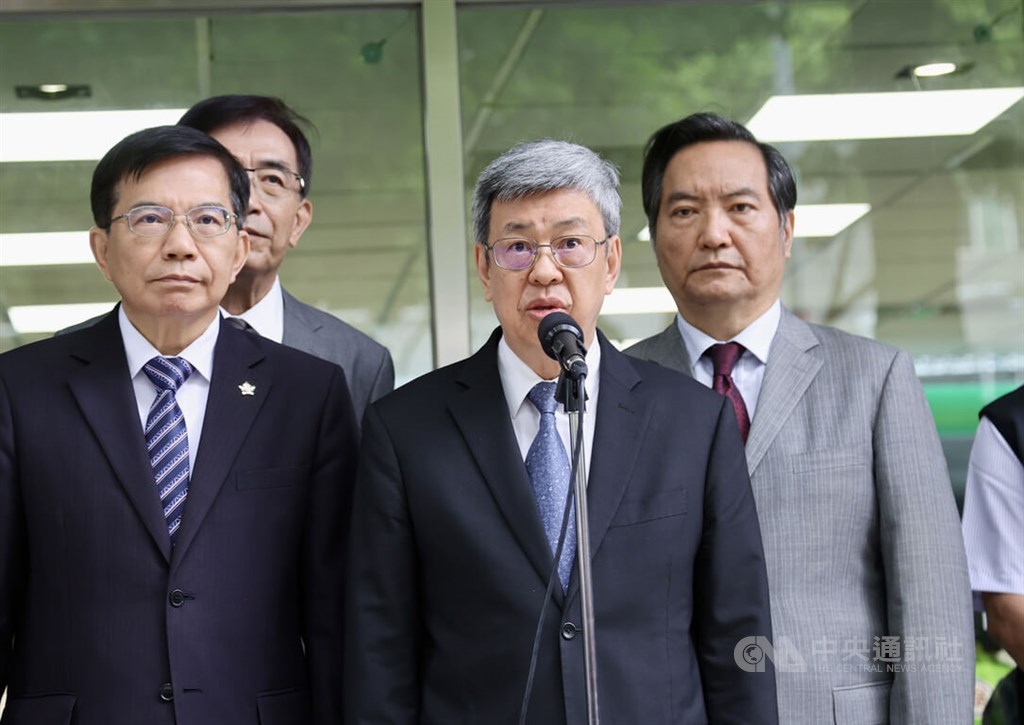 Taipei, May 22 (CNA) The government will look into whether a taekwondo athlete from Taiwan who held a Chinese national flag after winning a bronze medal at the Asia-Pacific Masters Games (APMG) in South Korea last week has worked for the Chinese Communist Party (CCP) in Taiwan, Premier Chen Chien-jen (陳建仁) said Monday.
Chen said Lee Tung-hsien (李東憲) registered and participated in the APMG in a personal capacity. He was not sent by the Chinese Taipei Taekwondo Association and did not represent Taiwan at the event, Chen told media reporters during a visit to Chiayi County, southern Taiwan.
Relevant government agencies will investigate whether Lee is a CCP member and has been involved in helping the CCP develop related organizations in Taiwan, Chen said, adding that if Lee engaged in such activity, he will be dealt with in accordance with the law.
Taiwanese nationals who join the Chinese Communist Party can face a fine of NT$100,000 to NT$500,000 (US$3,261-US$16,304) for violating the provisions of Article 33 of the Act Governing Relations between the People of the Taiwan Area and the Mainland Area.
The matter was highlighted Saturday after Chinese media first reported that athlete Li Dongxian (Chinese spelling for Lee Tung-hsien) from Taiwan held a Chinese national flag on the podium after receiving a bronze medal in a taekwondo competition at the APMG 2023 during the awards ceremony, attracting discussions among Chinese netizens.
In response, the Sports Administration under Taiwan's Ministry of Education said in a statement that day that Lee participated in the APMG in a personal capacity and did not represent the country.
Lee has no relationship with the Chinese Taipei Taekwondo Association, which represents Taiwan, the agency said.
The athlete participated in the Asia-Pacific Masters Games 2023 Jeonbuk Korea held in Jeollabuk-do from May 12-20. APMG is held every four years and is authorized by the International Masters Games Association (IMGA), according to the statement.
As an international sport-for-all event, anyone who is 30 years old or older, retired athletes, as well as sport enthusiasts can participate in the event. Participants compete in an individual capacity, instead of for a country or a sport association, the Sports Administration said, citing the terms and conditions of participation set out by the IMGA.
The agency added there is no flag-raising ceremony and the national anthem of the winner is not played when such athletes receive medals according to IMGA rules.
Lee has been working in China for a long time, became a member of the CCP on July 1, 2022, and rarely returns to Taiwan. In 2017, he also held a Chinese flag after winning a bronze medal in poomsae form in a taekwondo tournament in Malaysia, according to local media reports.
Since the IMGA is a non-profit organization recognized by the International Olympic Committee, athletes are still required to wear Olympic outfits with the names of their national team on them. So, Lee wore a dobok embroidered with Taiwan's national team symbol, TPE (Taipei).
Taiwan's Chinese Taipei Olympic Committee, which owns the TPE emblem copyright, did not restrict its use in the competition, according to the local media reports.