ELECTION 2024
/
Terry Gou blasts government's cross-strait policies in university speech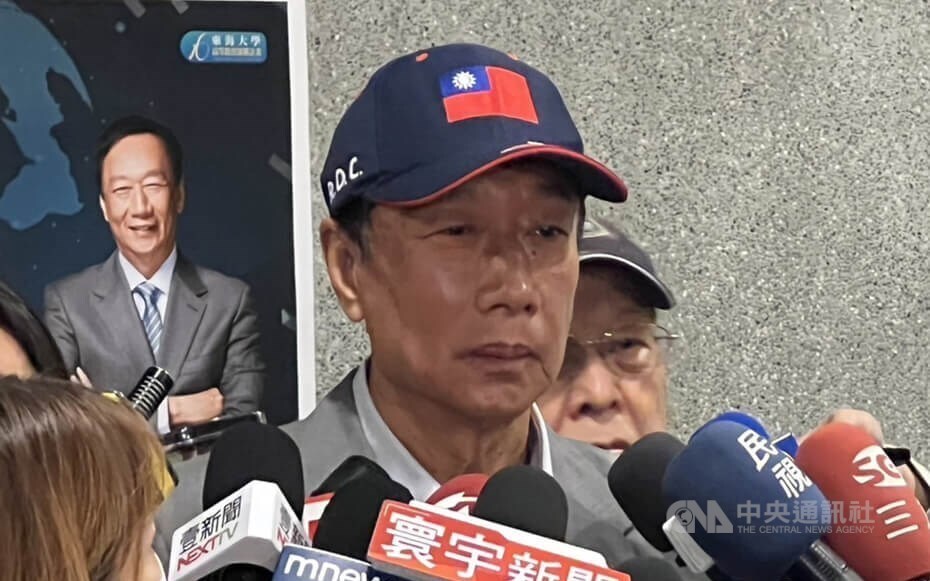 Taipei, April 27 (CNA) Business tycoon and Kuomintang (KMT) presidential hopeful Terry Gou (郭台銘) blasted the government's cross-Taiwan Strait policies on Thursday, while vowing to stop the "harassment" of Taiwan by Chinese warplanes if elected.
Gou, founder of the manufacturing giant Foxconn, made the criticism during and after a speech to students at Taichung's Tunghai University.
Responding to a question on the topic, Gou said China is primarily concerned with its economic development, as it faces great pressure to sustain its population's livelihood and address the high unemployment among young college graduates.
China doesn't want war either, "but Taiwan cannot mess around with independence," Gou said.
"They think Taiwan belongs to them. Then let them say, we'll maintain the status quo, and keep cross-strait relations in a gray zone," he said.
Gou argued that while Taiwan is "not the top priority" for China, many politicians in Taiwan try to stoke anti-China sentiment in order to win elections.
He criticized the arms purchases made by the current Democratic Progressive Party (DPP)-led government, saying he wanted to turn Taiwan into a "tech island" not an "ammunition depot."
In terms of his own approach to cross-strait relations, Gou said he favored "a dignified peace" and "negotiations between equals," but offered few specifics.
If he is elected president, the "harassment" of Taiwan by Chinese warplanes would also stop, because his focus on economic development would bring benefits to China, Gou said.
Gou, 72, has been publicly vying for the KMT presidential nomination in recent months, despite quitting the party in 2019 after losing its last presidential primary.
New Taipei Mayor Hou Yu-ih (侯友宜) is widely considered to be the frontrunner for the nomination, which the party will make internally, and in his remarks on Thursday, Gou indicated that he would back the eventual winner.
Hou and himself are engaged in a "fair competition" for the nomination by presenting their respective visions for Taiwan, and regardless of whom is selected, "everyone" will do their best to unite and win the election, he said.
At a separate event on Thursday, KMT Chairman Eric Chu (朱立倫) said he wanted to announce the party's presidential ticket sometime next month. He said the party had done so too late in the 2016 and 2020 elections, when it rolled out its candidates in mid-June and on July 20, respectively.
Taiwan's next presidential election will be held on Jan. 13, 2024.
The ruling DPP selected Vice President Lai Ching-te (賴清德) as its presidential candidate earlier this month, while former Taipei Mayor Ko Wen-je (柯文哲) is expected to run on the ticket of the centrist Taiwan People's Party, which he founded and chairs.
View All