ELECTION 2024
/
Terry Gou cautions against economic dependency on China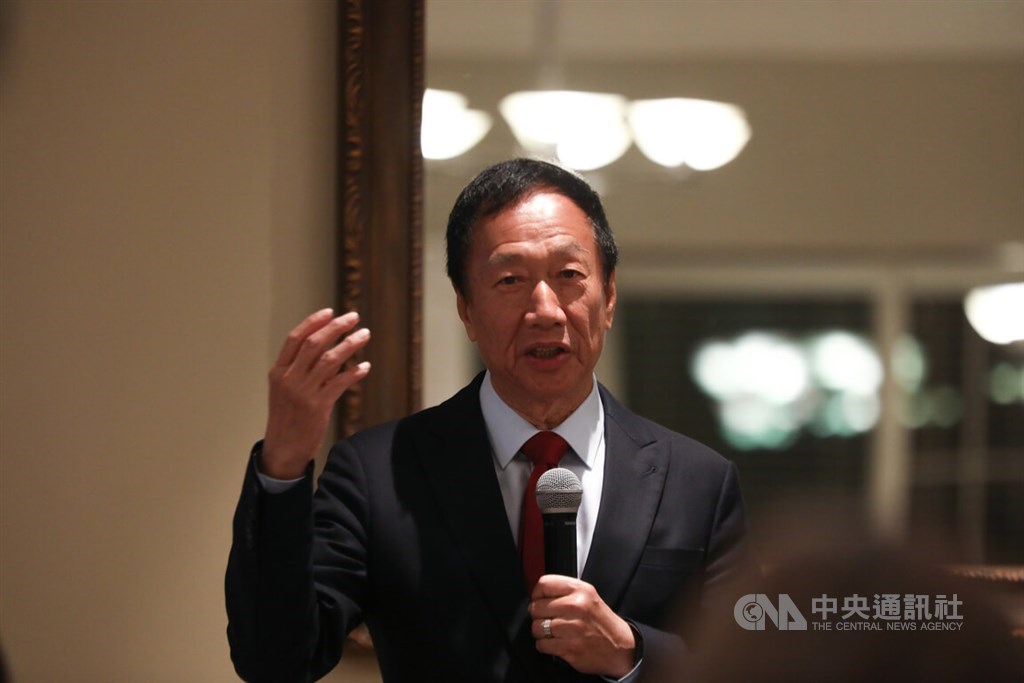 Washington, March 28 (CNA) Hon Hai Technology Group (Foxconn) founder Terry Gou (郭台銘) told a forum in Washington Tuesday that Taiwan must avoid becoming economically dependent on China and pursue deeper integration with the United States and Japan.
Gou, who is reportedly seeking the opposition Kuomintang's (KMT) 2024 presidential nomination, embarked on a 12-day visit to the United States Monday night.
The Hon Hai founder arrived in America two days ahead of Taiwan's President Tsai Ing-wen (蔡英文), who is set to make a stopover in New York City on Thursday en route to Central America.
There has been speculation that Gou, who left the KMT in 2019 after losing its presidential primary, had planned his American sojourn as part of a return to frontline politics.
However, the tycoon told Tuesday's forum that economic issues and not politics would be the focus of his trip.
Addressing the Washington branch of a Taiwanese business association, Gou said Taiwan's economy must not become entirely dependent on China and that the country should seek to diversify into Southeast Asia and Europe.
Moreover, Taiwan should accelerate the internationalization of its economy by seeking deeper integration with Japan and the United States before conducting technology transfers to Southeast Asia, Gou said.
Gou said how Taiwan repositions its status in the next four to eight years was of great importance, adding that if the country were to follow the path of globalization, technology and peace, prosperity would be in sight.
Commenting on the notion that Taiwan could become the next Ukraine, Gou said that while the idea was widespread, drawing such parallels was not good for the country.
He added that some of Hon Hai's clients had asked the company to implement a "Taiwan plus one" strategy by setting up additional manufacturing facilities in other countries to mitigate the risk of over-dependence on one geographic location.
As for what attributes a leader of Taiwan should have, Gou said that "fists cannot conquer forever but only once," arguing that the presidency would be chosen by vote and not by who is the best pugilist.
Quoting from the Tao Te Ching, a Chinese text written around 400 BC and traditionally credited to ancient philosopher and writer Laozi, Gou said that a "great person will focus on what he has done for others and will not ask what others have done for him."
"Just do what should be done. If you have the people in your heart, the people will definitely make the right choice," Gou added.
Related News
March 29: President Tsai embarks on 10-day trip to Central America
March 27: With possible presidential run looming, Terry Gou to visit U.S.
March 26: Taiwan FM suspects timing of Honduran ties cut linked to president's US trip
March 15: VP Lai runs in DPP primary, vows to safeguard Taiwan amid China threat
March 6: Taiwan People's Party outlines itinerary of chairman's U.S. trip
View All