KMT Vice Chairman Andrew Hsia departs for China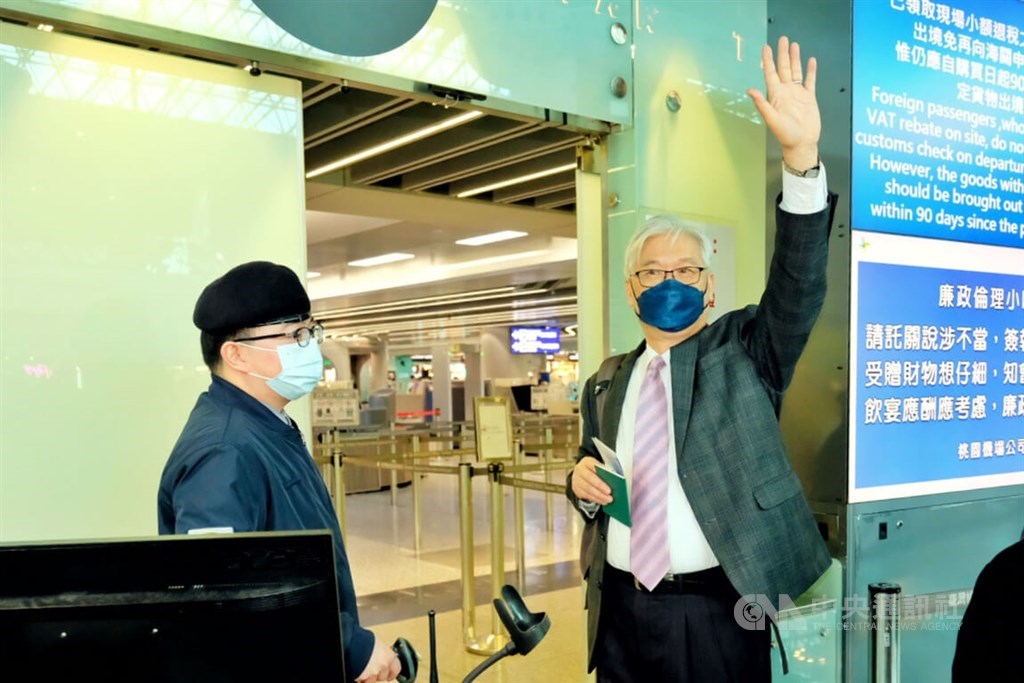 Taipei, Feb. 8 (CNA) A delegation led by Kuomintang (KMT) Vice Chairman Andrew Hsia (夏立言) on Wednesday left Taiwan for a multicity tour of China, which is expected to include a meeting with Sung Tao (宋濤), the head of Beijing's Taiwan Affairs Office (TAO).
The delegation - comprising Hsia, KMT Mainland Affairs Department head Lin Chu-chia (林祖嘉), and Kao Su-po (高思博) and Chao Chun-shan (趙春山) of the National Policy Foundation, a KMT-affiliated think tank - is scheduled to make stops in Shanghai, Nanjing, Wuhan, Chongqing and Chengdu during the visit from Feb. 8 to Feb. 17.
Speaking to reporters at Taoyuan International Airport before boarding a flight to Beijing, Hsia said the "apolitical" trip was aimed at looking after the welfare of Taiwanese living and working in China.
Hsia said he hoped the delegation could also help resolve the plight of Taiwanese small- and medium-sized enterprises, particularly in the agricultural and fisheries sectors, hit by a series of import suspensions rolled out by China since 2021.
There have been changes to the posts in the Chinese government involving Taiwan affairs, and the delegation hopes to be introduced to new officials in charge of Taiwan affairs that took office after the 20th National Congress of the Chinese Communist Party (CCP) in October last year, Hsia said.
Hsia said relations between Taipei and Beijing had warmed following Taiwan's lifting of border controls in October last year, adding that he hoped the trip would further improve understanding and dialogue across the strait.
This would be consistent with the hopes of President Tsai Ing-wen (蔡英文), who has asked Taiwanese businesspeople in China to engage in "positive interactions and dialogue" with the Chinese people, Hsia said.
As an opposition party, the KMT is not authorized to engage in any form of political negotiations or consultations in China, Hsia added.
Asked about the timing for both his trips, which seemed to have come amid high tensions in the Taiwan Strait, Hsia said: "For some people, there will never be a good time to visit China."
Hsia last visited China on Aug. 10, 2022, one day after the People's Liberation Army (PLA) announced the conclusion of military exercises launched around Taiwan following a visit to Taipei by then-U.S. House of Representatives Speaker Nancy Pelosi.
There were no political considerations for the timing of the trips, Hsia said, adding that "the more perilous the situation, the more reason for a visit."
Asked whether he would express concern over CIA Director William Burns' recent remarks that Chinese President Xi Jinping (習近平) has ordered the PLA to be ready by 2027 to "conduct a successful invasion" of Taiwan, Hsia said that "the timeline for such an invasion varies from one source to another, but any issue that is of concern for Taiwanese would be brought up with the other side at appropriate times."
TAO spokeswoman Zhu Fenglian (朱鳳蓮) told at a news conference in Beijing that Hsia was scheduled to attend two public events during his visit.
Hsia's delegation is scheduled to attend a forum titled "cross-strait relations and exchanges in the post-pandemic era" in Beijing on Friday, Zhu said.
The delegation is also expected to attend an event jointly held by the All-China Youth Federation and the KMT Department of Youth Affairs to promote exchanges between young entrepreneurs on the two sides of the strait in Shanghai on Feb. 13, Zhu said.