17 Chinese military aircraft cross Taiwan Strait median line and ADIZ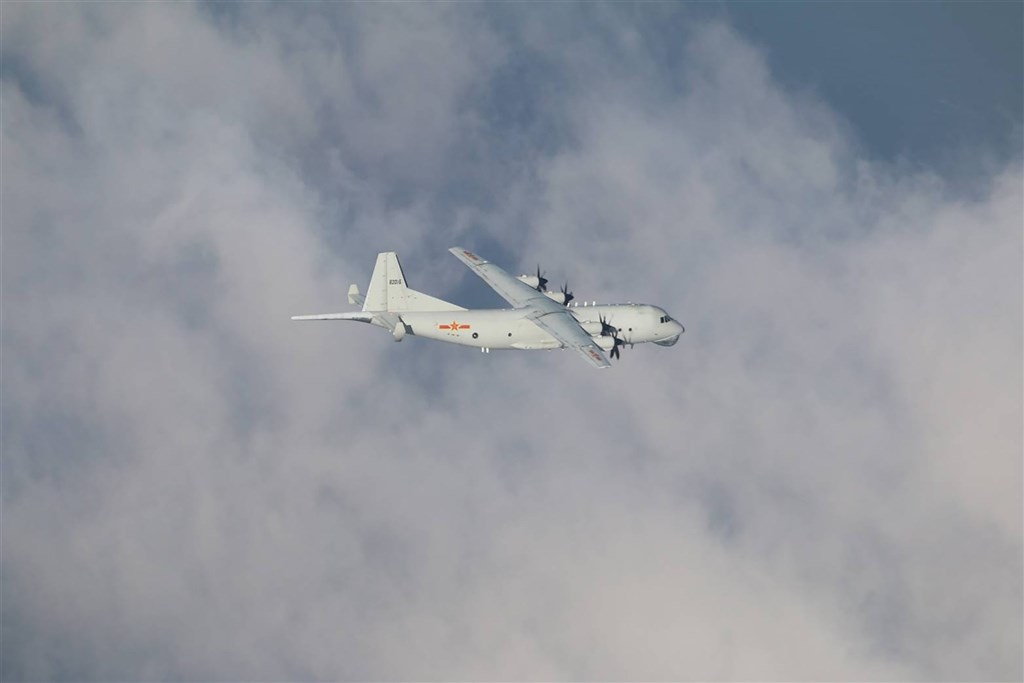 Taipei, Feb. 2 (CNA) A total of 23 Chinese military aircraft and four naval ships were detected in areas around Taiwan between Feb. 1 and Feb. 2, according to the Ministry of National Defense (MND).
In a statement, the MND said that 17 of the 23 aircraft had broken into groups to cross the median line of the Taiwan Strait, in addition to flying into the southwestern part of Taiwan's air defense identification zone (ADIZ).
MND data showed a sortie of three Sukhoi SU-30 fighter jets flew across the northern section of the Taiwan Strait's median line.
Meanwhile, eight Shenyang J-16 fighter jets broke into three sorties; one which passed the median line from the south while the other two disturbed the southwestern ADIZ from two sections.
The MND did not reveal how many of the eight J-16s were divided into each of the three sorties.
Additionally, one Y-8 anti-submarine warfare plane, one Y-8 electronic signals intelligence aircraft, one KJ-500 airborne early warning and control plane and two Shenyang J-11 fighter jets also joined the two J-16 groups when they entered the southwestern part of Taiwan's ADIZ, the MND said.
Alongside the 16 warplanes, a Harbin BZK-005 high-altitude, long-range unmanned aerial vehicle (UAV) also made a solo flight further south of the ADIZ, the MND added.
The MND did not release the flight paths of the other planes.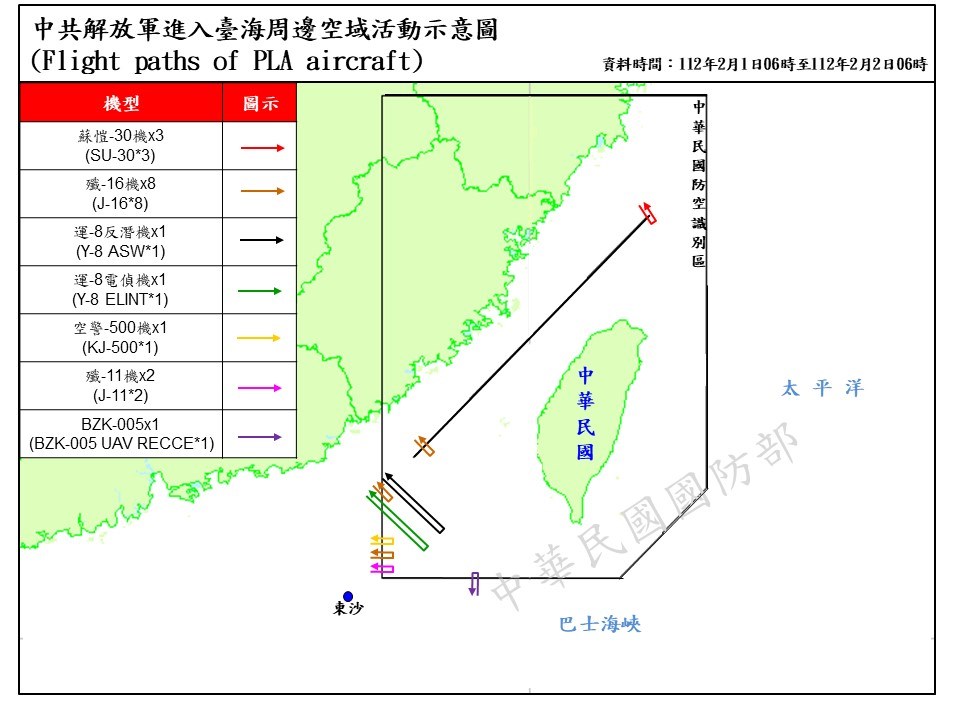 The ministry said it scrambled combat air and naval patrols and deployed defense missile systems to track the Chinese military aircraft.
Taiwan's Defense Ministry has been posting information about Chinese military aircraft entering Taiwan's ADIZ since Sept. 17, 2020, amid increasingly frequent incursions.
China stepped up military maneuvers in early August last year after U.S. House of Representatives Speaker Nancy Pelosi visited Taiwan on Aug. 2-3, holding live-fire drills in six locations around the country.
Dozens of Chinese warplanes, including the ones between Feb. 1 and Feb. 2, have crossed the median line, which was previously functioned as a de facto border between Taiwan and China, since Pelosi's visit.