Taiwan could survive China invasion with U.S., Japan help, but at high cost: CSIS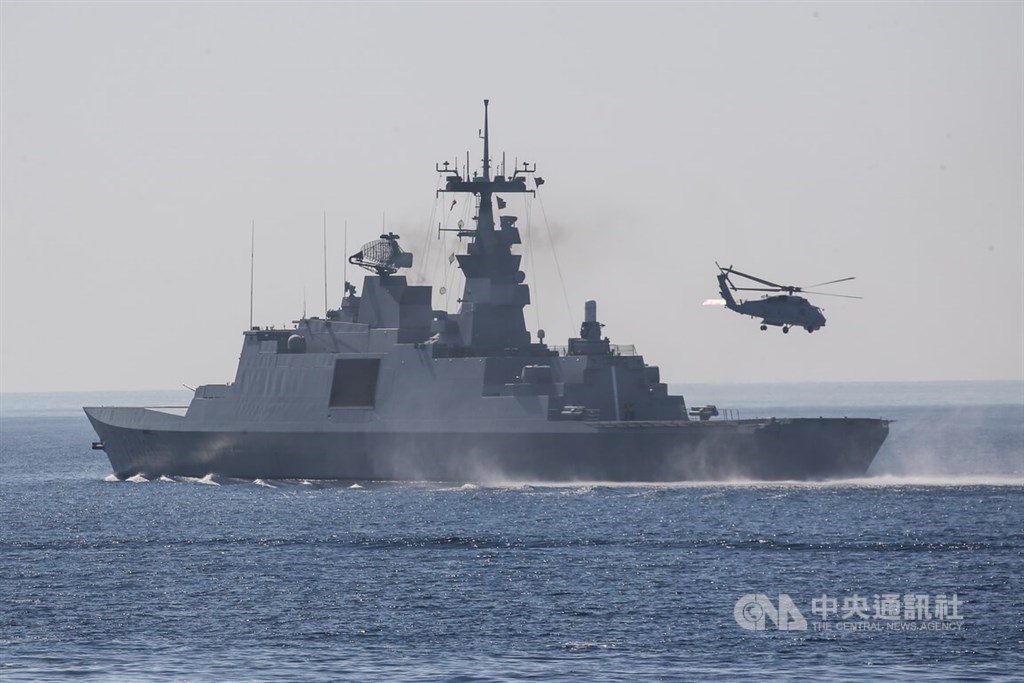 Taipei, Jan. 12 (CNA) With timely and direct military involvement from the United States and Japan, Taiwan could survive as an autonomous political entity if China were to launch an amphibious invasion in 2026, but losses to all the parties will be enormous, a U.S. think tank has predicted.
The Center for Strategic and International Studies (CSIS), a Washington-based think tank, released on Monday a report of its prediction of what would be the result of such an invasion, after conducting a series of war games involving a mock attack by China on Taiwan, with the U.S. and Japan coming to the island's defense.
The war games simulated one particular type of Chinese invasion that starts with bombardment of Taiwan's naval and air bases in the first hours of hostilities, augmented by a powerful rocket force, a blockade of the island and amphibious warfare involving China's soldiers crossing the Taiwan Strait on ships, and conducting air assaults with airborne troops, according to the report.
The CSIS ran the war games 24 times and in most scenarios the U.S./Taiwan/Japan forces defeated such a Chinese invasion and maintained an autonomous Taiwan, according to the report titled "The First Battle of the Next War."
"However, this defense came at high cost," the report said. "The United States might win a pyrrhic victory, suffering more in the long run than the 'defeated' Chinese."
Elaborating, the report indicated that after the war, the U.S. would suffer tremendous damage to its military forces and a weakened U.S. military might not be able to sustain the balance of power in Europe or the Middle East, while other countries, for example, Russia, North Korea or Iran, might take advantage of U.S. distraction to pursue their agendas.
The war games showed four necessary conditions needed to fend off a Chinese invasion: Taiwan must hold the line, the U.S. must immediately enter into direct combat, the U.S. must conduct operations from bases in Japan, and the U.S. must have sufficient anti-ship munitions, according to the report.
"First, Taiwan must resist. If Taiwan capitulates immediately upon invasion, like Denmark or Thailand did in World War II, then there's nothing that the U.S. can do in order to reverse that capitulation," Matthew Cancian, who co-authored the report, told a panel discussion hosted by the CSIS on Monday.
Second, Cancian said, the U.S. must quickly commit its own forces to direct combat operations against China.
"If there's no U.S. commitment whatsoever, we estimate that it would take about two or three months for China to conquer Taiwan if Taiwan resisted to the best of its abilities," he said.
"There's no Ukraine model for a Taiwan war," Cancian added, referring to the U.S. and the West continuing to provide Ukraine with weapons well after Russia's invasion without intervening directly in the conflict in Ukraine.
"We can't simply try to resupply Taiwan and give them weapons during the war because China will be able to intercept any sort of shipment." Cancian said. "And any delay or hesitancy on the U.S. parts only increases both casualties and the chances of Chinese success."
Third, the report recommended that the U.S. deepen its diplomatic and military ties with Japan as Tokyo plays a crucial role in American forces coming to Taiwan's defense.
While other allies, such as Australia and South Korea are important in the broader competition with China and may play some role in the defense of Taiwan, "Japan is the linchpin," according to the report.
The U.S. is legally required to consult with Japan before its employment of combat forces, and should that consultation not result in U.S. forces, particularly tactical aviation, operating on Japan, then U.S. intervention would not be enough to continue Taiwan's autonomy, Cancian said.
Finally, the U.S. must have sufficient stockpiles of long-range anti-ship munitions, principally air launched anti-ship cruise missiles, he said.
"With thousands of these, it becomes a much simpler task and there will be many fewer U.S. casualties," Cancian said.
Even if the U.S. and Japan were to come to Taiwan's defense, such a conflict will result in a high cost for all sides, the report said.
In terms of human costs, the war games showed that a conflict with China would be fundamentally unlike the regional conflicts and counterinsurgencies that the U.S. has experienced since World War II, with casualties exceeding anything in recent memory, according to the report.
U.S. personnel casualties averaged 6,960, of which about 3,200 would be killed in action, even without adding losses from combat in the South China Sea, which the project did not model, the report noted.
In the first three or four weeks of the conflict that models China continuously attacking U.S. aircraft as they arrive in Japan and U.S. ships as they deploy from the continental United States, resulting in high levels of attrition to U.S. forces, Cancian said.
"We estimate that around 10,000 casualties or more could be involved, depending on what sort of scenario and assumptions the future holds," he added.
In a scenario designed to examine how Taiwan might fare with no direct material assistance from the U.S., Taiwan's army suffered 85,000 casualties, with perhaps 28,000 killed, and China's ground forces suffered roughly 70,000 casualties in ground combat, including 23,100 killed, according to the report.
As with every scenario, Taiwan lost its entire navy and the Taiwanese air force squadrons that survived China's joint fires strike were eventually destroyed in air-to-air combat, the report said.
In terms of military hardware losses, the U.S. could lose two aircraft carriers and more than a dozen surface ships, as well as four submarines in most iterations, according to the report.
The U.S. and Japan will also lose dozens of ships, hundreds of aircraft, and thousands of service members, and Taiwan's military is severely degraded and left to defend a damaged economy on an island without electricity and basic services, it noted.
China will also suffer heavily, with its navy in shambles, the core of its amphibious forces broken, and tens of thousands of soldiers becoming prisoners of war, the report said.
"In most games, the U.S., Taiwan and sometimes Japan, employ thousands of anti-ship weapons and cause unsustainable attrition to the Chinese amphibious fleet," Eric Heginbotham, a co-author of the report, said at the same panel discussion.
With regards to the challenges confronting China in that particular type of invasion, the CSIS highlighted both the limited scale of China's amphibious lift capability and the vulnerability of its invasion fleet to modern air missile and submarine attack, said Heginbotham.
However, China's amphibious fleet is not without defenses as it is producing large numbers of advanced frigates, destroyers and cruisers, as well as aircraft carriers, but these ships' base defenses are not sufficient to protect the fleet adequately during the critical first weeks, Heginbotham said.
The report suggested that the U.S. institute policies and programs to immediately strengthen military deterrence to ensure that China is aware that an invasion of Taiwan would be very costly and to avoid a pyrrhic victory in the event of conflict.
"The bottom line from the analysis is that a successful defense is possible, and deterrence is achievable, but it will require planning, some resources, and political will," it concluded.