Taiwan rules out missile info leak despite equipment repairs in China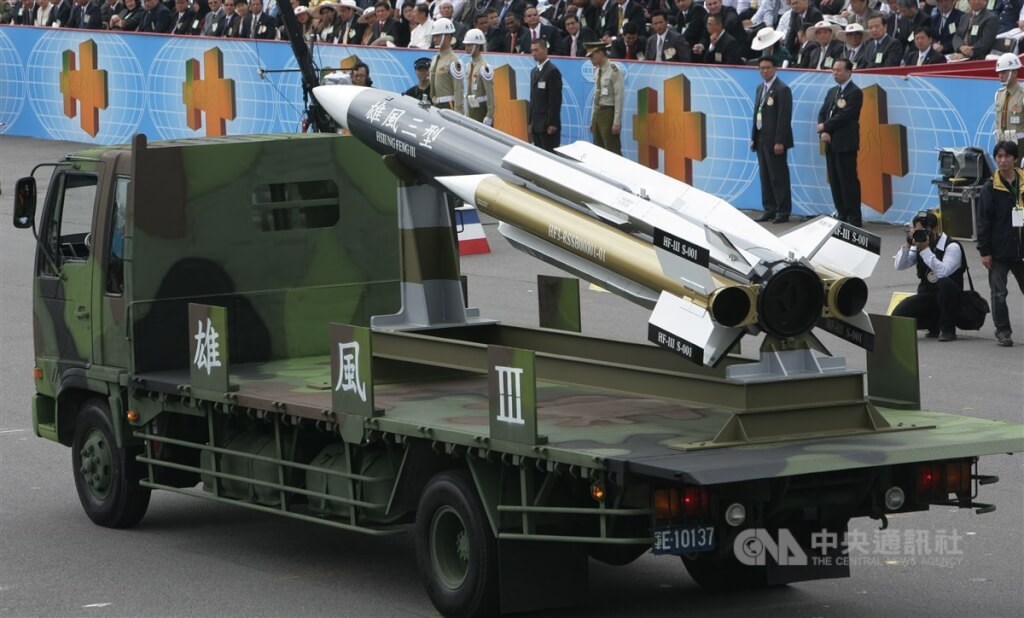 Taipei, Jan. 4 (CNA) The Taiwan military's top research body denied on Wednesday any data breach after local media reported that equipment used to calibrate the unit's domestically-developed supersonic missile system was recently found to have been repaired in China.
In a press release, the National Chung-Shan Institute of Science and Technology (NCSIST) said it had sent a theodolite, which it had bought in 2021 for use in its Hsiung Feng III supersonic missile system, back to the manufacturer in Switzerland for maintenance after finding it was faulty.
After the repaired theodolite was sent back, the NCSIST said it found out that the equipment had been sent back to Taiwan from the Chinese province of Shandong instead of from Switzerland.
The manufacturer later explained that Shandong is where the company's Asian maintenance center is located, which was why the equipment was sent there to be repaired, according to the NCSIST.
The NCSIST released the statement after the local Chinese-language Mirror Media Weekly published the incident in a report earlier on Wednesday.
According to the local media outlet, two theodolites had been sent for repairs, with the first being returned to NCSIST in Dec. 2021, and the second in Feb. 2022. The NCSIST did not specify whether it had sent out two theodolites, and when it had gotten the equipment back.
The NCSIST said it ran a full-scale information security check on the equipment and made sure no malware had been installed on it while it was repaired in China, thus effectively clearing security concerns.
The NCSIST also said that it was discussing measures to make sure that similar sensitive equipment would not be sent to China for maintenance in the future for national security reasons.
A theodolite is a precision optical instrument for measuring angles in specialized applications such as rocket launches.
According to the NCSIST, the theodolite in question is used as optical calibration equipment for the measurement of the launching of Hsiung Feng III missiles.
The Hsiung Feng III or Brave Wind is a supersonic anti-ship cruise missile and is the latest variant in Taiwan's Hsiung Feng cruise missile family.
The NCSIST first test-fired the Hsiung Feng III in 1997, with further tests reported in November 2004.
Taiwan's Navy reportedly finished the initial operational test and evaluation in 2005, with the missile system first put on public display in 2007 during that year's National Day parade in Taipei.
The missile is believed to have an operating range of 400 km with a possible maximum range of over 1,500 km.