71 Chinese warplanes detected around Taiwan, highest number this year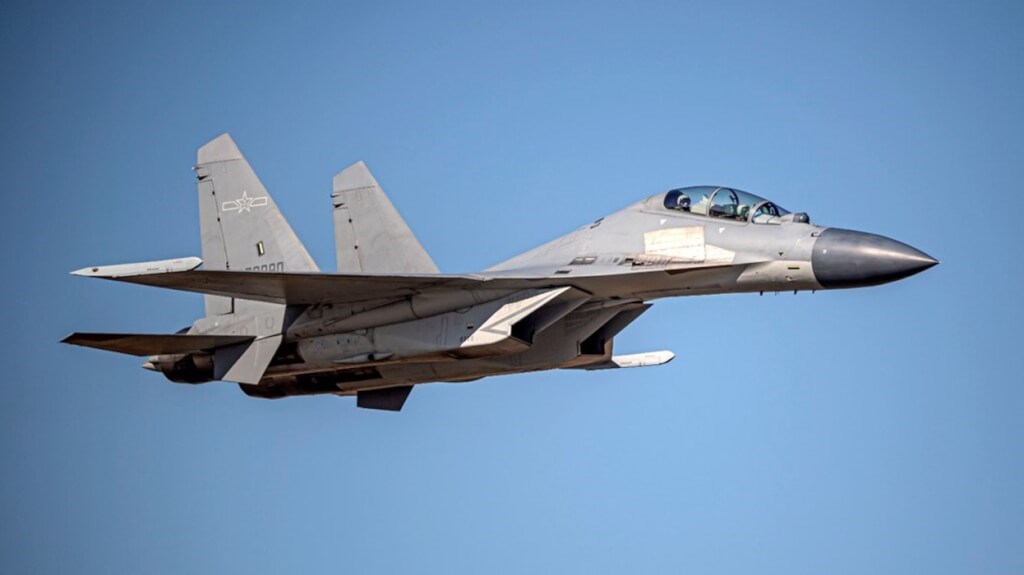 Taipei, Dec. 26 (CNA) A total of 71 Chinese military aircraft and seven vessels have been detected around Taiwan from 6 a.m. Sunday to 6 a.m. Monday, according to the Ministry of National Defense (MND), marking the most within a 24-hour span so far this year.
Among them, 47 aircraft were spotted either crossing the median line of the Taiwan Strait or entering Taiwan's southwestern air defense identification zone, the MND said in a news release on Monday.
The planes included 12 Shenyang J-11 and six Sukhoi Su-30 fighter jets, one CASC Rainbow CH-4 unmanned aerial vehicle (UAV), six Chengdu J-10 and 18 J-16 fighter jets, one Shaanxi Y-8 EW, one Y-8 ASW, one KJ-500 airborne early warning and control (AEW&C) plane, and one Guizhou WZ-7 Soaring Dragon UAV, according to information provided by the ministry.
The MND said the armed forces have been monitoring the situation and have tasked combat air patrol aircraft, Navy vessels, and land-based missile systems to respond to these activities.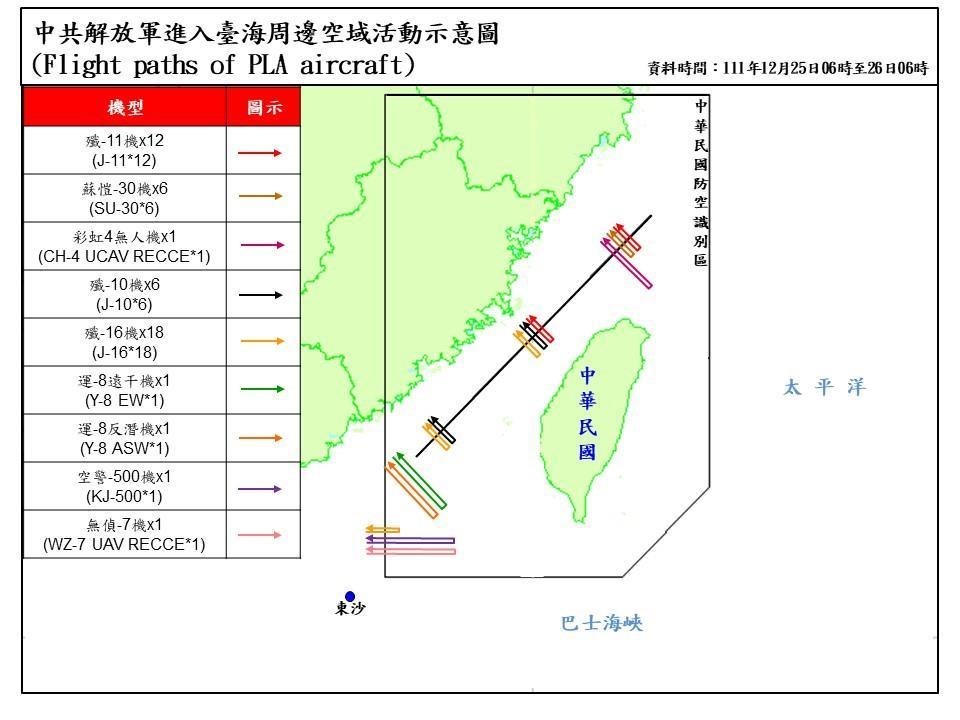 The sorties by the Chinese People's Liberation Army (PLA) came after United States President Joe Biden on Dec. 23 signed into law the 2023 National Defense Authorization Act (NDAA), which includes provisions to authorize US$2 billion in loans to Taiwan to buy U.S.-made weapons.
The NDAA also includes a nonbinding provision, stating Taiwanese naval forces should be included in the Rim of the Pacific military exercises carried out by the U.S. military and its allies in the region, as appropriate, in 2024.
However, the Act does not require the U.S. administration to invite Taiwan to join the drills.
Beijing has strongly objected to the NDAA, seeing it as an attempt to change the status quo by challenging the One China policy and Sino-U.S. joint agreements on how to handle the issue of Taiwan.
On Sunday the PLA Eastern Theater Command held joint combat readiness patrols and "strike drills" in the sea and airspace around Taiwan.
"This is a resolute response to the current U.S.-Taiwan provocation," the command said.
In a statement, the Taiwanese defense ministry said on Sunday evening that the Chinese military activities were intimidation and psychological warfare aimed at manipulating public opinion in Taiwan.
The MND said Taiwan-U.S. cooperation is conducive to freedom, openness, peace and stability in the Indo-Pacific region, and the military will continue to strengthen its preparations based on enemy threats and self-defense needs.
It added that the military is absolutely determined, capable, and confident in defending Taiwan's sovereignty and ensuring national defense security.