MOFA condemns Chinese sanctions on Taiwan's U.S. envoy, others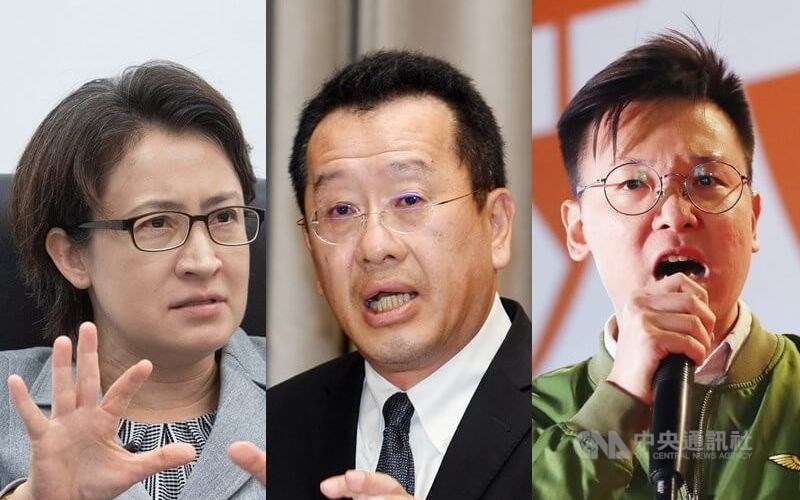 Taipei, Aug. 16 (CNA) Taiwan's Ministry of Foreign Affairs (MOFA) has slammed China for blacklisting Taiwan's representative to the United States Hsiao Bi-khim (蕭美琴) and six others, saying its attempt to intimidate Taiwan activists would only prove to be counterproductive.
China has no authority to dictate to Taiwan because Taiwan is a democratic country upholding the rule of law and will never yield to intimidation and threats exerted by an authoritarian regime, MOFA spokesperson Joanne Ou (歐江安) said Tuesday.
China's Xinhua News Agency reported earlier Tuesday that the Taiwan Work Office of the Chinese Communist Party (CCP) Central Committee has imposed sanctions against Hsiao and people on China's list of "stubborn Taiwan independence separatists."
According to Xinhua, Hsiao, Taiwan's National Security Council Secretary-General Wellington Koo (顧立雄), Deputy Legislative Speaker Tsai Chi-chang (蔡其昌), Democratic Progressive Party (DPP) caucus whip Ker Chien-ming (柯建銘), DPP Deputy Secretary-General Lin Fei-fan (林飛帆), DPP Legislator Wang Ting-yu (王定宇) and Lawmaker Chen Jiau-hua (陳椒華) of the New Power Party have been added to the list.
Premier Su Tseng-chang (蘇貞昌), Legislative Speaker You Si-kun (游錫堃) and Foreign Minister Joseph Wu (吳釗燮) have been on the list since it was first made public in November 2021.
The individuals on the list and their family members are banned from entering China, Hong Kong and Macao, Xinhua reported.
In addition, their affiliated institutions are restricted from cooperating with related organizations and individuals in China, and enterprises related to them cannot engage in business activities in China, according to Xinhua.
The individuals have gone to great lengths to "collude with external forces" in provocations advocating Taiwan independence and posed a grave danger to the Chinese national rejuvenation, Xinhua quoted a spokesperson of the office as saying.
The move was the latest in China's pressure campaign against Taiwan following the visit to Taipei by U.S. House Speaker Nancy Pelosi earlier this month that has also included nearly a week of intensive military drills encircling Taiwan and trade sanctions.
Ou responded by saying Beijing is "in no position" to comment on Taiwan's international engagements.
China's intent to deter people from speaking in support of Taiwan by targeting Taiwan's politicians and opinion leaders who have worked to enhance Taiwan's visibility internationally would only backfire because it will foster resentment among Taiwanese against China, Ou said.
Meanwhile, Taiwan's Mainland Affairs Council said the sanctions were "illegal" and "ineffective" because Taiwan and China are not under each other's jurisdiction.
The council said that the government will respond to the sanctions China imposed on Taiwan with "necessary measures in a timely manner" to prevent adverse effects and to ensure national security and the interests of the people.
In a Facebook Post, DPP's Lin said he felt "honored" to be sanctioned by an authoritarian regime, adding that he considered it as a "medal of being part of a free world."
When the news came out, many of his friends with foreign media outlets, diplomatic corps, and think tanks sent him messages to congratulate him for that, Lin said.
Update
FEATURE/Taiwan braces for sustained Chinese pressure
Aug. 18: 51 Chinese warplanes, six warships spotted near Taiwan: MND
Aug. 18: 90% of people in Taiwan opposed to Chinese drills: Survey
Aug. 18: Chinese warship detected near Taiwan missile testing site: Navy
Aug. 18: U.S. trade talks can help counter China 'coercion': Cabinet official
Aug. 17: 50% of Taiwanese believe U.S. could help if China attacks: poll
Related News
Aug. 16: China 'overreacting' to peaceful visits to Taiwan: U.S. official
Aug. 16: MOFA condemns Chinese sanctions on Taiwan's U.S. envoy, others
Aug. 15: U.S. senator praises Taiwan for restraint amid Beijing coercions
Aug. 15: Taiwan military reviewing PLA tactics applied in recent drills
Aug. 14: U.S. Congressional delegation arrives in Taiwan for two-day visit
Aug. 11: Taiwan not seeking conflict escalation but will defend sovereignty: Tsai
Aug. 11: Taiwan's allies to condemn China at U.N.: SVG prime minister
Aug. 11: Chinese white paper limits room for Taiwan post-unification: expert
Aug. 11: Government to spend NT$200 million on marketing food amid China bans
Aug. 10: MAC slams 'wishful thinking' and 'lies' in China's Taiwan white paper
Aug. 9: 45 warplanes, 10 warships spotted near Taiwan as PLA drills continue
Aug. 9: Taiwan's diplomatic ties stable amid possible China retaliation: FM
Source: Ministry of Foreign Affairs
Aug. 8: Chinese drills aligned with plans for taking Taiwan by force: Expert
Aug. 7: Taiwan to hold live-fire artillery drills to test combat readiness
Aug. 6: U.S., Japan, Australia urge China to stop military drills
Aug. 6: Defense ministry says China simulating attack on Taiwan
Aug. 5: China's drills a 'new normal' aimed at changing status quo: Experts
Aug. 4: President Tsai calls China's live-fire drills 'irresponsible act'
Aug. 4: China fires 11 Dongfeng ballistic missiles into waters off Taiwan: MND
Aug. 4: China cannot stop world leaders from visiting Taiwan: Pelosi
Aug. 3: China's military exercises aimed at blockading Taiwan: defense ministry
Aug. 3: China imposes new trade restrictions on Taiwan as Pelosi visits
Aug. 2: Visit to honor 'unwavering' U.S. commitment to Taiwan: Pelosi