Chinese white paper limits room for Taiwan post-unification: expert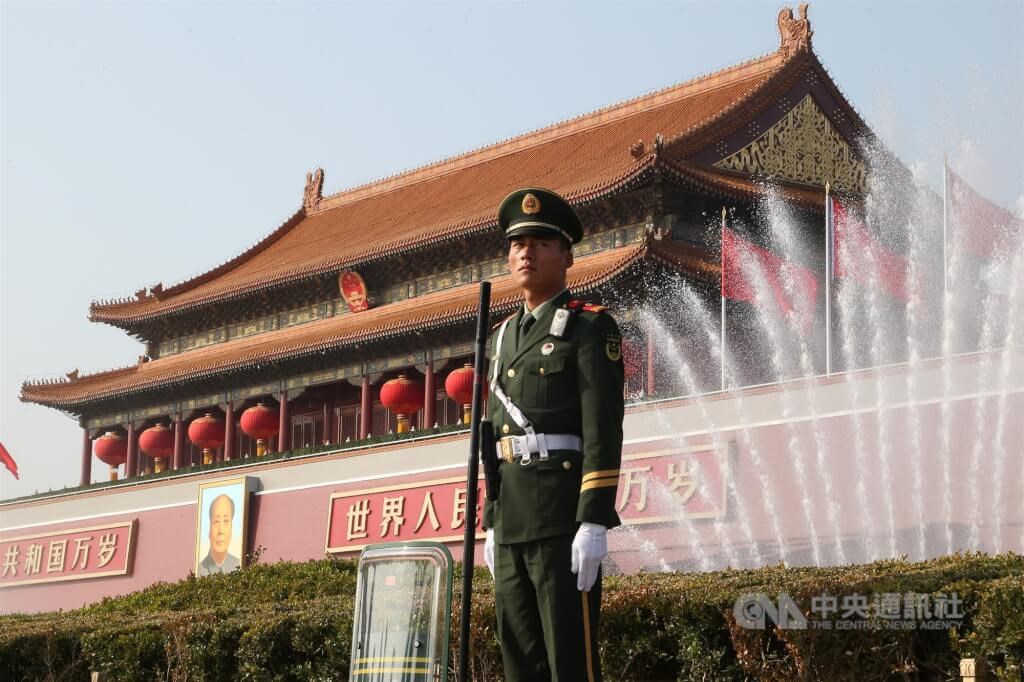 Taipei, Aug. 11 (CNA) Beijing's first white paper on Taiwan released under President Xi Jinping (習近平) represents a deviation from the path set out by his predecessors which promised Taiwan a high degree of autonomy after unification with China, an expert said Thursday.
China on Wednesday published its first white paper on Taiwan since Xi came to power in 2013, with a noticeable departure from the framework laid out in the previous versions in 1993 and 2000, removing what had previously been described by many as the crux of the "one country, two systems" policy on Taiwan.
Beijing's vision for "reunification" with Taiwan in the two previous white papers pointedly noted that "... the central government will not send troops or administrative personnel to be stationed in Taiwan."
Some commentators have interpreted the removal of the undertaking as Xi proposing a "watered-down" version of the "one country, two systems" model for Taiwan, despite the reiteration in the latest white paper that "Taiwan will enjoy a high degree of autonomy as a special administrative region" after "reunification."
Interviewed by CNA, Chang Wu-ueh (張五岳), a China expert, said that rising anti-China sentiment in Hong Kong in recent years has made Beijing more resolute to "tighten its grip" as it implements the "one China, two systems" model in its special administrative region.
The massive protest against the extradition bill in Hong Kong in 2019 -- which forced Beijing to scrap the bill -- prompted China to pass a national security law for the territory in 2020 and overhaul the electoral system for its legislative council in 2021, in order to increase its control over Hong Kong, Chang said.
First proposed in 1979 by Deng Xiaoping (鄧小平), China's paramount leader from 1978 until his death in 1989, the "one country, two systems" formula offered to allow Taiwan to keep its government and administrative system in return for cross-Taiwan Strait unification and was later applied to Hong Kong and Macau.
Deng expounded on the concept in 1983, saying that neither troops nor administrative personnel would go to Taiwan special administrative region after it reunited with the motherland, known as "Deng's Six Conceptions for Peaceful Reunification," according to an official Chinese document.
Despite the pledge by Deng, Xi has learned from the situation in Hong Kong that "one country, two systems" must "leave no room for ambiguity on national security issues" if it is to be practiced in Taiwan, Chang said.
The exclusion of the undertaking not to send troops or administrative personnel to Taiwan from Xi's vision for cross-strait unification as outlined in the white paper should be read in this context, added Chang, an associate professor at Tamkang University.
Aug. 10: MAC slams 'wishful thinking' and 'lies' in China's Taiwan white paper
Under the white paper, China reaffirmed its position that no individual or force will be allowed to separate Taiwan from China and noted its readiness to respond with the use of force against external forces that obstruct China's reunification.
Chang said the publication of the white paper was brought forward by the visit of U.S. House of Representatives Speaker Nancy Pelosi to Taiwan last week.
China's first white paper on Taiwan in 1993 was issued after the Republic of China (ROC, the government of which relocated to Taiwan in 1949) started a bid in the same year, under then President Lee Teng-hui (李登輝), to rejoin the United Nations. The seat on the U.N. Security Council originally held by the ROC was given to the People's Republic of China in 1971.
The 2000 white paper was released after Lee characterized cross-strait relationship as a "special state-to-state relationship," known as "two-state theory" in 1999.
Chang said the three white papers were all published when cross-strait relations were "at a key juncture" and China considered it necessary to make its position on the Taiwan issue clear to the international community.
With the importance of cross-strait peace and the need to engage with Taiwan increasingly recognized by major powers, China must have long planned to publish the latest white paper but brought forward its release as a result of Pelosi's visit to Taiwan, Chang said.
Ming Pao, a Chinese-language newspaper in Hong Kong, emphasized another point in an article about the white paper published Thursday, noting that Beijing did not say Taiwan can retain its own army under the "one country, two systems" model as it did in the previous two versions.
Sing Tao Daily, another newspaper in Hong Kong, ran an article in Thursday's edition comparing the differences in the three versions, saying that Beijing "for the first time set a precondition for Taiwan to enjoy a high degree of autonomy" following cross-strait unification.
The newspaper quoted a paragraph that contains the conditional clause -- Provided China's sovereignty, security and development interests are guaranteed, after reunification Taiwan will enjoy a high degree of autonomy as a special administrative region -- which did not appear in the first two versions.
Separately, Liu Guoshen (劉國深), a professor of the Taiwan Research Institute at China's Xiamen University, said the latest white paper shows that Xi's stance on Taiwan reflects continuity and embodies traditional elements, but also keeps pace with the times according to the changing international situation.
Meanwhile, Taiwan's Ministry of Foreign Affairs on Thursday expressed "stern protest and condemnation" following the publication of China's white paper and warned Beijing not to underestimate the determination of the people of Taiwan to protect the nation.
The white paper fails to recognize the fact that neither side of the Taiwan Strait is under the jurisdiction of the other and infringes on the sovereignty of Taiwan, the ministry said.
Full text of Beijing's white paper: English / Chinese (via China's Xinhua News Agency)
Update
FEATURE/Taiwan braces for sustained Chinese pressure
Aug. 18: 51 Chinese warplanes, six warships spotted near Taiwan: MND
Aug. 18: 90% of people in Taiwan opposed to Chinese drills: Survey
Aug. 18: Chinese warship detected near Taiwan missile testing site: Navy
Aug. 18: U.S. trade talks can help counter China 'coercion': Cabinet official
Aug. 17: 50% of Taiwanese believe U.S. could help if China attacks: poll
Aug. 16: China using U.S. lawmakers' visit as excuse for latest drill: Taiwan
Aug. 16: China 'overreacting' to peaceful visits to Taiwan: U.S. official
Aug. 15: U.S. senator praises Taiwan for restraint amid Beijing coercions
Related News
Aug. 11: Government to spend NT$200 million on marketing food amid China bans
Aug. 10: KMT vice chairman makes controversial visit to China
Aug. 9: 45 warplanes, 10 warships spotted near Taiwan as PLA drills continue
Aug. 9: Taiwan's diplomatic ties stable amid possible China retaliation: FM
Source: Ministry of Foreign Affairs
Aug. 8: Chinese drills aligned with plans for taking Taiwan by force: Expert
Aug. 7: Taiwan to hold live-fire artillery drills to test combat readiness
Aug. 6: U.S., Japan, Australia urge China to stop military drills
Aug. 6: Defense ministry says China simulating attack on Taiwan
Aug. 5: China's drills a 'new normal' aimed at changing status quo: Experts
Aug. 4: President Tsai calls China's live-fire drills 'irresponsible act'
Aug. 4: China fires 11 Dongfeng ballistic missiles into waters off Taiwan: MND
Aug. 4: China cannot stop world leaders from visiting Taiwan: Pelosi
Aug. 3: China's military exercises aimed at blockading Taiwan: defense ministry
Aug. 3: China imposes new trade restrictions on Taiwan as Pelosi visits
Aug. 2: Visit to honor 'unwavering' U.S. commitment to Taiwan: Pelosi