Pelosi visit signals change in U.S.' 'one China' policy: Expert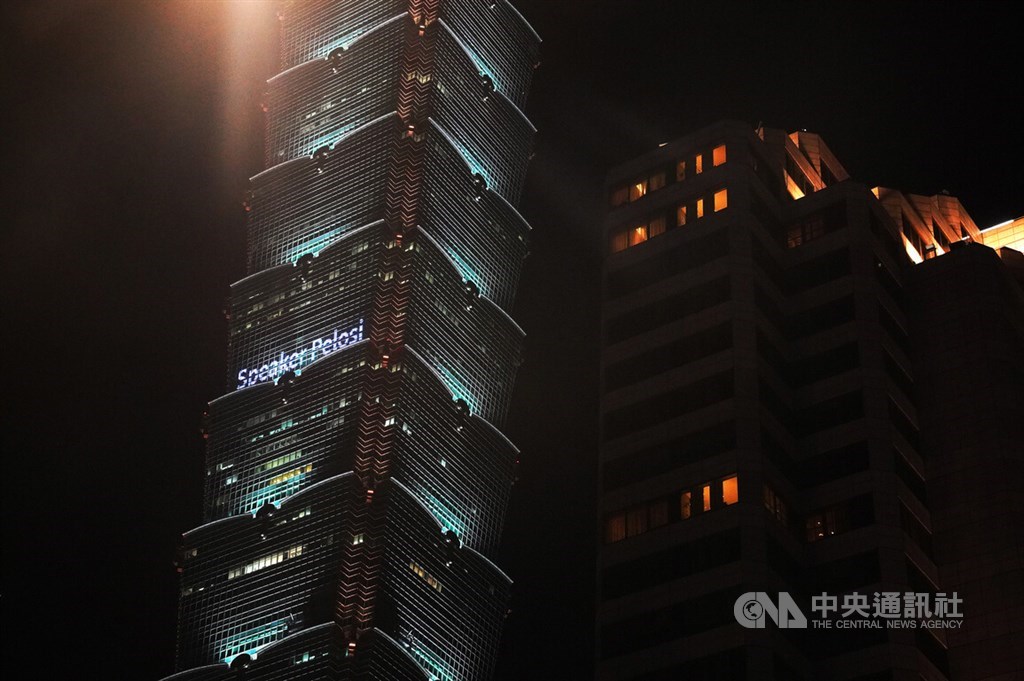 Taipei, Aug. 10 (CNA) The recent visit of House of Representatives Speaker Nancy Pelosi to Taipei is evidence the United States has made Taiwan's wishes a central component of a redefined "one China" policy, according to a U.S.-based political scientist.
In an article published in the Chinese-language edition of The US-China Perception Monitor Wednesday, Liu Yawei (劉亞偉) said whether Taiwan "wants to be" a part of China was now a central part of Washington's stance regarding the island's future status.
While Washington must make its new position known and find a way to live peacefully with Beijing, Liu said the U.S. must also ensure unification is peaceful should Taiwan decide to become a part of China
Washington's shifting attitudes toward Taiwan began with then-U.S. president-elect Donald Trump's acceptance of a congratulatory phone call from Taiwan's President Tsai Ing-wen (蔡英文) in 2016, according to Liu.
Since then, Washington has begun to reinterpret its commitments under the Taiwan Relations Act and the Six Assurances, while also setting out to boost Taiwan's participation and presence internationally, he said.
Washington now seeks to go beyond just deterring Beijing from threatening Taiwan by preventing the island from becoming Chinese territory, Liu added.
According to Liu, the White House now believes unification between China and Taiwan will erode the U.S.' influence in Asia and also damage Washington's credibility on the world stage.
Pelosi's visit to Taiwan caused backsliding U.S.-China relations to sink to a new low, and the slogan "there is only 'one China'" -- which used to be the bedrock of U.S.-China relations -- is now all but shattered, Liu said.
Related News
Aug. 10: MAC slams 'wishful thinking' and 'lies' in China's Taiwan white paper
Aug. 10: KMT vice chairman makes controversial visit to China
Aug. 9: 45 warplanes, 10 warships spotted near Taiwan as PLA drills continue
Aug. 9: Taiwan's diplomatic ties stable amid possible China retaliation: FM
Source: Ministry of Foreign Affairs
Aug. 8: Chinese drills aligned with plans for taking Taiwan by force: Expert
Aug. 7: China sends 66 warplanes, 14 warships around Taiwan Sunday
Aug. 7: Taiwan to hold live-fire artillery drills to test combat readiness
Aug. 6: 20 Chinese warplanes, 14 warships deployed around Taiwan: MND
Aug. 6: U.S., Japan, Australia urge China to stop military drills
Aug. 6: Defense ministry says China simulating attack on Taiwan
Aug. 5: China's drills a 'new normal' aimed at changing status quo: Experts
Aug. 4: President Tsai calls China's live-fire drills 'irresponsible act'
Aug. 4: China fires 11 Dongfeng ballistic missiles into waters off Taiwan: MND
Aug. 4: Flights, ships rerouted to avoid Chinese military drills
Aug. 4: China cannot stop world leaders from visiting Taiwan: Pelosi
Aug. 3: China's military exercises aimed at blockading Taiwan: defense ministry
Aug. 3: China imposes new trade restrictions on Taiwan as Pelosi visits
Aug. 2: Visit to honor 'unwavering' U.S. commitment to Taiwan: Pelosi