Hong Kong may face dark future despite Lam's apology: DPP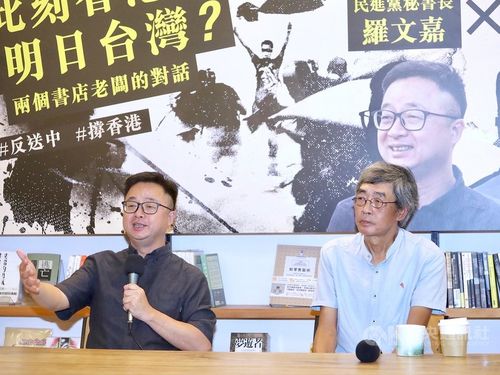 Taipei, June 18 (CNA) Democratic Progressive Party (DPP) Secretary-General Lo Wen-jia (羅文嘉) voiced concern Tuesday that Hong Kong might face a darker and even more difficult future, saying that China's grip on the region will only become tighter.
He made the remark despite Hong Kong Chief Executive Carrie Lam's (林鄭月娥) repeated apologies over her administration's handling of a controversial extradition bill.
Lo was speaking in an open dialogue in Taipei with Hong Kong's Lam Wing Kee (林榮基), the former owner of Causeway Bay Books, who fled to Taiwan in late April for fear of being sent to China if Hong Kong passes the extradition bill.
Lam, along with four other individuals related to Causeway Bay Books, disappeared for months in late 2015 after producing titles critical of the Chinese government and mailing them to people in China.
"Carrie Lam's apology is simply a delaying tactic. She may try to settle scores at a later date," Lo said, citing as an example a Hong Kong court's conviction in April this year of several key participants in the 2014 pro-democracy "Occupy Central" protests.
Lo said that those in power might be forced to make compromises and apologize, but incidents like the extradition bill protests will only trigger a sense of crisis, spurring the authorities to come up with even more problematic ways to control society.
"I am afraid our Hong Kong friends will face even darker, more difficult moments in the coming years. They will need to have far greater courage," Lo said.
He was referring to a statement issued by Carrie Lam's office Sunday after more than 1 million Hong Kongers took to the streets in the latest round of protests against the proposed extradition bill, apologizing to the people for the deficiencies in her work causing great social conflict.
She again offered an apology at a press conference Tuesday in an attempt to assuage public anger, saying that the bill's legislative process has been indefinitely suspended.
The proposed bill has raised concern that it could threaten the human rights of people in Hong Kong, as it would allow the Hong Kong authorities to extradite crime suspects not just to Taiwan and Macau, but also to China.
There are also concerns that Taiwanese crime suspects traveling to or transiting through Hong Kong could be sent to China if the bill is passed.
Lam Wing Kee said he has noticed a difference in mentality between participants in the 2014 pro-democracy movement and those in the most recent protests.
"Compared with the young people who took part in the 2014 movement, those who came out this time do not think about just the present but also the future," he said.
"They realize the type of consequences the bill's passage would bring and understand that they would not just affect them, but also future generations."
This shift in mentality is probably why the extradition bill protests have managed to attract such huge crowds of people, despite not having key figures organizing and mobilizing them, he added.
"We wholeheartedly hope that our Hong Kong friends will feel less alone because of Taiwan," Lo said.
He added that Taiwan must stand with others in their fight against the "red authoritarian country" and the threat it poses to neighboring countries and the rest of the world.