Chinese president lauds Taiwan's contributions to China (update)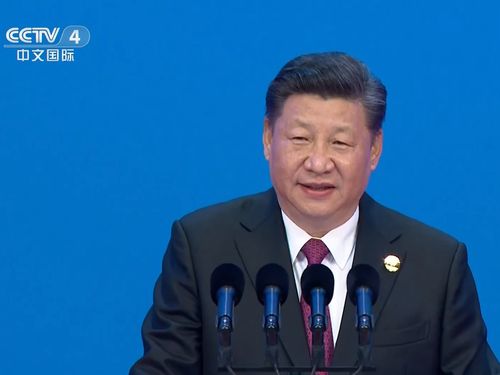 Shanghai, April 10 (CNA) Chinese President Xi Jinping (習近平) on Tuesday lauded Taiwanese contributions to China's development and voiced optimism about the prospects for cross-Taiwan Strait relations while welcoming a Taiwanese delegation at the Boao Forum for Asia.
During a meeting before the official opening ceremony of the conference being held in China's Hainan Province, Xi greeted the delegation headed by former vice president Vincent Siew (蕭萬長) and gave a three-minute speech.
Xi said this year marks the 40th anniversary of China's economic opening and the 30th anniversary of Hainan's founding as a province, and said that Taiwanese enterprises and Taiwan's people deserve credit for the mainland's development over the past 30-40 years.
Noting that he worked in Xiamen during the initial period of China's economic reforms, Xi said that many Taiwanese went to China at that time, bringing the people of the two sides of the strait together.
Xi said he also foresees a bright outlook for the development of cross-strait relations, despite bumps along the way, but reiterated China's insistence on adherence to the "1992 consensus," which Taiwan's incumbent government does not recognize, and its opposition to Taiwan independence.
The "1992 consensus" refers to a tacit understanding between the Kuomintang (KMT) and the Chinese government that both sides acknowledge that there is "one China," with each side having its own interpretation of what "one China" means.
Taiwan's government is now led by the independence-leaning Democratic Progressive Party, which argues that the consensus has never existed and rejects the idea implicit in the consensus that Taiwan is part of China.
Siew told the media later in the day that during the meeting, he asked Xi to put forth enforcement rules as soon as possible for implementing China's recent announcement of 31 measures aimed at providing treatment equal to that of Chinese nationals for Taiwanese seeking to develop their careers in China.
To this suggestion, Xi repeatedly nodded his head, Siew said.
Siew also said he agreed with Xi that there is a bright future for the peaceful development of cross-strait ties.
Premier Lai Ching-te (賴清德) has called the Chinese package "31 measures targeting Taiwan," with which China is trying to "undercut Taiwan" by absorbing the country's resources to meet its economic needs.
In response to Xi's remarks, Chen Ming-tung (陳明通), head of Taiwan's Mainland Affairs Council (MAC), said that now Xi recognizes Taiwan's contributions to China's development, the two sides should work together toward co-existence and co-prosperity.
He also expressed hope that China will cherish Taiwan's contributions to its economic growth, while looking to its further contributions in the future.
However, he accused China of unilaterally setting political preconditions for cross-strait exchanges, saying that this will hinder the positive development of cross-strait relations.
Meanwhile, he reaffirmed the government's stance on promoting its China policy in accordance with the Republic of China Constitution and relevant laws and based on the strategic goals of maintaining the peaceful status quo of cross-strait relations and ensuring regional security and prosperity in the Asia-Pacific region.