'Goodwill' to decide future cross-strait ties: President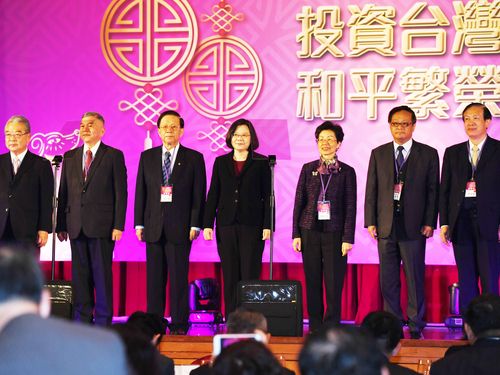 Taipei, Feb. 21 (CNA) Goodwill and constructive interaction between the two sides across the Taiwan Strait will be the key factors that determine where cross-strait ties are headed in the future, President Tsai Ing-wen (蔡英文) said Wednesday.
Speaking at a Lunar New Year luncheon for representatives of Taiwanese-invested companies in China, Tsai said all Taiwanese people, including those doing business on the mainland, care about peaceful development in cross-strait relations.
That is why she has pursued regional peace, stability and prosperity, in which "cross-strait relations play the most crucial role," she said.
The pledges she made in her inaugural address on May 20, 2016 represent the greatest expression of goodwill and the "most powerful assurance" in the maintenance of cross-strait peace, stability and prosperity.
Tsai contended that "the future direction of cross-strait ties will be decided by whether or not the two sides can show each other goodwill and engage in constructive interactions."
The president promised the Taiwanese businesspeople in the audience that her government "will keep its promises and maintain its goodwill and will not turn back."
"Taiwan will definitely take responsibility for regional security and maintain stable, consistent and predictable cross-strait relations," Tsai declared.
In her inaugural address, Tsai did not endorse the "1992 consensus," which had been the formula used by her predecessor, Ma Ying-jeou (馬英九), to improve relations with China during his two terms from 2008 to 2016.
The so-called "consensus" was that both sides acknowledge there is only one China, with each side free to interpret what that means, but Tsai and her Democratic Progressive Party argue such a consensus was never reached.
Instead, Tsai said it was a "historical fact" that the two sides met in 1992 and reached various understandings with a political attitude of seeking common ground while setting aside differences.
She also said at the time that the two sides should cherish and sustain the outcomes accumulated during the period of over two decades of interaction since 1992.
And "it is based on such existing realities and political foundations that the stable and peaceful development of the cross-Strait relationship must be continuously promoted," Tsai said in the 2016 speech.
Beijing has insisted that the Tsai administration explicitly accept the "1992 consensus" -- and in effect that Taiwan is part of "one China" -- as the political foundation for the continuation of relatively warm relations under the Ma administration.
Due to Tsai's refusal to recognize the consensus, Beijing halted communications and dialogue with Taipei, bringing cross-strait ties to a standstill since then.
On Wednesday, Tsai also welcomed businesses based in China to return to Taiwan.
She argued that the domestic market was full of investment opportunities, citing those expected to be created by the government's "5+2 industrial transformation plan," and said her government was working to create a good environment for industrial development by easing regulations and encouraging innovation.
Her administration will not just open its arms for investments by China-based Taiwanese businesses but also give them assistance in the areas of land and technology.
"Taiwan is not only your permanent home, but also the most powerful support for all of the Taiwanese businesspeople on the other side of the strait," Tsai said.
The 5+2 industrial transformation program was one of the measures put forth by Tsai's administration last year to accelerate Taiwan's industrial and structural transformation.
It focuses on five main sectors -- the Internet of Things, biomedicine, green energy, intelligent machinery and national defense -- and the promotion of two other areas -- new agriculture and the circular economy.