KMT's setback signals rocky cross-strait relations: scholars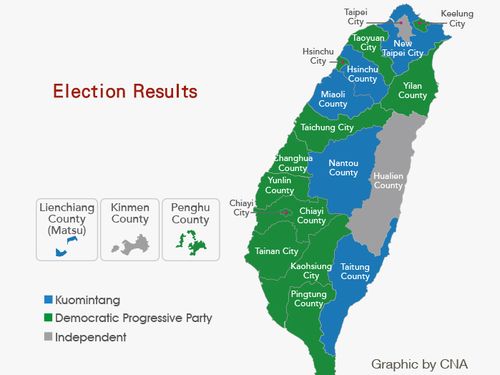 Taipei, Nov. 30 (CNA) Taiwanese scholars said Sunday that relations between Taiwan and China are likely to slow down or even become unstable in the wake of the ruling Kuomintang's (KMT's) resounding defeat in Saturday's local government elections.
At a forum that discussed the political and economic implications of the election results, several academics predicted a more difficult path ahead in terms of cross-strait links, and one scholar said China was partly to blame.
The election results may have been different had the Chinese government paid more attention to the Taiwanese people's concerns about over-reliance on the Chinese market, said Chao Chien-min, a Chinese Culture University professor and former deputy minister of Taiwan's Mainland Affairs Council.
Instead, China ignored those concerns and made no effort to help Taiwan expand its economic reach in the international community, Chao said at the forum that was organized by the Institute for National Policy Research, a private think tank.
In the wake of Saturday's election results, the already weak trust between Taiwan and China could now "vanish completely," which could lead to unstable cross-strait relations over the next two years, Chao said.
In a similar tone, Wu Hsin-hsing, chair professor at Ming Chuan University's International College, said President Ma Ying-jeou will now have no choice but to slow down the pace of Taiwan's interactions with China during his remaining 18 months in office, as the election results show that the KMT has lost its mandate to continue its policy on cross-strait exchanges.
That outlook on cross-strait relations was also supported by Wu Chung-li, a research fellow at Academia Sinica's Institute of Political Science, who said pacts such as the trade-in-services agreement signed between Taiwan and China last year will not be able to clear the Legislature before Ma's term ends in 2016.
However, Tang Shao-cheng, a research fellow at National Chengchi University's Institute of International Relations, said the services trade pact actually now has a better chance of passing the legislative review.
He said the passage of such bills would reflect positively on the opposition Democratic Progressive Party (DPP), which scored huge gains in the local government elections, and that the party also will not want to risk angering the business sector.
The DPP on Saturday won 13 seats of the 22 seats contested in counties and cities nationwide, while the KMT took only six compared with 15 in the previous election.
In the country's six special municipalities, the KMT managed to hang on to New Taipei in a close race, while the DPP swept Taoyuan, Taichung, Tainan and Kaohsiung. The capital Taipei was wrested from the KMT by an independent candidate.
(By Yin Chun-chieh and Christie Chen; click here for results and aftermath of this year's local elections)ENDITEM/pc
Related stories:●Nov. 30: Ma to make new plans in wake of KMT election defeat: spokesman●Nov. 30: Hau Lung-bin will quit as KMT vice chairman: spokesman