Taiwanese businesses suffer from anti-China protest in Vietnam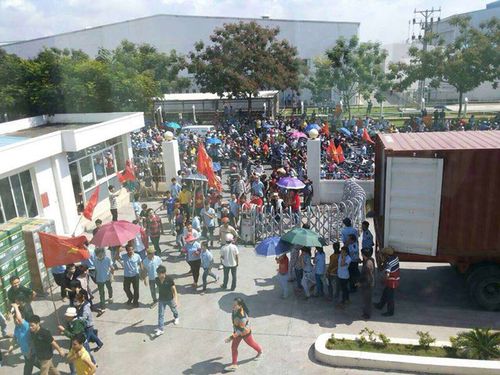 Update: June 18:●Vietnam vows to help Taiwanese businesses recover from riots
Video report:Taiwan request help in Vietnam
Hanoi, May 13 (CNA) The Vietnamese government has mobilized riot police and military forces to handle the aftermath of an incident in which an anti-China protest march held Tuesday by hundreds of workers in Binh Duong Province turned into a riot.
Factories belonging to several Taiwanese companies that had Chinese-language signboards were damaged, according to Taiwan's representative to Vietnam, Huang Chih-peng.
The government sent high-ranking officials from Hanoi to deal with the riot after the protest against Chinese oil drilling in the South China sea turned violent, affecting nearly 1,000 Taiwanese companies in the province and forcing some Taiwanese businessmen to flee, according to Huang.
Huang said he had already demanded that Vietnam's Ministry of Public Security take immediate action to quash the unrest, and Vietnamese foreign affairs officials said the government would mobilize the military to quell the riot.
Some Vietnamese people attributed local police inaction to the protest spiralling out of control, according to Huang, who added that the Vietnamese police should have told the protesters the difference between Taiwan and China.
Huang said Taiwan's representative office in Vietnam had already lodged a protest with the Vietnamese government.
The representative office also expressed the hope that the problem can be resolved as soon as possible, as it is related to whether Taiwanese businessmen will be prepared to stay there, Huang said.
The representative office also said that to protect the safety of businessmen in the country, it has asked factories belonging to Taiwanese companies to strengthen security over access to their facilities and to erect signs showing words such as "Taiwanese business." In case of emergency, they are encouraged to call 04-38335501 and 0913219986 to seek assistance from the office.
Anti-China sentiment has been mounting as tensions rose in the resource-rich South China Sea last week when China positioned a giant oil rig in an area also claimed by Vietnam. Each country accused the other of ramming their ships near the disputed Paracel Islands.
The situation has prompted Taiwan's Ministry of Foreign Affairs to warn people traveling to Vietnam to be careful of their personal safety.
(By Tony Fang and Evelyn Kao)ENDITEM/J
Video report:Vietnam-based Taiwanese people recount "terror"
Video report:
Related stories:June 16:●Taiwanese groups to visit Vietnam to see riot-affected areas
June 13:●Investment pact talks with Vietnam on track despite riots: Taiwan●90% Taiwanese firms in Vietnam have resumed operations: group●Taiwan-Vietnam mediation commission set to meet twice a month
June 10:●Operation of FPG steel mill in Vietnam could be delayed
June 5:●Vietnam prime minister meet Taiwanese business people after riots●Taiwan's envoy voices plight of damaged businesses at Hanoi seminar
May 29:●Anti-China riots cost Taiwan insurers at least US$10 million
May 27:●More Taiwanese factories report damage from Vietnam riots: MOEA●Taiwan reiterates demands to visiting Vietnam officials
May 26:●Vietnamese minister conciliatory in Taipei meeting: official●Vietnamese minister in talks with Taipei officials
May 25:●2 Vietnamese convicted for anti-China riots
May 24:●Vietnam assessing compensation for Taiwanese companies: official●Hanoi mulling single window for compensation for Taiwanese firms
May 23:●Taiwan official proposes joint commissions to help firms in Vietnam●Taiwan hopes for better compensation terms from Vietnam
May 22:●Economics minister praises Vietnam for helping Taiwan companies●Another delegation to help Taiwanese businessmen in Vietnam
May 21:●Taiwan urges Vietnam to compensate riot-hit Taiwanese investors●Taiwan, Vietnam discussing losses incurred during rioting●Taiwanese delegation departs for Vietnam to seek compensation
May 20:●Government to hold workshops with Taiwanese businesses in Vietnam●KMT delegation arrives in Vietnam to offer sympathy
May 19:●Taiwanese business group in Vietnam lodges protest●Taiwanese delegation heading to Vietnam to seek compensation●Despite riots, Taiwan not mulling freeze on Vietnam workers●Taiwan, Vietnam in talks on investment protection pact: official●Taiwan steel mill in Vietnam to demand compensation for losses●Construction of Taiwanese steel mill in Vietnam delayed by riots●Merrill Lynch sees limited impact on tech, finance from Vietnam riot
May 18:●224 Taiwanese companies in Vietnam damaged by anti-China protesters●Vietnam apologizes, mulling tax cuts for Taiwanese businesses (update)●Vietnam promises to help reopen companies affected by riots●No reports of major anti-China rallies in Vietnam: foreign ministry●Situation in Vietnam reportedly peaceful (update)
[Demonstrators gather around the Chinese embassy in Hanoi Sunday. CNA photo May 18, 2014]
May 17:●Ma orders contingency plan ahead of expected protests in Vietnam●More Taiwanese return from Vietnam ahead of anti-Chinese protests●Most Taiwanese tourists in Vietnam opt to remain despite protests●Vietnamese workers in Taiwan call for protesters to show restraint●Taiwan trying to protect its citizens in Vietnam as more protests loom●Vietnam minister expresses regret over damage to Taiwan enterprises●Taiwan expands travel warning for Vietnam, makes contingency plans
[A police vehicle patrols on the street of Hanoi Saturday. CNA photo May 17, 2014]
May 16:●Taiwan to seek compensation from Vietnam for losses during riots●Taiwan concerned about possible rallies in Vietnam●Taiwan demands apology, compensation from Vietnam●Vietnamese envoy vows protection of Taiwanese (update)●Taiwan to convey concern to Vietnam over anti-China protests: minister
[Ground staff of Taiwan's China Airlines welcome Taiwanese returning home from Vietnam at Taiwan Taoyuan International Airport early Friday following recent unrest in the Southeast Asian country. CNA photo May 16, 2014]
●Nearly 6,000 Taiwanese back home from Vietnam after riots●Hon Hai gives workers in Vietnamese factory three days off●Taiwan textile companies in Vietnam reopen with tight security●Taiwan demands better protection from Vietnam for investors●China Steel evacuates employee families as Vietnam operations resume●Nearly 400 Taiwanese evacuated home from Vietnam overnight
[A Vietnamese employee of a Taiwanese-run shoe factory in Vietnam's Binh Duong Province stands Friday at the door of the factory, which was temporarily closed following recent riots. CNA photo May 16, 2014]
May 15:●Taiwan rejects Vietnam tourism authority's apology●At least two Chinese dead amid Vietnam riots●Cabinet to help Taiwanese businessmen return home from Vietnam●Worries continue on plans for anti-China marches in Vietnam●Hanoi vows to protect Taiwanese as anti-China riots continue●MAC sees no room for cross-strait cooperation on territorial issues●Vietnamese in Taiwan fear reprisals after anti-China riots
[A website created by Vietnamese to apologize for the attacks to Taiwanese factories in southern Vietnam. CNA photo May 15, 2014]
●Anti-Chinese riots to have limited impact on tourism: minister●One dead in Taiwanese plant in Vietnam anti-China protest●EVA Air offers charter flight to evacuate Taiwanese in Vietnam●China Airlines to expand Vietnam flight capacity Friday●Vietnam tourism authority asks Taiwanese to keep visiting●Gov't to help Taiwan companies seek compensation from Vietnam●Taiwan wants compensation from Vietnam for riot losses (update)
[Vietnamese riot police stand guard in the attacked industrial park in the province of Binh Duong Thursday. CNA photo May 15, 2014]
●Taiwanese factories in Vietnam resuming operations●Taiwanese tourists reported safe in Vietnam●Hundreds of Taiwanese factories affected by Vietnam riots: MOEA●Taiwan will not cooperate with China on South China Sea: official●Two charter flights to help evacuate Taiwanese from Vietnam (update)●Airlines to help evacuate Taiwan nationals from Vietnam (update)●Situation in Vietnam has improved: foreign minister
[The ruin of a Taiwanese factory following a riot in an industrial park in the province of Binh Duong is seen Thursday. CNA photo May 15, 2014]
May 14:●Violence could move Taiwan investments home from Vietnam●Taiwan activates emergency mechanism for expats in Vietnam●Taiwan businesses in Vietnam suffer huge losses from violence●Ethnic Vietnamese in Taiwan hope good relations will continue●Safe at home, Taiwanese recount Vietnam factory riot●Taiwan issues travel alerts for Ho Chi Minh City, suburban provinces●Ethnic Vietnamese in Taiwan call for restraint among protesters
●2 Chinese die, 2 Taiwanese injured in Vietnam anti-China violence●Taiwanese carriers deploy larger planes on Vietnam-Taipei flights●Taiwanese bank operations in Vietnam regular despite protests●Talk of the Day -- First-hand accounts of tensions in Vietnam●10 Taiwanese factories in Vietnam set afire during protests●Task force set up to support Taiwanese businesses in Vietnam
●MOEA to help Taiwanese investors in Vietnam●Taiwan summons Vietnam envoy amid violent protests●Foreign Ministry willing to help Taiwanese leave Vietnam●Taiwan requests Vietnam to protect Taiwanese nationals●Hon Hai's Vietnam base unaffected by violence●Taiwan condemns violence against Taiwan businesses in Vietnam (update)
May 9:●Taiwan expresses concern, reiterates claim over South China Sea
Location of the Vietnamese province of Binh Duong: