Taiwan shares tumble to end below 16,700 points as TSMC hit hard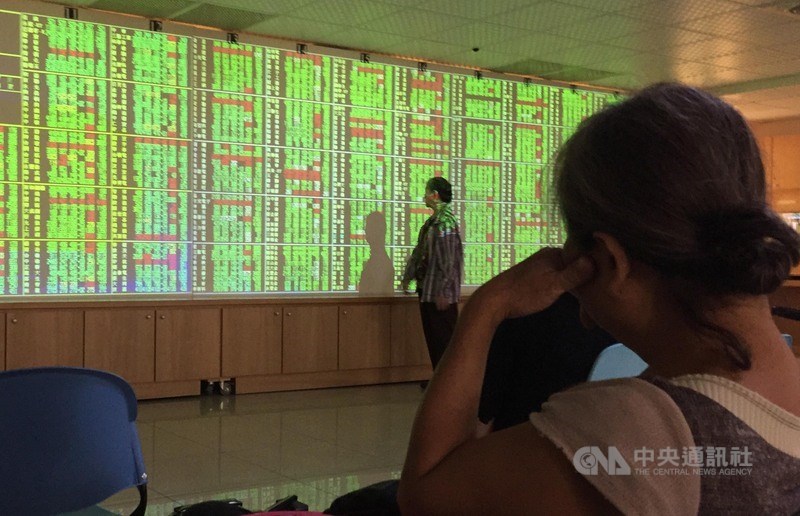 Taipei, Sept. 18 (CNA) Shares in Taiwan took a beating Monday, falling by more than 220 points to close below the 16,700 mark, with contract chipmaker Taiwan Semiconductor Manufacturing Co. (TSMC) coming under pressure following heavy losses for its counterparts on the U.S. markets at the end of last week, dealers said.
Market sentiment remained cautious ahead of a two-day policymaking meeting scheduled by the U.S. Federal Reserve to open Tuesday U.S. time, dealers added.
The Taiex, the Taiwan Stock Exchange's (TWSE) weighted index, ended down 222.68 points, or 1.32 percent, at the day's low of 16,698.24 after coming off a high of 16,893.97. Turnover totaled NT$278.75 billion (US$8.72 billion).
The market opened down 0.16 percent and selling soon escalated.
TSMC
TSMC, the local market's most heavily weighted stock, was the target of particular attention as investors took cues from a 3.01 percent plunge on the Philadelphia Semiconductor Index Friday, itself driven by lingering concerns relating to end-user demand.
The local tech sector's weakness continued as TSMC closed at the day's low of NT$540.00, falling 3.23 percent, after a 2.43 percent decline on its American depositary receipts (ADRs) on Friday.
TSMC's losses contributed about 150 points to the Taiex's fall and sent the bellwether electronics sector down 1.98 percent.
"The U.S. market performance dictated the Taiex throughout the session as TSMC led the weakness," equity market analyst Andy Hsu said. "The local main board also gave up the gains it had posted on Friday due to the index adjustments on the FTSE TWSE Taiwan 50 Index."
The Taiwan 50 Index consists of the largest 50 companies in terms of market capitalization and is also the first narrow-based index published in Taiwan and has TSMC as the top constituent.
TSMC's losses on the U.S. and the local markets also came after a Reuters report said the chipmaker had told major suppliers to delay the delivery of high-end chipmaking equipment due to weakening global demand.
"I think the delay of the equipment delivery was largely because TSMC pushed back mass production at its wafer fab in the U.S. state of Arizona to 2025 from 2024," Hsu said.
According to TSMC, the revised start date for commercial production at its Arizona plant is the result of a skilled worker shortage, which has slowed down the installation of clean room equipment.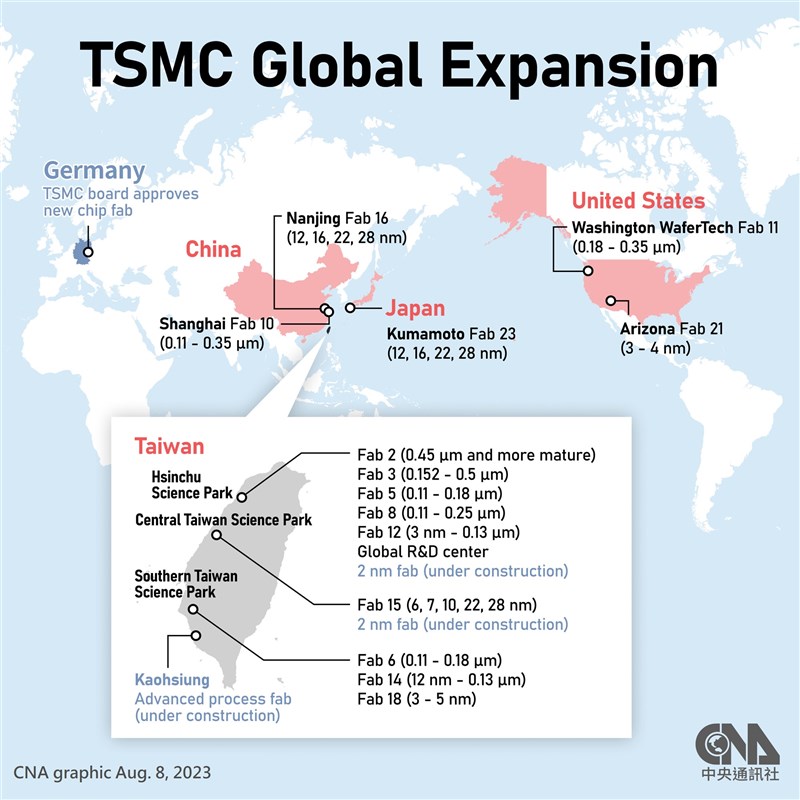 TSMC's losses spread to other semiconductor stocks, with United Microelectronics Corp., a smaller contract chipmaker, down 2.31 percent to end at NT$46.50, and IC packaging and testing services provider ASE Technology Holding Co. down 2.16 percent to close at NT$113.50. In addition, Scientech Corp., TSMC's IC packaging and testing equipment supplier, lost 3.33 percent to end at NT$203.00.
Bucking the downturn, smartphone IC designer MediaTek Inc. rose 2.49 percent to close at NT$782.00, and high-speed transmission IC designer Asmedia Technology Inc. gained 5.42 percent to end at NT$1,265.00.
"Stocks related to artificial intelligence (AI) development also moved in weakness, adding pressure to the Taiex as investors continued to lock in the gains they had built for these stocks amid the recent AI frenzy," Hsu said.
Quanta Computer Inc. fell 4.51 percent to close at NT$222.50, and rival Wistron Corp. lost 3.35 percent to end at NT$101.00. Meanwhile, Wiwynn Corp., Wistron's data center solution subsidiary, shed 7.24 percent to close at NT$1,410.00, and Giga-Byte Technology Co., a leading graphics card vendor for AI applications, dropped 4.24 percent to end at NT$260.00.
Steel, textile, financial stocks
"At a time of semiconductors' losses, investors tended to park their money in select nontech stocks. Today, buying rotated to the steel industry, a market laggard for some time," Hsu said.
In the steel industry, which rose 0.88 percent, China Steel Corp., the largest steel maker in Taiwan, rose 0.56 percent to close at NT$26.75, and Tung Ho Steel Corp. gained 0.80 percent to end at NT$62.80.
Elsewhere in the old economy sector, textile brand Far Eastern New Century Corp. rose 1.37 percent to close at NT$29.50, while Eclat Textile Co. ended down 0.39 percent at NT$507.00.
The financial sector rose 0.02 percent with Fubon Financial Holding Co. up 0.48 percent to close at NT$ 62.80, and Mega Financial Holding Co. up 0.80 percent to end at NT$37.85. But, Cathay Financial Holding Co. closed down 0.54 percent at NT$46.40.
"Investors should keep a close eye on the upcoming Fed meeting," Hsu said. "Moreover, other major central banks such as Japan and the United Kingdom will also decide on their monetary policies later this week, and their results also deserve attention."
According to the TWSE, foreign institutional investors sold a net NT$25.83 billion worth of shares on the main board Monday.