Hon Hai November sales fall 29% due to Zhengzhou plant's lockdown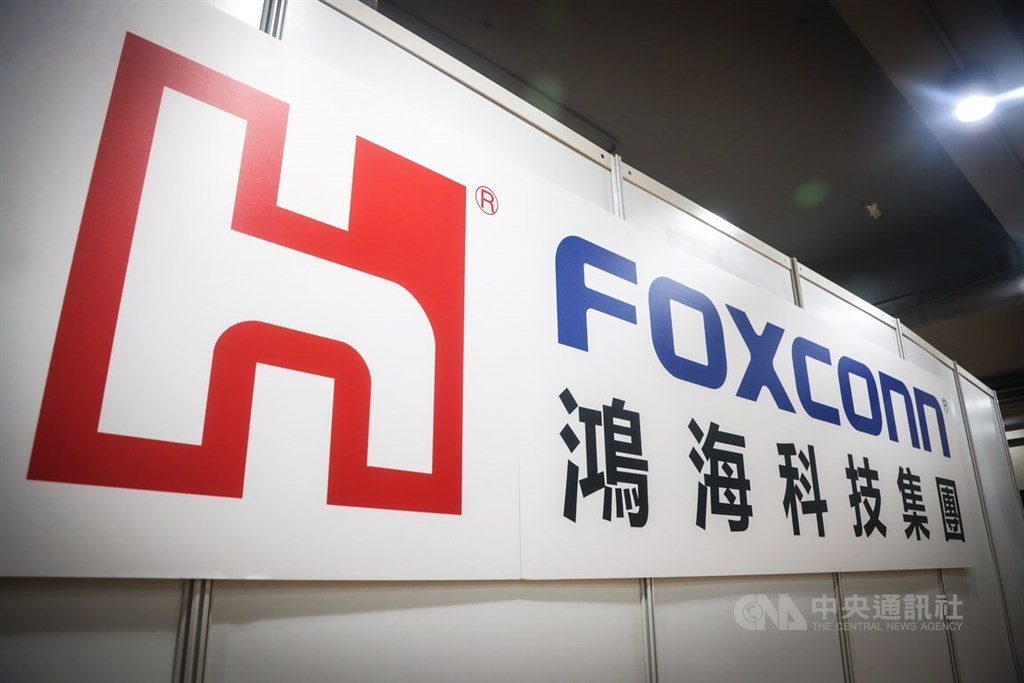 Taipei, Dec. 6 (CNA) Taiwan-based manufacturing giant Hon Hai Precision Industry Co. saw its sales in November fall about 29 percent from a month earlier as production was impacted by COVID-19 lockdowns in its complex in Zhengzhou in China's Henan Province.
In a statement released Monday, iPhone assembler Hon Hai, also known as Foxconn globally, said it posted NT$551.09 billion (US$18.07 billion) in consolidated sales, down by 29.04 percent from a month earlier. The November sales were also down by 11.36 percent from a year earlier.
Hon Hai said, however, the magnitude of the sales decline was in line with the company's earlier expectations.
In November, riots erupted in Hon Hai's Zhengzhou complex as worker discontent about working conditions was sparked by restrictive COVID-19 controls, with many workers either having to be placed in isolation to fight the spread of the virus or just fleeing the factory.
Foreign brokerages said about 60 percent of Hon Hai's iPhone rollouts came from its Zhengzhou complex, which also produces critical components for the company's other products.
According to Chinese news reports, Hon Hai's Zhengzhou facility accounts for about 50 percent of global iPhone production, making the compound the largest iPhone production site in the world.
Hon Hai is believed to serve as the sole assembler of Apple's latest premium iPhone 14 Pro and iPhone 14 Pro Max, which are more popular than their lower-end iPhone 14 and iPhone Plus in the global market.
In November, Apple issued a rare statement saying the factory in Zhengzhou producing the new flagship iPhone 14 Pro and iPhone 14 Pro Max models was "operating at significantly reduced capacity" due to China's COVID-19 restrictions.
Compared with October, Hon Hai said shipments in its electronics component division increased in November, while the smart consumer electronics operations were affected by off-peak season effects as well as the fall in production in the Zhengzhou facility.
In addition, cloud and networking products saw sales growth momentum rise from a month earlier in November due to the debut of new devices, while shipments of computing products dropped due to a relatively high comparison basis in October, Hon Hai said.
On a year-on-year basis, Hon Hai said, sales of smart consumer electronics and electronics components weakened in November, while cloud and networking products bucked the downturn on the back of solid demand for servers, and computing devices benefitted from the launch of new products to post double-digit sales growth.
In the first 11 months of this year, Hon Hai's consolidated sales stood at NT$5.99 trillion, up by 13.56 percent from a year earlier, the company said.
Hon Hai said the company had worked closely with the local government in Zhengzhou and its client to take good care of its employees since the pandemic broke out in the city in October, adding it has been determined to protect its employees' rights and welfare to endure the impact of COVID-19 outbreaks.
"At present, the overall epidemic situation has been brought under control with November being the most affected period by the epidemic" Hon Hai said in the statement.
"In addition to reallocating production capacity of different factories, we have also started to recruit new employees, and are gradually moving toward the direction of restoring production capacity to normal," it said.
Related News
Nov. 24: Hon Hai apologizes over 'technical error' after riot in Zhengzhou
Nov. 23: Mass protests break out at Hon Hai plant in Zhengzhou: Reports