Taiwan shares under heavy pressure as TSMC plunges over 3.5%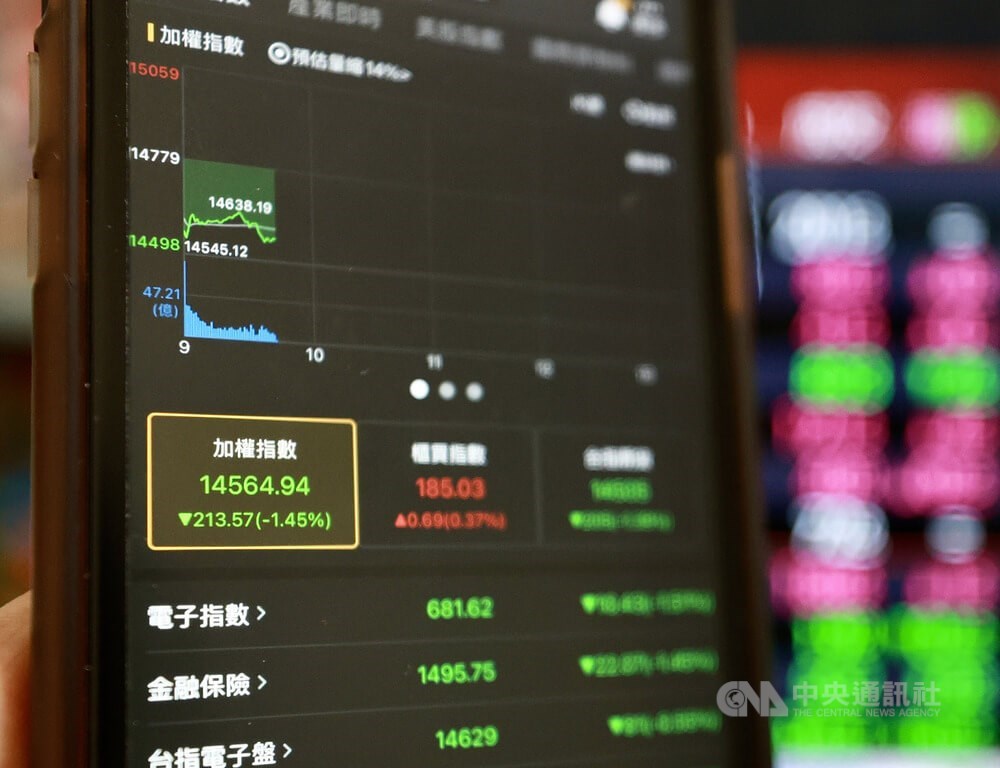 Taipei, Nov. 28 (CNA) Shares in Taiwan came under pressure on Monday as selling was sparked by losses suffered by tech stocks on the U.S. markets at the end of last week, dealers said.
Contract chipmaker Taiwan Semiconductor Manufacturing Co. (TSMC) was a big focus of the sell-off, shedding more than 3.5 percent to serve as the major driver of the downturn on the broader market, while buying rotated to the tourism sector due to optimism at the easing of border controls amid COVID-19, dealers added.
The Taiex, the weighted index on the Taiwan Stock Exchange (TWSE), ended down by 221.64 points, or 1.50 percent, at 14,556.87 after moving between 14,503.12 and 14,638.19. Turnover totaled NT$198.44 billion (US$6.41 billion).
The market opened down by 0.96 percent as investors took their cues from a 0.52-percent fall in the tech-heavy Nasdaq index and a 1.26-percent drop on the Philadelphia Semiconductor Index on the U.S. markets on Friday. Selling escalated during the day as TSMC continued to fall, putting more pressure on the broader market and pushing the Taiex below the 14,600-point mark by the end of the session, dealers said.
"After the 9-in-1 local government elections were held on the weekend, many investors shifted their attention back to the fundamentals," Concord Capital Management analyst Lu Chin-wei said. "Worries have reemerged over inventory adjustments in the global semiconductor industry with many investors punishing large tech stocks throughout the session today."
TSMC, protests in China
"The losses suffered by semiconductor stocks on the U.S. markets served as a catalyst for the sell-off on the local main board, resulting in a plunge in TSMC shares," Lu said.
TSMC, the most heavily weighted stock in the local market, tumbled by 3.51 percent to close at the day's low of NT$480.50. TSMC's losses contributed more than 140 points to the Taiex's fall on Monday with the electronics sector and the semiconductor sub-index falling by 2.07 percent and 3.05 percent, respectively.
Lu said an escalation of protests in China against the government's zero-tolerance COVID-19 policy also weighed on market sentiment here as many investors feared that the unrest would hinder production and hurt demand in the world's second-largest economy.
"We saw the China equity markets falling today, which led to the increased selling of export-oriented tech stocks in the Taipei market," Lu said.
Among other semiconductor stocks, smartphone IC designer MediaTek Inc. shed 3.30 percent to end at NT$703; United Microelectronics Corp., a smaller contract chipmaker, fell 3.06 percent to close at NT$44.40; memory chip supplier Nanya Technology Corp. fell 2.01 percent to end at NT$58.50; and IC packaging and testing services provider ASE Technology Holding Co. closed down 1.56 percent at NT$94.60.
Bucking the downturn, application-specific integrated circuit (ASIC) designer Alchip Technologies Ltd. rose 0.79 percent to end at NT$890.
"I think the selling largely came from foreign institutional investors, while local investors also avoided these semiconductor stocks on the main board but parked their money in the over-the-counter (OTC) market," Lu said.
According to the TWSE, foreign institutional investors sold a net NT$10.77 billion worth of shares on the main board Monday, when the OTC index outperformed the Taiex, rising by 0.57 percent to close at 185.39.
Also in the electronics sector, iPhone assembler Hon Hai Precision Industry Co. lost 0.50 percent to end at NT$100, and power management solution provider Delta Electronics Inc. shed 2.98 percent to close at NT$293, while Largan Precision Co., a supplier of smartphone camera lenses to Apple Inc., rose by 0.66 percent to end at NT$2,275.
Old economy stocks
Lu said while the tech sector continued to be the focus of the market, old economy stocks mostly moved in a narrow range throughout the session.
Formosa Chemicals & Fibre Corp. lost 0.81 percent to close at NT$73.40, while textile brand Far Eastern New Century Corp. rose 0.63 percent to end at NT$31.75. In addition, cooking oil supplier Taisun Enterprise Co. gained 1.88 percent to close at NT$43.40, but Uni-President Enterprises Corp. lost 0.61 percent to end at NT$65.30.
The tourism sector attracted strong buying Monday, jumping by 2.48 percent, on hopes that the easing of pandemic border controls would push up the number of arrivals and boost revenue. "But, as its weighting is small, it failed to enable the Taiex to overcome its losses," Lu said.
Among the tourism stocks, Formosa International Hotels Corp. soared 6.52 percent to close at NT$212.50, and Chateau International Development Co. gained 2.43 percent to end at NT$33.70. Also in the sector, Phoenix Tours International, Inc. rose 3.65 percent to close at NT$54.00, and Lion Travel Service Corp. rose 2.55 percent to end at NT$96.50.
In the financial sector, which edged up 0.43 percent, Cathay Financial Holding Co. fell 1.29 percent to close at NT$42.00, while Fubon Financial Holding Co. ended unchanged at NT$57.90.
"Today's selling dragged the Taiex below the nearest technical support of 14,660 points, the five-day moving average, making the main board technically fragile," Lu said. "The index could test the next support at around 14,300 points in the near future."