Central bank governor expects Taiwan's CPI growth to fall below 2% in 2023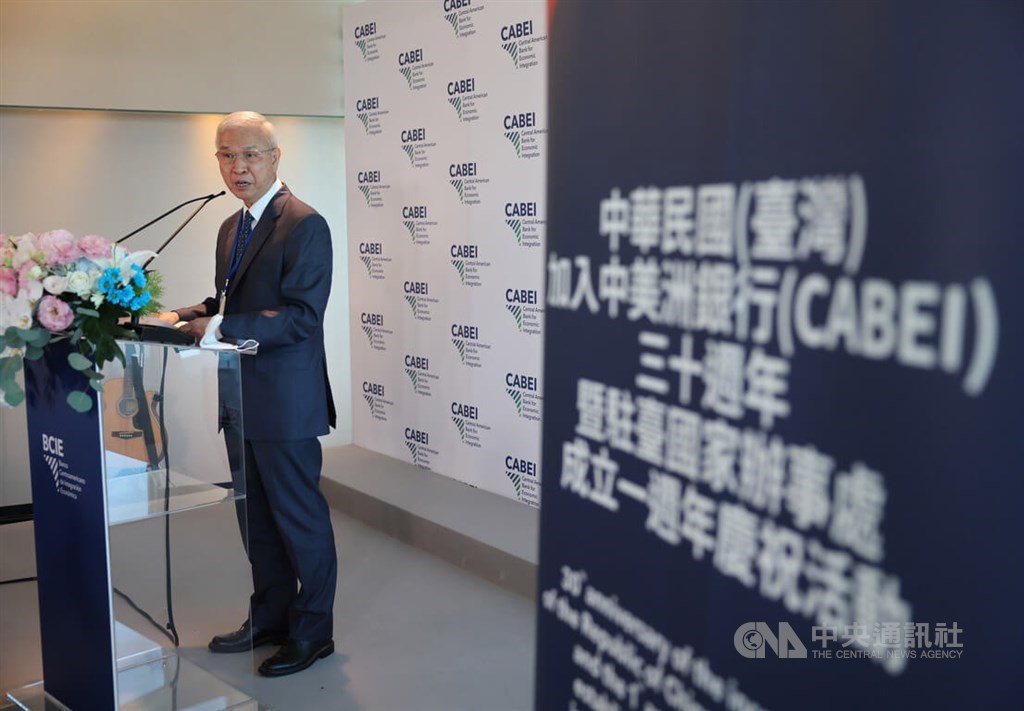 Taipei, Sept. 9 (CNA) Yang Chin-long (楊金龍), governor of Taiwan's central bank, has forecast that growth in the country's consumer price index (CPI) will fall below the 2 percent mark, an alert level set by the bank, in 2023 at a time when local economic growth moderates.
In a speech delivered at the Chinese National Association of Industry and Commerce, Taiwan (CNAIC) Wednesday, Yang said Taiwan's relatively high CPI growth this year was largely the result of geopolitical tensions and interruptions in the global supply chain amid COVID-19, which pushed up energy and other commodity prices.
The global economy has shown signs of slowing down and major central banks have launched a rate hike cycle, which will drag down demand next year, Yang said, adding that higher rates are also expected to lead to a fall in demand for electronic gadgets made in Taiwan and compromise the country's economic growth.
According to Yang, the global economy is forecast to grow by 2.3 percent in 2023 compared with an expected 2.7 percent increase in 2022 with inflation forecast to fall from 7.6 percent in 2022 to 4.5 percent in 2023.
Under such circumstances, wage growth in Taiwan is unlikely to boost consumer prices significantly next year and the country is expected to see stable growth in product prices with the CPI falling below 2 percent.
In the first eight months of this year, Taiwan's CPI rose 3.10 percent from a year earlier, but index growth in August moderated to 2.66 percent after a 3.36 percent in July, according to the Directorate General of Budget, Accounting and Statistics (DGBAS).
The DGBAS has said that as the prices of industrial and agricultural goods have started to fall on the global market, it is possible consumer prices in Taiwan could stabilize for the rest of this year.
In a forecast made in late August, the DGBAS said Taiwan's CPI would grow 2.92 percent from a year earlier in 2022, and grow 1.72 percent in 2023, while the local economy will grow 3.76 percent this year before moderating to 3.05 percent next year.
As many central banks have been tightening their monetary policies to take on inflation, the borrowing costs of many enterprises will grow accordingly, creating downside risks to economic activity, Yang said.
In a worst case scenario in which rate hikes fail to control inflation, central banks, in particular the United States Federal Reserve, are likely to act more aggressively, a move which could send the U.S. economy, the largest in the world, into a recession.
Since March, the Fed has raised its key interest rates by 225 basis points and an additional 75 basis points is expected in September.
Yang said he was also worried about trade tensions between Washington and Beijing, which will affect the restructuring of global supply chain, while the free fall of the Japanese yen against the U.S. dollar is likely to hurt the competitive edge of neighboring countries.
Commenting on claims by scholars who recently said Taiwan has lost 20 years economically as a direct result of the central bank's foreign exchange and interest rate policies, Yang said such a judgement was unfair to the bank as Taiwan's economy outperformed that of South Korea and Japan from 1998 to 2021 and inflation remained stable.
During that period, average annual gross domestic product (GDP) growth in Taiwan was 4 percent, beating the global average of 2.7 percent, while GDP in South Korea and Japan rose 3.8 percent and 0.5 percent, respectively, according to Yang.
In addition, Yang said Taiwan's CPI grew about 1 percent over the past 20 years compared with 2.5 percent in South Korea, while Japan remained mired in long term deflationary pressure with average growth of only 0.1 percent.
"Taiwan did not lose 20 years but rather enjoyed two decades of stability and growth," Yang said.
In mid-August, Yang received the highest "A" grade from Global Finance's Central Banker Report Cards 2022.
Since Yang took over from Perng Fai-nan (彭懷南) as central bank governor on Feb. 26, 2018, he has received an "A" grade in the annual central banker report in 2019 and 2020, but was awarded an "A-" in 2021.
The magazine said its "A" to "F grading system is based on success in areas such as controlling inflation, meeting economic growth goals, maintaining currency stability and managing interest rates.