March-April winning sales receipt numbers released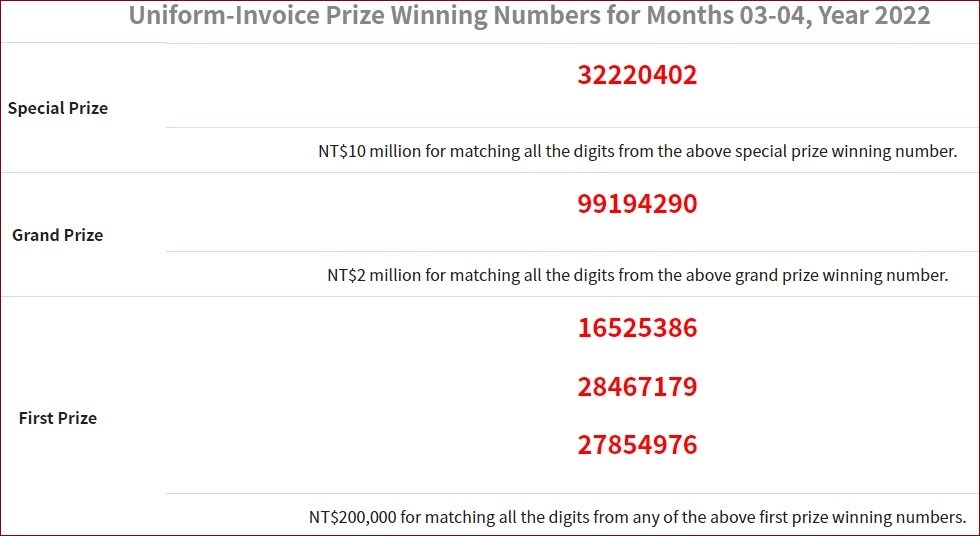 Taipei, May 25 (CNA) The winning number for the NT$10 million (US$337,866) special prize in the March-April receipt lottery was 32220402, the Ministry of Finance announced Wednesday.
The winning number for the NT$2 million grand prize was 99194290, while the three winning numbers for the NT$200,000 first prizes were 16525386, 28467179, and 27854976.
Those with sales receipts, known formally as "uniform invoices," that have serial numbers with the same last seven digits as any of the first-prize numbers win NT$40,000 while those with the same last six digits win NT$10,000.
The other prizes are NT$4,000 for receipts with numbers that have the same last five digits as any of the first-prize numbers, NT$1,000 for those with the same last four digits, and NT$200 for invoices with the same last three digits.
In addition to the regular draw for paper receipts, whose prizes are randomly drawn from serial numbers, the ministry also released winning numbers directly selected from cloud-based uniform invoices -- paperless receipts stored online.
For holders of cloud-based receipts, there are 30 NT$1 million prizes, 16,000 NT$2,000 prizes, and 100,000 NT$800 prizes, and 1.65 million NT$500 prizes.
The March-April lottery prizes can be claimed between June 6 and Sept. 5, 2022, the ministry said.
Prizes of NT$1,000 or below can be redeemed at any 7-Eleven, FamilyMart, OK Mart, and Hi-Life convenience store, or PX Mart or Simple Mart supermarket.
Prizes up to NT$40,000 can be redeemed at credit cooperatives across Taiwan, while prizes of any amount, including those larger than NT$200,000, can be collected at First Commercial Bank, Chang Hwa Bank, and the Agricultural Bank of Taiwan.
The receipt lottery, which draws winning numbers every two months, was set up to encourage consumers to collect sales receipts whenever they make purchases to prevent tax evasion by retailers and other vendors.
Winners can also redeem their awards using the ministry's "uniform lottery redemption" app (Google Android / Apple iOS), which can store and check receipts and enables winners to claim their prizes through electronic transactions, with the prize money remitted directly into their bank account.