Hon Hai forecasts gross margin to improve slightly in Q2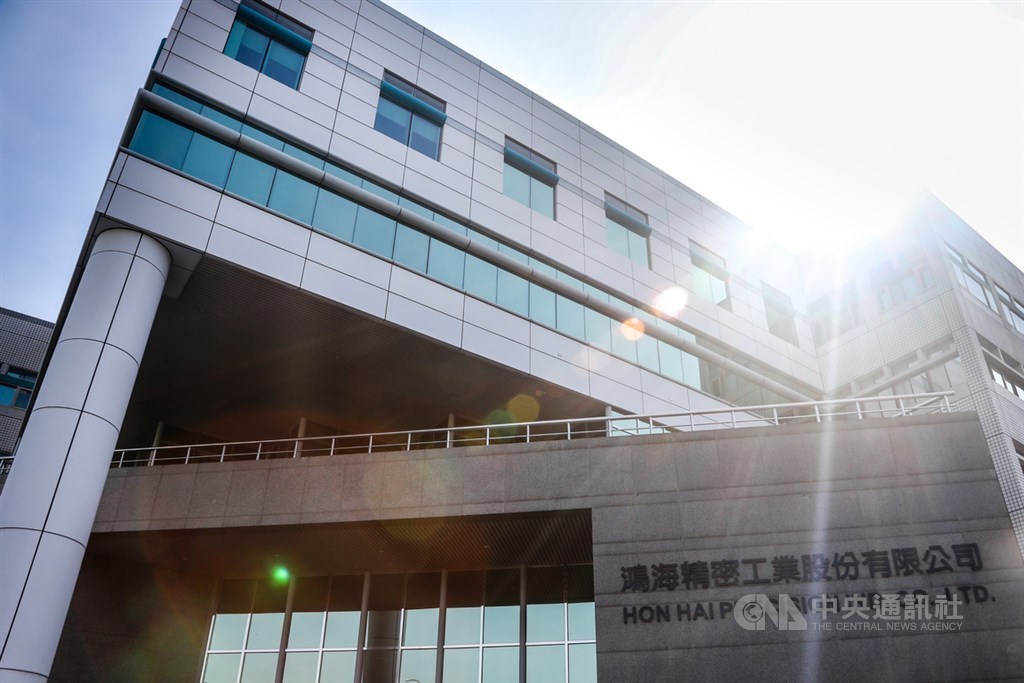 Taipei, May 12 (CNA) Taiwan-based manufacturing giant Hon Hai Precision Industry Co. on Thursday reported that the company expects its gross margin to improve slightly in the second quarter from the first three months.
At an investor conference, Hon Hai Chairman Liu Young-way (劉揚偉) said iPhone assembler Hon Hai, also known as Foxconn on the global market, will benefit from a better product mix and lower Taiwan dollar pushing up sales and boosting its gross margin -- the difference between revenue and cost of goods sold -- in the second quarter relative to the previous quarter.
Before the investor conference, Hon Hai released its first quarter results, saying net profit for the three month period stood at NT$29.45 billion (US$988 million), down 34 percent from the fourth quarter of last year, but up 5 percent from a year earlier.
However, it was still Hon Hai's second-best ever first-quarter performance.
The first quarter gross margin fell to 6.02 percent from 6.03 percent in the fourth quarter of last year, but rose 0.22 percentage points from a year earlier.
Liu said Hon Hai expects to report a better gross margin in the second half of this year and for 2022 as a whole, with the company's gross margin improving from 2021.
Commenting on rising inflation worldwide, Liu said the impact has been largely seen in low and mid-level tech devices, but Hon Hai has seen limited impact since the company focuses on the production of high-end tech items.
In the second quarter, Liu said Hon Hai's sales should be little changed from the first quarter, but its cloud and networking division is expected to perform best, with sales rising more than 15 percent from a quarter earlier and also a year earlier.
The computing and electronic component divisions are expected to post a 5-10 percent quarter-on-quarter and year-on-year increase in sales in the second quarter, while the consumer smart product division is expected to suffer a 5-10 percent decline in sales sequentially and year-on-year, Liu said.
Although COVID-19 infections have affected the global supply chain and logistics, Hon Hai has restructured the management of its supply chain to lower the impact, Liu said.
In 2022, sales from the cloud and networking division and the computing division will grow 5-10 percent and the electronic components division will enjoy a more than 15 percent increase, with sales from the consumer smart product division remaining flat from 2021 to 2022, Liu added.
On Thursday morning, Hon Hai, which has entered the electric vehicle market to diversify its product line and transform itself into a company integrating software and hardware strength from a pure contract electronics maker, announced it has completed the purchase of a Lordstown Motors facility in Ohio and signed two manufacturing agreements with the American automaker.
According to Hon Hai, the deal is part of plans to establish Ohio as its first production hub for EV in North America.
Hon Hai will work with Lordstown to mass produce the Endurance electric pick-up model in the second half of this year. It will provide part of battery modules for Endurance use, while Lordstown will be responsible for purchasing other components, Liu said.
In addition to Endurance pick-ups, both sides will develop new models and promote the models on the global market, Liu added.
In October, 2021, Hon Hai unveiled three self-developed EV prototypes -- the Model E passenger car, the Model C sports utility vehicle, and the Model T electric bus -- under the MIH Consortium, an open EV development platform led by the company.
Liu said Hon Hai is planning to ship 100 electric buses based on the Model T in Taiwan in 2022 after shipments to Kaohsiung started in March, while shipments of Model C SUVs are expected to hit 5,000 to 10,000 units in the initial phase, but he did not disclose the timeframe.
In Thailand, a joint venture with the country's state-owned oil supplier PTT Public Co. plans to break ground on a new EV plant in July with construction of the production site to be completed by the end of 2023 and production scheduled to start in 2024, Liu said.
Hon Hai is looking to take a 5 percent share of the global EV market with sales expected to hit NT$1 trillion in 2025, boosting the company's gross margin to 10 percent, Liu added.