CORONAVIRUS
/
Carrefour lowers price of FORA/VTRUST rapid COVID-19 tests to NT$200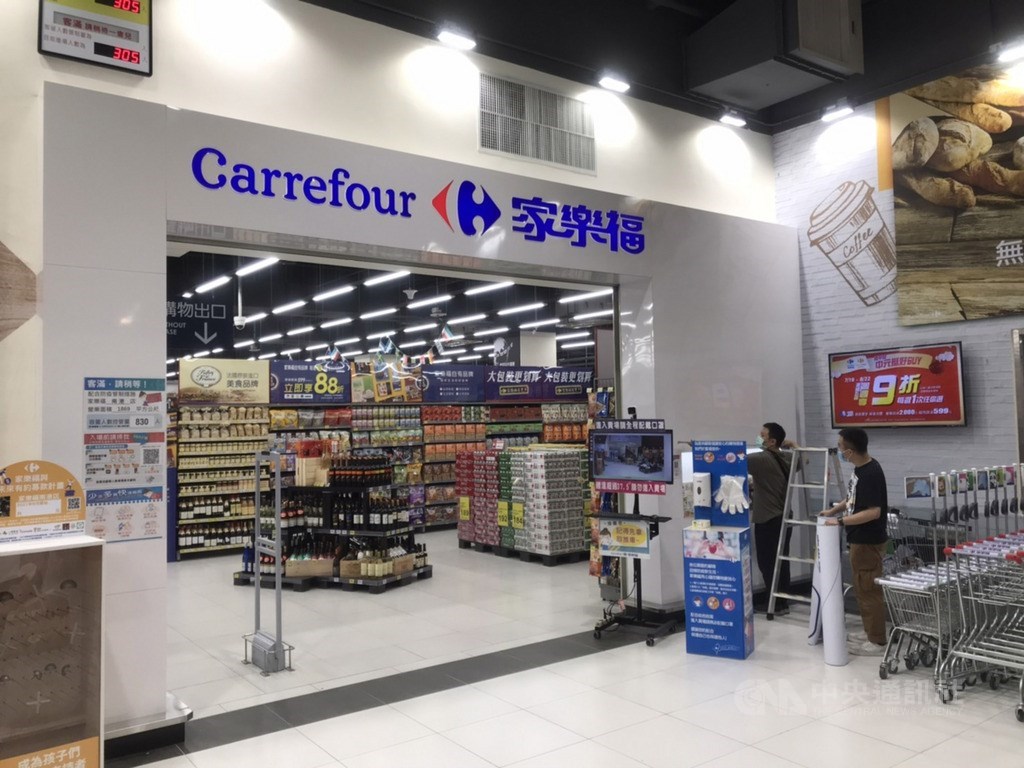 Taipei, April 26 (CNA) Supermarket chain Carrefour Taiwan announced Tuesday it had lowered the price of FORA/VTRUST rapid COVID-19 antigen tests from NT$350 (US$6.83) to NT$200 at 48 of its stores with drug licenses.
The price reduction comes amid skyrocketing demand for rapid tests due to a spike in domestic COVID-19 infections.
On Tuesday, Taiwan reported 6,339 new COVID-19 cases, including 6,295 domestically transmitted infections and 44 cases that were contracted abroad, according to the Central Epidemic Command Center (CECC).
While the price for a pack of five FORA/VTRUST rapid tests has also been lowered from NT$1,700 to NT$975, the price for a pack of five Roche test kits, the other brand stocked by Carrefour, remains unchanged at NT$1,800.
The price cuts were made amid complaints about the high price of rapid COVID-19 antigen tests as the government considers using rapid tests instead of home isolation for people who come into contact with those who test positive for COVID-19.
In response to the scarcity, the government has said it plans to launch an at-home COVID-19 test kit rationing scheme similar to one for rationing of surgical masks introduced in February 2020.
As part of the rationing initiative, the government will requisition 31 million kits by the end of July from five domestic manufacturers -- Taidoc Technology Corp., Panion & BF Biotech Inc., Formosa Biomedical Technology Corp., Excelsior Bio-System Inc., and Enimmune Corp.
In addition, the government will also acquire 100 million test kits from foreign firms.
Meanwhile, rapid test kits are also being sold by other retailers including PX Mart, Cosmed Watsons, Med First, Wellcare, Great Tree, and Yes Chain.
Update
May 7: Quarantine cut to 7 days for mild, asymptomatic COVID-19 cases: CECC
May 7: Taiwan rolls back quarantine rules for contacts of COVID-19 patients
May 5: Rapid test positives to be counted as confirmed COVID cases from May 12
May 3: Taiwan to shorten quarantine for arriving travelers from 10 to 7 days
May 2: Symptomless people to face restrictions in getting PCR test
April 28:COVID-19 contacts to receive fewer free tests during '3+4' quarantine 
April 28: Nearly 60,000 COVID-19 rapid test kits sold in 2 hours
April 27: Taiwan to start rationing sale of COVID-19 rapid test kits
Related News
April 26: Taiwan reports 6,339 new COVID-19 cases, zero deaths
April 25: Shorter '3+4' quarantine for COVID-19 contacts to begin Tuesday
April 24: Taiwan producer to cut prices for COVID rapid test kits
April 21: Rapid testing to replace preventive quarantine: health minister
April 15: Taiwan mandates 3 COVID shots for high-risk groups, venues
April 7: Taiwan suspends some COVID contact tracing, adopts new control model
April 1: Taiwan still plans to open up gradually, despite case spike: Premier
View All