Taiwan shares end higher on mild rebound after U.S. gains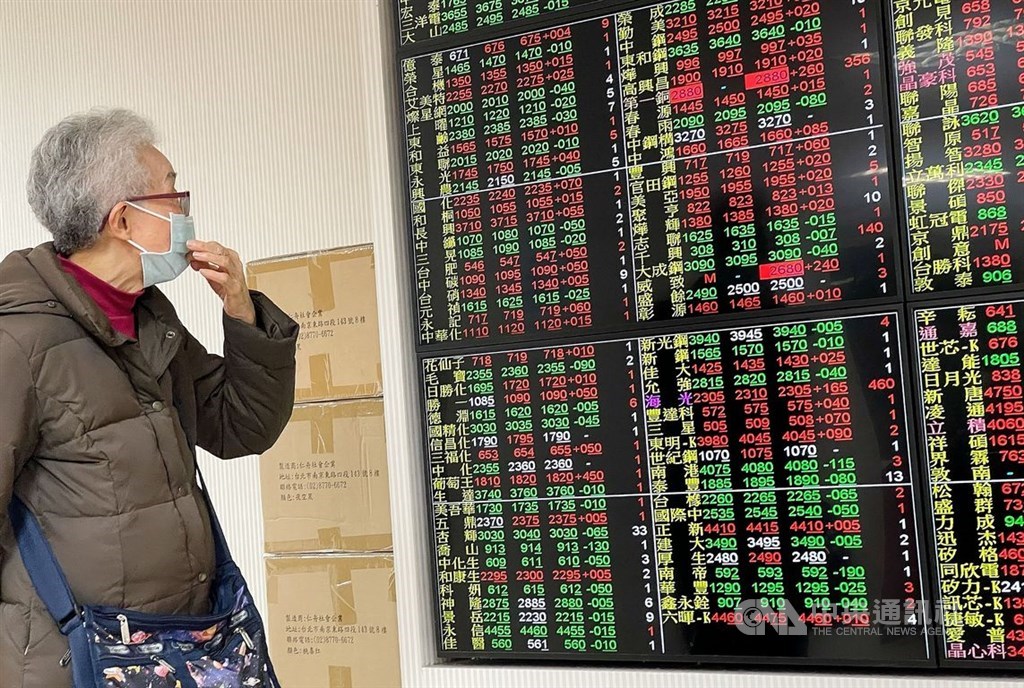 Taipei, March 29 (CNA) Shares in Taiwan moved higher Tuesday as the main board staged a limited technical rebound from a slump seen the previous session on the back of gains on U.S. markets overnight, dealers said.
Turnover was low as market sentiment remains concerned over growing inflationary pressure, which could lead to a more aggressive move by major central banks to raise interest rates and hurt the global economic recovery, they said.
The Taiex, the weighted index on the Taiwan Stock Exchange (TWSE), closed up 28.65 points, or 0.16 percent, at 17,548.66, after moving between 17,493.01 and 17,585.91. Turnover totaled NT$252.84 billion (US$8.79 billion).
The market opened up 0.28 percent and buying increased with investors encouraged to buy by the upturn on U.S. markets, where the Dow Jones Industrial Average rose 0.29 percent and the tech-heavy Nasdaq index gained 1.31 percent Monday, dealers said.
However, with the Taiex moving closer to the 120-day moving average of 17,592 points, some investors shifted to the sell side, ensuring the broader market gave up part of its earlier gains by the end of the session, they said.
Analyst's view
"Judging from today's movement, I think the main board faces technical resistance ahead of 17,600 points. So, technically speaking, the Taiex's gains just stopped before the 120-day moving average," Mega International Investment Services Corp. analyst Alex Huang said.
"In addition, the willingness of many investors to chase prices appeared weak as they simply fear that rising inflation will prompt the major central banks, in particular the U.S. Federal Reserve, to turn more hawkish, and that could hurt the economy," Huang said.
After the Fed kicked off a rate hike cycle on March 16 by raising its key interest rates by 25 basis points, the market widely expects the American central bank to raise interest rates by 50 basis points in May, Huang said.
"While the main board faced some profit taking and saw its gains eroded to some extent, the bright spot was that select semiconductor heavyweights still ended above their previous closing levels to stabilize the Taiex," Huang said.
Tech sector
Among the semiconductor heavyweights, shares in contract chipmaker Taiwan Semiconductor Manufacturing Co. (TSMC), the most heavily weighted stock on the local market, rose 0.86 percent to close at NT$589.00.
Led by TSMC, the semiconductor sub-index rose 0.30 percent.
In addition, United Microelectronics Corp., a smaller contract chipmaker, added 0.19 percent to end at NT$53.70, and power management IC designer Silergy Corp. gained 2.76 percent to close at NT$3,350.00.
Bucking the upturn, smartphone IC designer MediaTek Inc. plunged 5.39 percent to end at NT$912.00.
"The losses suffered by MediaTek came after a report that Apple Inc. plans to scale back production of its latest iPhone SE due to weaker-than-expected demand. There are fears that smartphones in the Android camp will have a similar fate and MediaTek is one of the major suppliers to Android phone vendors," Huang said.
Apply concept stocks
According to a report from Nikkei Asia, Apple plans to cut production of the latest iPhone SE by 20 percent next quarter as a sign that the Russian invasion of Ukraine and looming inflation have started to affect demand for electronics gadgets.
Huang said such fears no doubt dampened market sentiment toward so-called "Apple concept stocks" throughout the session.
In the Apple supply chain, iPhone assembler Hon Hai Precision Industry Co. lost 0.47 percent to close at NT$105.50, and Largan Precision Co., a supplier of smartphone camera lenses, fell 1.84 percent to end at NT$1,865.00.
Also in the electronics sector, flat panel maker AU Optronics Corp. (AUO) dropped 1.96 percent to close at NT$20.05, after the company proposed a day earlier cutting its paid-in capital by 20 percent by returning NT$2 in cash to shareholders and issuing NT$1 cash dividend per share.
Non-tech sectors
The tourism sector rose 1.13 percent on hopes that the government will ease border controls in the near future, dealers said. In the sector, Formosa International Hotels Corp. rose 2.63 percent to close at NT$175.50, and My Humble House gained 3.02 percent to end at NT$22.15.
In addition, Phoenix Tours International, Inc. grew 1.55 percent to close at NT$65.50, while Lion Travel Service Co. lost 0.10 percent to end at NT$97.40.
Elsewhere in the non-tech sector, Nan Ya Plastics Corp. rose 0.50 percent to close at NT$92.50, while Formosa Plastics Corp. Corp. ended unchanged at NT$105.50.
"Investors should pay close attention to the value of the Taiwan dollar, which has been depreciating against the U.S. dollar, for more clues whether foreign investors will continue to move funds out of the country due to the Fed's rate hikes," Huang said.
According to the TWSE, foreign institutional investors sold a net NT$8.89 billion worth of shares on the main board Tuesday.