Taiwan shares tumbles amid Fed rate concerns, Ukraine tensions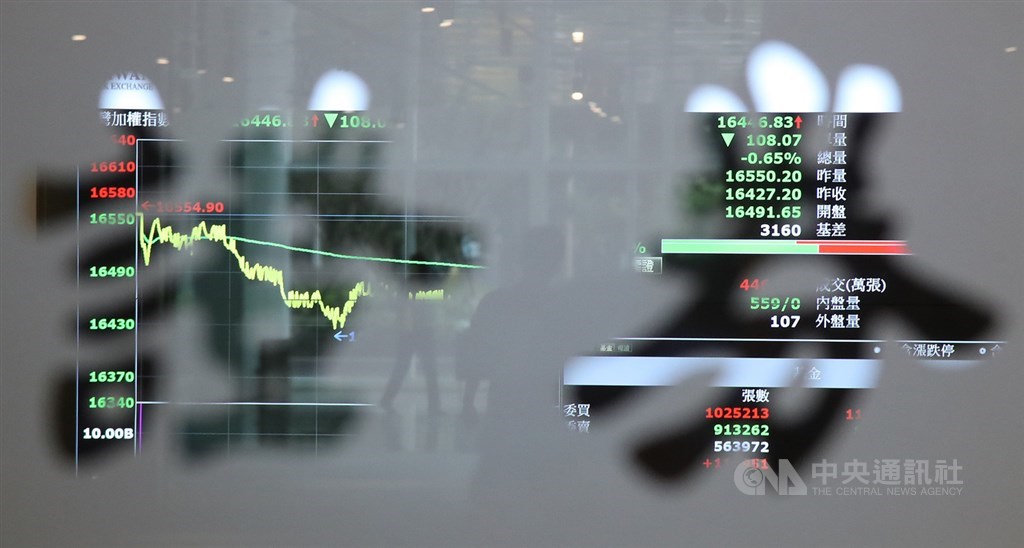 Taipei, Jan. 25 (CNA) Shares in Taiwan took a beating, tumbling almost 300 points Tuesday with market sentiment roiled by fears over a possible move by the U.S. Federal Reserve to introduce a rate hike cycle later in the year, dealers said.
In addition, growing geopolitical tensions increased as fears of a Russian invasion of Ukraine rose in the wake of a military buildup at the border between the two countries, they said.
The Taiex, the weighted index on the Taiwan Stock Exchange (TWSE), ended down 287.92 points, or 1.60 percent, at 17,701.12, after moving between 17,645.66 and 17,890.71. Turnover totaled N$269.41 billion (US$9.73 billion).
The market opened down 0.55 percent and selling soon escalated and was seen across the board, pushing the Taiex below the nearest technical support at around the 60-day moving average of 17,846 points and even lower, even though the Dow Jones Industrial Average came off its earlier decline of 1,000 points to close higher overnight, dealers said.
The bellwether electronics sector came under heavy downward pressure, falling 1.61 percent with the semiconductor sub-index down 1.75 percent, led by contract chipmaker Taiwan Semiconductor Manufacturing Co. (TSMC), which lost 1.84 percent to close at NT$641.00.
The losses suffered by TSMC, the most heavily weighted stock on the local market, contributed about 100 points to the Taiex's decline.
U.S. rate hike concerns
"Despite a rebound on U.S. markets overnight, uncertainty remains amid fears that a rate hike cycle by the Fed will send more ripples through the markets," Concord Securities analyst Kerry Huang said.
"There are rising concerns that the Fed will raise interest rates more than four times this year beating the market's earlier estimate of four rate hikes," Huang said, referring to a research note from Goldman Sachs.
"Along with the American central bank's plan to reduce its balance sheet, more funds will be taken back from the market, a big blow to market liquidity," Huang said.
Overnight, the CBOE Volatility Index (VIX), which gauges market fears on U.S. markets, hit its highest level since November 2020.
"Higher interest rates have made tech stocks less attractive. TSMC, one of the liquid tech heavyweights, became the victim," Huang said. "The stock could see some support at around NT$627, an intraday low seen on Jan. 1 but if it fails to remain above that level, more selling will follow."
Tech sector
TSMC selling spread to other semiconductor stocks. United Microelectronics Corp., a smaller contract chipmaker, fell 1.76 percent to end at NT$61.50, and power management chip designer Silergy Corp. shed 4.04 percent to close at NT$3,565.00.
Dynamic random access memory (DRAM) chip supplier Winbond Electronics Inc. bucked the downturn, rising 0.34 percent to end at NT$29.60.
Also in the electronics sector, iPhone assembler Hon Hai Precision Industry Co. appeared resilient as a market laggard, closing unchanged at NT$103.50. Flat panel maker AU Optornics Corp. lost 3.45 percent to end at NT$19.60, and rival Innolux Corp. fell 3.20 percent to close at NT$16.65.
"Today's selling also reflected worries about the situation in Ukraine. Such geopolitical tensions pushed the broader market down, including non-tech stocks throughout the session," Huang said.
Stocks in other sectors
The transportation sector, where several major cargo shippers are traded, lost 4.12 percent.
Among the falling shipping stocks, Evergreen Marine Corp., the largest container cargo shipper, lost 4.35 percent to end at NT$110.00, Yang Ming Marine Transport Corp. fell 4.80 percent to close at NT$95.10, and Wan Hai Lines Ltd. shed 4.90 percent to end at NT$145.50.
A 2-percent drop in international crude oil prices overnight took a toll on the petrochemical sector, which fell 1.22 percent.
In the sector, Formosa Petrochemical Corp. lost 2.45 percent to close at NT$95.60, Nan Ya Plastics Corp. fell 1.72 percent to end at NT$85.50, Taita Chemical Co. shed 1.20 percent to close at NT$32.85, and Formosa Plastics Corp. dropped 0.95 percent to end at NT$104.50.
Elsewhere, Asia Cement Corp. lost 1.12 percent to close at NT$44.15, and China Steel Structure Corp. lost 1.36 percent to end at NT$58.00, while China Steel Corp., the largest steel maker in Taiwan, closed unchanged at NT$33.45 after the company reported NT$88.41 billion in pre-tax profit for 2021, soaring 2,949 percent from a year earlier.
Thin turnover before LNY
"Despite the plunge on the Taiex, turnover remained thin with few investors wanting to buy on the dip. Many fear more volatility on the U.S. markets over Taiwan's Lunar New Year holiday," Huang said. The local equity market will be closed from Jan. 27 to Feb. 6.
"If the Taiex continues to fall amid global market turmoil, the next technical support is expected at around 17,400 to 17,500 points," Huang said.
According to the TWSE, foreign institutional investors sought a net NT$47.35 billion worth of shares on the main board Tuesday.