Taiwan shares end up; turnover expands on MSCI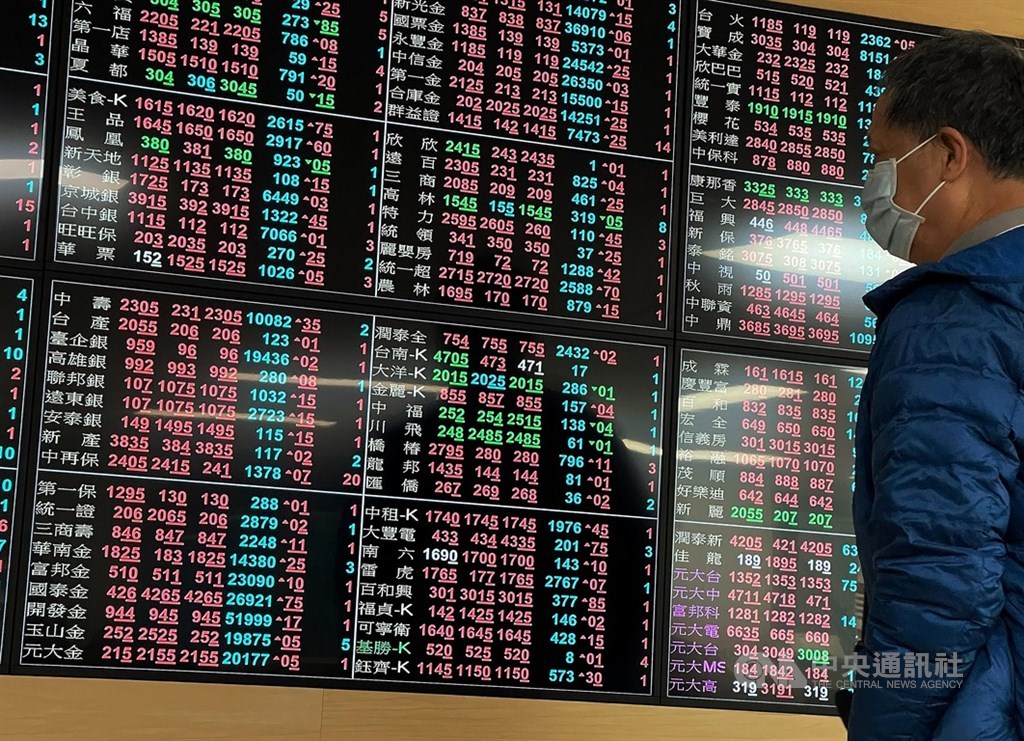 Taipei, Nov. 30 (CNA) Shares in Taiwan closed higher Tuesday after easing fears over the Omicron COVID-19 variant reversed the slump encountered in previous few sessions, creating a technical rebound.
However, after briefly touching the 20-day moving average of around 17,530 points, earlier gains were given up, according to dealers.
Turnover expanded to top the NT$400 billion (US$14.39 billion) mark as investors rushed to adjust their portfolios based on the latest adjustments by global index provider MSCI Inc., effective after the market closed.
The Taiex, the weighted index on the Taiwan Stock Exchange (TWSE), ended up 99.67 points, or 0.58 percent, at 17,427.76, after moving between 17,369.79 and 17,535.23. Turnover totaled NT$439.13 billion.
Tuesday's turnover hit a three-month high as investors lowered their holdings based on quarterly index adjustments by MSCI.
The index provider cut Taiwan's weighting in the MSCI Emerging Markets Index, which is closely watched by foreign institutional investors, by 0.08 percentage points, moving it down to 14.12 percent from the previous mark of 14.20 percent.
The market opened up 0.24 percent and buying increased significantly to boost the Taiex to the day's high. This came off the back of a rebound on United States markets, where the Dow Jones Industrial Average rose 0.61 percent, bouncing back from a 2.53 percent downturn Friday caused in part by fears over the recently detected Omicron variant.
In addition, the tech-heavy Nasdaq index and the Philadelphia Semiconductor Index surged 1.88 percent and 4.08 percent, respectively, providing a boost to Taiwanese tech stocks.
After hitting the 20-day moving average at one point, some investors shifted to selling mode, which compromised the Taiex's upturn and sent contract chipmaker Taiwan Semiconductor Manufacturing Co. (TSMC) into negative territory.
However, buying reemerged to push up the stock, leading the broader market to move away from the day's low by the end of the session, according to dealers.
"The 20-day moving average has become a high technical ceiling for now," Cathay Futures Consulting analyst Tsai Ming-han said. "So despite an initial rebound, many investors appeared reluctant to chase prices."
Tsai said that despite the markets in the U.S. making a significant comeback Monday thanks to gains attributed to reduced concerns over the Omicron virus, time would tell whether the newly detected virus would send ripples through the global economy, particularly if countries are forced to close their borders.
"The Omicron variant is still posting uncertainty, the last thing the market wants to see. It was no surprise that the Taiex's gains were eroded."
Tsai said the electronics sector, up 0.72 percent, drove gains on the broader market throughout the session, with the semiconductor sub-index up 0.65 percent.
TSMC, the local market's most heavily weighted stock and the world's largest contract chipmaker, rose 0.51 percent to close at NT$596.00. Last-ditch buying helped the stock climb out of negative territory from a low of NT$591.00 that emerged after the day's high of NT$600.00.
"TSMC remained in consolidation mode and high technical hurdles have existed ahead of NT$600.00," Tsai said.
Among other semiconductor stocks, United Microelectronics Corp., a smaller contract chipmaker, rose 2.08 percent to end at NT$63.70 on reports that the company has raised its product prices for long-term contracts.
Integrated circuit packaging and testing service provider ASE Technology Holding Co. gained 0.99 percent to close at NT$102.00. Smartphone IC designer MediaTek Inc., however, bucked the upturn trend, finishing down 1.94 percent to end at NT$1,010.00.
"The old economy sector largely fluctuated in a narrow range with the transportation sector an exception as shipping stocks were boosted by hopes that the COVID-19 variant could exacerbate port congestion worldwide to boost freight rates further," Tsai said.
The transportation sector rose 3.59 percent, with Evergreen Marine Corp., the largest container cargo shipper in Taiwan, soaring 3.75 percent to close at NT$124.50. Rivals Yang Ming Marine Transport Corp. and Wan Hai Lines Ltd. surged 5.00 percent and 2.29 percent, respectively, to end at NT$115.50 and 156.50.
Among other old economy stocks, food processing company Uni-President Enterprises Corp. lost 2.82 percent to close at NT$65.40, while rival Wei Chuan Foods Corp. added 0.68 percent to end at NT$22.30.
In the financial sector, which also benefited from late-session buying to reverse earlier losses to end up 0.15 percent, Cathay Financial Holding Co. rose 1.18 percent to close at NT$60.00.
Shanghai Commercial and Savings Bank gained 1.31 percent to end at NT$46.35, while Fubon Financial Holding Co. lost 0.54 percent to close at NT$73.10.
"In addition to the pandemic, investors also had better pay close attention to the currently strong U.S. dollar. If the currency continues to strengthen, funds could be moved by foreign institutional investors away from the region," Tsai said.
Despite the gains in the Taiex, foreign institutional investors sold a net NT$16.68 billion worth of shares on the main board Tuesday, according to the TWSE.