Taiwan shares plunge amid renewed fears over COVID-19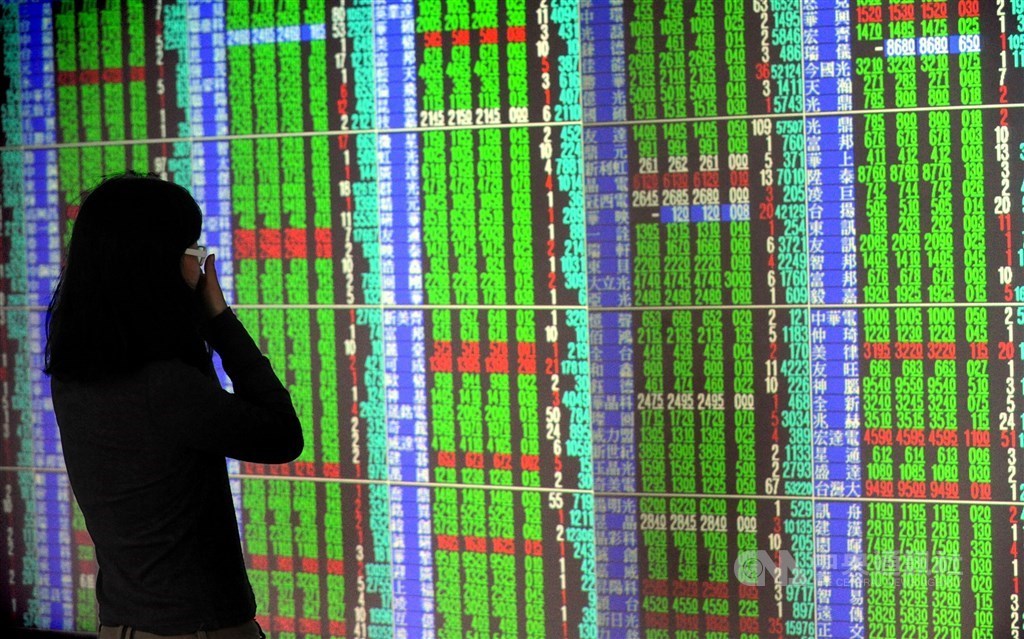 Taipei, Nov. 26 (CNA) Shares in Taiwan moved sharply lower Friday amid renewed concerns over COVID-19 as a new variant of the coronavirus variant emerged and sent Dow Jones Industrial Average futures tumbling, dealers said.
The bellwether electronics sector led the downturn, and old economy stocks, which had been resilient in the past few trading sessions, turned weaker, adding pressure to the broader market, they said.
The Taiex, the Taiwan Stock Exchange's benchmark index, ended down 284.80 points, or 1.61 percent, at 17,369.39, after moving between 17,330.44 and 17,641.79. Turnover totaled NT$353.98 billion (US$12.72 billion).
The market opened down 12.40 points and selling accelerated over the next 90 minutes as the Dow futures dove more than 1.6 percent at one point amid growing fears over the emerging B.1.1.529 COVID-19 variant, first detected in South Africa, dealers said.
The heavy downward pressure pushed the Taiex below the level of technical resistance at around 17,501 points, the 20-day moving average, and the index remained in the doldrums before recovering slightly at the end of the session, dealers added.
"Judging by the quick drop in the Taiex today, investors appeared to panic, worried that the new variant will force countries to tighten border controls or restrictions on movements of people, which could hurt the global economy," Cathay Futures Consulting analyst Tsai Ming-han said.
"Regional markets, and Taipei was no exception, reacted badly to the Dow futures dive, which pointed to an ugly beginning of the spot market later in the day," Tsai said.
Tsai said the electronics sector drove the Taiex lower initially as investors reacted to a spike in the yield on benchmark 10-year U.S. Treasury bills overnight, making tech stocks and their relatively low dividend yields look less attractive.
The rising yields on Treasury bills came after the minutes of the last Federal Reserve policymaking meeting held on Nov. 2-3 suggested that the Fed has turned more hawkish and is now willing to raise interest rates "sooner than participants currently anticipated."
"TSMC (Taiwan Semiconductor Manufacturing Co.) fell below the NT$600 mark. With its heavy weighting on the Taiex, the stock was an indicator for the market as a whole throughout the session," Tsai said.
TSMC, the most heavily weighted stock in the local market, closed 1.16 percent lower at NT$596.00. Led by TSMC, the electronics index lost 1.45 percent, and the semiconductor sub-index slid 1.37 percent.
Among other semiconductor stocks, United Microelectronics Corp., a smaller contract chipmaker in Taiwan, lost 0.79 percent to end at NT$62.50.
Earlier Friday, UMC announced it had reached a settlement with U.S.-based Micron Technology Inc. on a series of trade secret disputes by making a one-time payment of an undisclosed amount to Micron, enabling the two sides to withdraw their lawsuits against each other.
Last ditch buying in stocks such as TSMC and UMC prevented the Taiex from falling further, dealers said.
Also in the electronics sector, integrated circuit designer MediaTek Inc. lost 2.90 percent to close at NT$1,005.50, and IC packaging and testing services provider ASE Technology Holding Co. shed 2.40 percent to end at NT$101.50.
In addition, iPhone assembler Hon Hai Precision Industry Hon Hai Precision Industry Co. fell 1.43 percent to close at NT$103.50, and power management solution provider Delta Electronics Inc. lost 2.70 percent to end at NT$252.00.
"Non-tech stocks seemed to play catch-up in trending lower with their tech counterparts today after their recent resilience, indicating many investors turned more cautious on the new variant news," Tsai said.
Among the falling old economy heavyweights, China Steel Corp., the largest steel maker in Taiwan, lost 2.22 percent to close at NT$33.05, and Formosa Plastics Corp. fell 1.42 percent to end at NT$97.00.
In the transportation sector, China Airlines and rival EVA Airways both plunged 10 percent, the maximum daily decline, to close at NT$26.70 and NT$25.85, respectively, amid concerns over possible lockdowns worldwide that could affect travel demand.
But news of a new COVID-19 variant boosted biotech stocks, with test kit provider Panion & BF Biotech Inc. rising 1.86 percent to end at NT$71.30, and vaccine developer Adimmune Corp. closing 2.46 percent higher at NT$45.80.
On the over-the-counter market, Medigen Vaccine Biologics Corp. also gained 2.74 percent to end at NT$243.50.
"In the past when COVID-19 raised investor concerns, markets at home and abroad were able to manage to stage a rebound after a sharp fall," Tsai said.
"It's possible the Taiex will see more losses in the first half of next week but rebound in the second half. The affect of the new variant on markets could be short-lived."
According to the Taiwan Stock Exchange, foreign institutional investors sold a net NT$30.96 billion in shares Friday.