Hon Hai forecast to take 5% share of global EV market in 2025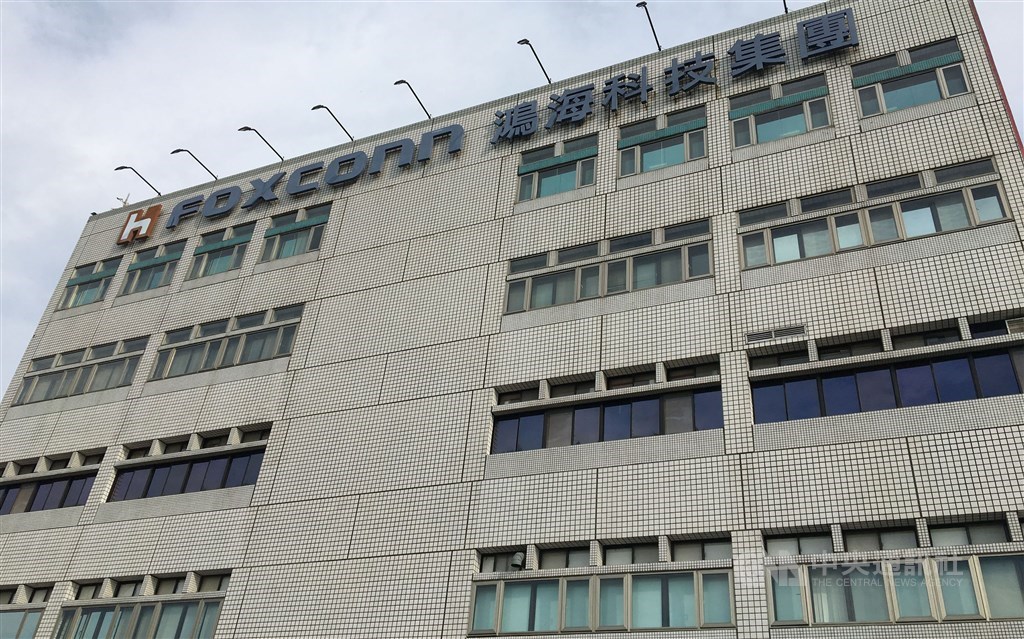 Taipei, Sept. 21 (CNA) Taiwan-based manufacturing giant Hon Hai Precision Industry Co. will grab a 5 percent share of the global electric vehicle market in 2025 in line with the company's goal, a European brokerage has forecast.
In a recent research note, the European securities house said Hon Hai, also known as Foxconn globally, is expected to generate US$30 billion in EV sales in 2025, or about 5 percent of global EV market sales that year.
Also, self-made components are expected to account for 40 percent of Hon Hai's EVs by the end of 2025, the European brokerage said.
Hon Hai has aggressively developed partnerships to build its presence in the market.
Most recently, it announced last week that it will team up with Thailand's state-owned oil supplier PTT Public Co. to invest US$1 billion to US$2 billion to set up an EV joint venture in Thailand.
The investment plan will be carried out over five to six years, and production lines, a supply chain management center and an engineering research and development center will be set up in the first two to three years of the venture, according to the company.
Hon Hai said the joint venture, which will look beyond the Thai market to other markets in Southeast Asia, hopes to produce 50,000 EVs a year, with production expected to expand to 150,000 units a year in the future.
Previously, in February, Hon Hai announced it had joined forces with Fisker Inc., a U.S. EV maker, to build a new EV model under the American brand with the goal of starting mass production by the fourth quarter of 2023.
Hon Hai Chairman Liu Young-way (劉揚偉) said production through that partnership will hit 150,000 units in 2023 and gradually grow to 300,000 to 500,000 vehicles a year in the future.
The European brokerage said the partnerships in the U.S. and Thailand will allow Hon Hai to make good use of its partners' existing assets to roll out cars, which is expected to help Hon Hai maintain an "asset light" business model and strengthen its financial performance.
A U.S.-based brokerage said Hon Hai's partnership with PTT is expected to boost Hon Hai's visibility in the ASEAN market and could generate sales for Hon Hai as early as in 2022.
Hon Hai has forecast that EV components are expected to generate more than NT$10 billion (US$361 million) in sales this year, up 40 percent from a year earlier, and that growth in 2022 could be higher.
The foreign brokerages said Hon Hai has set a goal of providing one-stop shopping services in the EV market, including supplying semiconductors to cement its presence in the market.
In early August, Hon Hai spent NT$2.52 billion to acquire a six-inch wafer fab from memory chip supplier Macronix International Co. to focus on the production of advanced semiconductors for EV use.
In recent years, Hon Hai, one of Apple's most important suppliers, has made electric vehicles a central component of its efforts to expand beyond its contract manufacturing business, under what it refers to as the "3 plus 3" initiative.
Specifically, the name refers to three emerging industries ‒ electric cars, robots and digital health care ‒ that are being developed through the application of artificial intelligence and semiconductor and communication technologies.
Hon Hai has been promoting the MIH Open Platform for EV production, hoping to build it into the "Android of the electric car industry" as part of its ongoing efforts to enter the global electric vehicle market.
An MIH event in June 2021