Taiwan shares end down, led by old economy stocks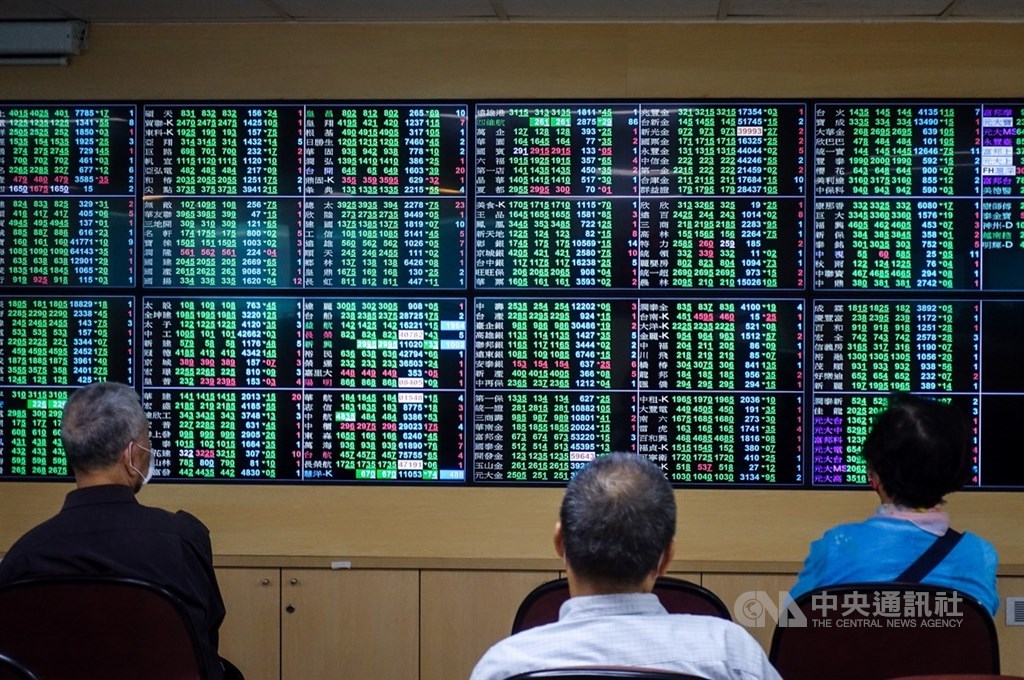 Taipei, July 30 (CNA) Shares in Taiwan moved lower Friday as pressure on select old economy stocks, especially in the shipping sector, gradually spread to other industries to push the Taiex into negative territory, dealers said.
The bellwether electronics sector, however, was resilient overall, led by large cap semiconductor stocks, preventing the broader market from falling further, they said.
The Taiex, the Taiwan Stock Exchange's (TWSE) benchmark weighted index, ended down 155.40 points, or 0.89 percent, at 17,247.41, after moving between 17,237.67 and 17,429.01. Turnover totaled NT$535.97 billion (US$19.17 billion).
The transportation sector, where many shipping stocks are traded, plunged 7.98 percent to close at 258.73 after hitting a high of 289.43, while the electronics sector ended down 0.53 percent, and the semiconductor sub-index slid 0.30 percent.
"Retail investors have been the major owners of shipping stocks, and many of them still faced margin calls despite the initial upturn today," Concord Securities analyst Kerry Huang said.
"It was no surprise that the industry remained under pressure following recent heavy losses."
Container cargo shipper Yang Ming Marine was typical of the sector, Huang said.
"After the stock tumbled 10 percent from the day's high, selling among other shipping stocks and other old economy stocks escalated amid weakening market sentiment."
Yang Ming Marine Transport Corp. fell by the maximum daily decline of 10 percent to close at NT$117.00, off a high of NT$135.00, and rival Wan Hai Lines Ltd. also plunged 10 percent to end at NT$223.50, off a high of NT$257.00.
Huang said he expect more selling in Yang Ming Marine before it comes closer to the nearest technical support at around NT$88.00. "Until then, the shipping industry is expected to remain volatile," he said.
In addition, Evergreen Marine Corp., the largest container cargo shipper in Taiwan, fell 8.65 percent to close at NT$132.00, and bulk cargo shipper Chinese Marine Transport Ltd. shed 8.95 percent to end at NT$59.00.
Elsewhere in the old economy sector, Tung Ho Textile Co. lost 3.46 percent to close at NT$15.35, and Longchen Paper & Packaging Co. dropped 2.08 percent to end at NT$28.25.
"The bright side was that the electronics sector outperformed the broader market as some semiconductor stocks bucked the downturn, providing support to the Taiex," Huang said.
In the semiconductor industry, contract chipmaker United Microelectronics Corp. (UMC) rose 5.86 percent to close at NT$57.80 as a U.S. brokerage raised its target price on the stock in the wake of its improving bottom line.
In addition, integrated circuit packaging and testing services provider ASE Technology Holding Co. gained 6.52 percent to end at NT$122.50 as the company gave a rosy picture for the third quarter.
"Another positive factor was that contract chipmaker Taiwan Semiconductor Manufacturing Co. (TSMC) stayed relatively stable, although the stock fell today. Otherwise, the Taiex would have lost more," Huang said.
TSMC, the most heavily weighted stock in the local market, lost 0.51 percent after coming off a low of NT$578.00. IC designer MediaTek Inc. fell 2.47 percent to end at NT$910.00.
Also in the electronics sector, iPhone assembler Hon Hai Precision Industry Co. fell 0.90 percent to close at NT$110.00, and its flat panel subsidiary Innolux Corp. lost 1.59 percent to end at NT$18.60.
"Today's movement showed the Taiex was faced with stiff technical hurdles ahead of 17,437 points, the 10-day moving average," Huang said.
"If shipping stocks' slide continues, the index could test the 120-day moving average of 17,166 points in the near term."
According to the TWSE, foreign institutional investors sold a net NT$17.66 billion in shares Friday.