Manufacturing sector continues fast growth in June: think tank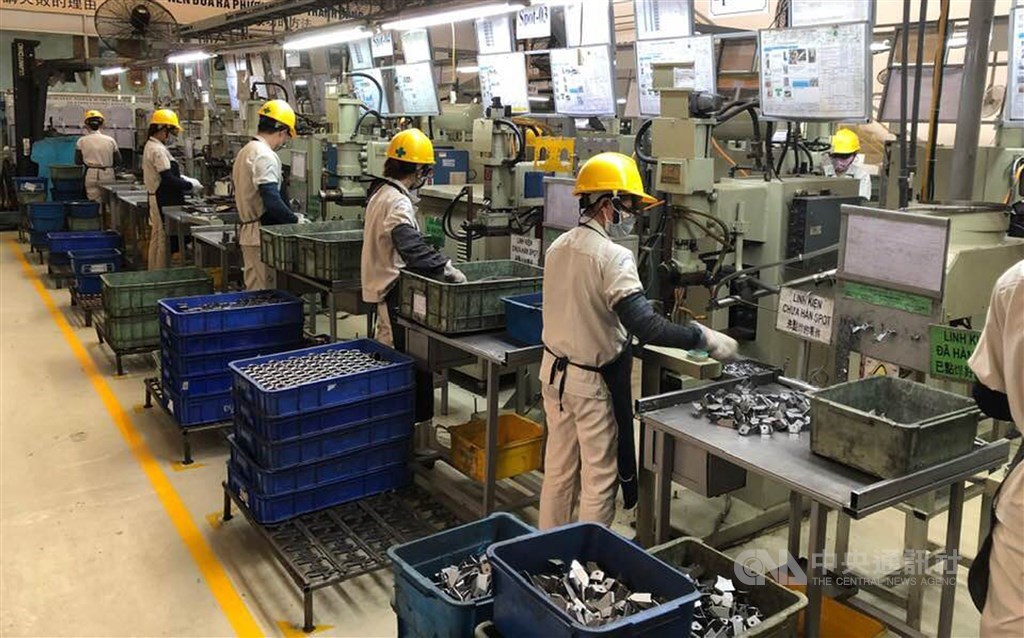 Taipei, July 30 (CNA) As the global economy recovers and many countries reopen for business, the manufacturing sector in Taiwan continued to grow at a fast pace in June, the Taiwan Institute of Economic Research (TIER) said Friday.
Despite a surge in domestically transmitted COVID-19 cases, export-oriented Taiwanese manufacturers largely remained unscathed, according to TIER, one of the leading think tanks in Taiwan.
Data compiled by TIER showed the composite index for the local manufacturing sector rose 0.78 in June from a revised 17.09 a month earlier to 17.89, flashing a "yellow-red" light for the second consecutive month. A yellow-red light represents a score from 16 to 18.5.
According to TIER, June's yellow-red light was also stronger than in January (17.08) and March (17.25). The local manufacturing sector flashed a "green light" in February and a "red" light in April.
TIER uses a five-color coded system to describe economic activity, with red indicating overheating, yellow-red showing fast growth, green representing stable growth, yellow-blue signaling sluggish growth and blue reflecting contraction.
On the back of strong global demand for both tech gadgets and raw materials from old economy industries, TIER said, manufacturers in Taiwan saw their exports and export orders continue to surge at double digit pace.
Among the five factors in the composite index for June, three moved higher with the sub-index on the general business climate up 0.48 from a month earlier, the largest growth of the five.
In addition to strong exports, TIER said, a booming stock market also boosted confidence in listed manufacturing firms.
The sub-indexes on purchases of raw materials and pricing were also up by 0.42 and 0.11, respectively, while the sub-indexes on demand and costs moved lower by 0.23 and 0.01, respectively, TIER said.
Citing a survey, TIER said 38.70 percent of respondents said their businesses flashed a red light in June, up from 31.79 percent in a similar poll in May, while 41.51 percent flashed a yellow-red light in June, compared with 48.02 percent in May, and 14.90 percent fell into the green light category in June, down from 15.33 percent in May.
In June, the electronics component industry flashed another yellow-red light on the back of emerging technologies such as 5G applications and high performance computing devices, which helped to boost semiconductor makers' operations, TIER said.
TIER noted that the plastics/rubber industry rode the wave of rising crude international crude oil prices and growing demand for raw materials, flashing a red light in June. It improved from a yellow-red light in May, while the machinery industry flashed another red light with the global high tech sector keen to purchase equipment for expansion.
In the auto industry, car sales fell 32.5 percent from a year earlier in June at a time of high alert over a rise in domestic COVID-19 cases, as firms in the sector largely flashed a green light in June, retreating from a yellow-red light in May, TIER said.
The think tank said although Taiwan lowered its alert over the domestic spread of COVID-19 on July 27, it remains to be seen whether the vaccination rate will rise to a level to effectively contain the virus spread.
In addition, the think tank said, recent serious floods in China and new waves of the COVID-19 pandemic in Southeast Asia could still affect the global supply chain and hurt Taiwan's electronics firms.