Taiwan shares end lower but recoup some early losses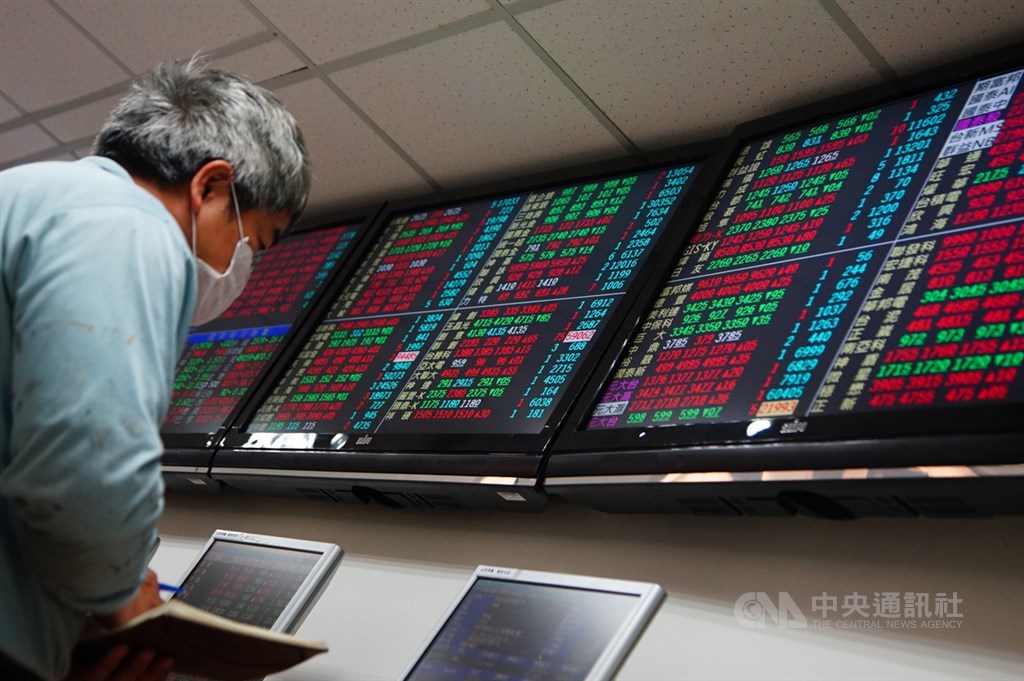 Taipei, July 28 (CNA) Shares in Taiwan closed lower Wednesday as selling focused on the bellwether electronics sector following volatility in tech stocks on U.S. markets overnight, dealers said.
The market, however, rebounded late in the session as investors bought into old economy stocks, dealers said.
The Taiex, the benchmark weighted index on the Taiwan Stock Exchange (TWSE), ended down 134.65 points, or 0.78 percent, at 17,135.22, after moving between 16,893.70 and 17,252.87. Turnover totaled NT$555.48 billion (US$19.82 billion).
The market opened down 0.10 percent and quickly fell over 370 points to below 16,900 points at one point after a 1.21 percent fall in the tech-heavy Nasdaq index and a 1.86 percent drop in the Philadelphia Semiconductor Index on Tuesday, dealers said.
Interest later picked up in the shipping and steel industries to push the Taiex back above the 17,100-point level by the end of the session, they said.
"The sell-off in semiconductor heavyweights largely reflected the losses among their American counterparts overnight," Mega International Investment Service Corp. analyst Alex Huang said.
The electronics sector lost 1.08 percent, with the semiconductor sub-index falling 1.16 percent.
Contract chipmaker United Microelectronics Corp. fell 2.45 percent to close at NT$51.80, integrated circuit designer MediaTek Inc. closed 5.12 percent lower at NT$890.00, and Novatak Microelectronics Corp., a supplier of drive ICs for flat panels, fell 6.13 percent to close at NT$490.00.
"Fortunately, Taiwan Semiconductor Manufacturing Co. (TSMC) appeared resilient, recouping most of its earlier losses. Today showed the contract chipmaker's status as an anchor to the market," Huang said.
TSMC, the most heavily weighted stock in the local market, lost 0.17 percent to end at NT$579.00 after coming off a low of NT$573.00.
Also in the electronics sector, iPhone assembler Hon Hai Precision Industry Co, lost 0.90 percent to close at NT$110.50, although Apple Inc. reported a new high for net profit in the second quarter after strong iPhone sales.
"Investors shifted their attention to concerns uttered by Apple over production material shortages in the current quarter," Huang said. "Despite strong demand, shipments could be compromised in the quarter."
Bucking the downturn, solid TV panel sales pushed up AU Optronics Corp. and rival Innolux Corp. by 3.66 percent and 2.13 percent, respectively, to end at NT$21.25 and NT$19.15.
"The shipping industry experienced a big swing today as bargain hunters took advantage of its recent heavy losses, which helped the broader market climb out of lows seen in the morning," Huang said.
"Many shipping companies are still benefiting from rising freight rates, and after their recent falls, low valuations made them look attractive," Huang said.
The transportation sector, where many shipping stocks are traded, ended up 2.54 percent at 259.27 after hitting a low of 239.49, with Evergreen Marine Corp., the largest container cargo service provider in Taiwan, rising 3.75 percent to close at NT$131.50, off a low of 116.50.
Rival Wan Hai Lines Ltd. surged 10 percent, the maximum daily increase, to end at NT$225.50, off a low of NT$199.00.
Such bargain hunting was also seen among steel stocks, including China Steel Corp., the largest steel supplier in Taiwan, which rose 0.28 percent to close at NT$35.30, and Chung Hung Steel Enterprise Corp., which gained 0.85 percent to end at NT$46.90.
"Market sentiment remained haunted by recent large foreign institutional selling," Huang said.
"Investors should pay attention to the conclusion of the U.S. Federal Reserve's two-day policymaking meeting, which could move the U.S. markets and influence foreign institutional investors' strategies toward the Taiwan market."
According to the TWSE, foreign institutional investors sold a net NT$22.02 billion in shares on the market Wednesday.