Taiwan shares end up, recouping earlier losses after Fed meeting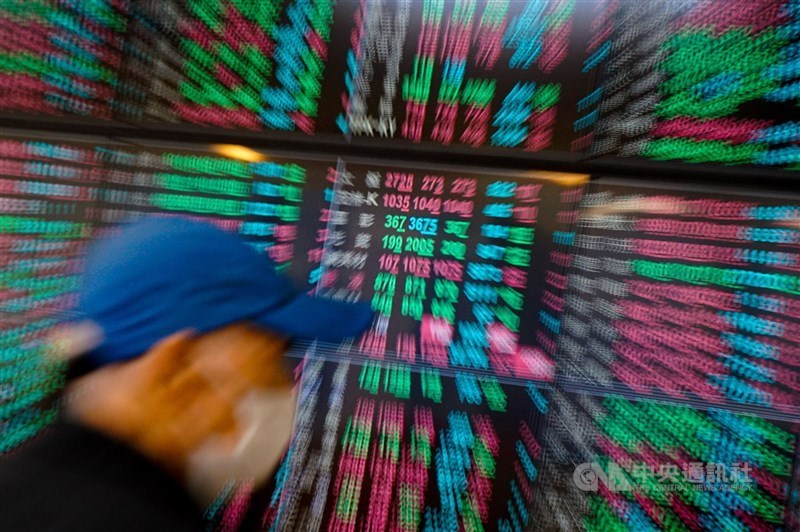 Taipei, June 17 (CNA) Shares in Taiwan closed higher Thursday after recovering from earlier losses following the initial shock caused by a U.S. Federal Reserve meeting that signaled a more hawkish stance on interest rates overnight, dealers said.
The bellwether electronics sector attracted interest, in particular in the late trading session, helping the broader market return to positive territory, while buying rotated to select old economy stocks, in particular the transportation and textile industry, providing an additional boost, they said.
The Taiex, the weighted index on the Taiwan Stock Exchange (TWSE), ended up 82.75 points, or 0.48 percent, at the day's high of 17,390.61, after coming off a low of 17,150.52. Turnover totaled NT$439.38 billion (US$15.84 billion).
The market opened down 0.31 percent in a reaction to losses on U.S. markets, where the Dow Jones Industrial Average fell 0.8 percent and the tech-heavy NASDAQ index dropped 0.2 percent after the Fed indicated interest rate hikes could come as early as 2023, dealers said,
Selling sent the Taiex down more than 150 points at one point before bargain hunters jumped onto the trading floor, picking up large tech stocks and pushing up the main board with the index ending above the previous close, they said.
"Despite the Fed's hawkish comments, the losses on the U.S. markets were not intolerable at all," said Mega International Investment Services Corp. analyst Alex Huang. "It seems too early to predict a rate hike in 2023 since the economy is faced with some uncertainty amid COVID-19 and it is possible that the Fed will change its tune."
"In Taiwan, initial losses resulted from the shock but many investors appeared to compose themselves later by picking up bargains, in particular in the electronics sector," Huang said.
The electronics sector closed up 0.64 percent at 834.25, off a low of 821.51 with the semiconductor sub-index ending up 0.44 percent.
Huang said large tech stocks, including contract chipmaker Taiwan Semiconductor Manufacturing Co. (TSMC), attracted late session buying, serving as an anchor to the main board.
TSMC, the most heavily weighted stock on the local market, rose 0.50 percent to close at the day's high of NT$606.00, coming off a low of NT$598.00. The stock returned to its prior ex-dividend level on Thursday, the ex-dividend date, indicating optimism over the company's business prospects.
Among other semiconductor stocks, United Microelectronics Corp., a smaller contract chipmaker in Taiwan, gained 1.72 percent to end at NT$53.30, off a low of NT$51.30, and shares in integrated circuit packaging and testing services provider ASE Technology Holding Co. rose 2.16 percent to close at NT$118.00, off a low of 114.50.
Bucking the upturn, IC designer MeidaTek Inc, fell 0.71 percent to close at NT$978.00, but came off an early low of NT$968.00.
Flat panel stocks came out of the doldrums from a session earlier with AU Optronics Corp. and Innolux Corp. soaring 10 percent, the maximum daily increase, to close at NT$22.85 and NT$21.00, respectively.
Also in the electronics sector, iPhone assembler Hon Hai Precision Industry Co. rose 1.35 percent to close at NT$113.00, while Largan Precision Co., a supplier of smartphone camera lenses to Apple Inc., fell 1.63 percent to end at NT$3,020.00.
"As the electronics sector turned stronger today, many non-tech stocks appeared mixed," Huang said.
Some textile stocks benefited from rotational buying with Eclat Textile Co. up 3.80 percent to close at NT$629.00, and Makalot Industrial Co. rising 1.73 percent to end at NT$264.50, but Far Eastern New Century Corp. fell 0.16 percent to close at NT$31.80.
The transportation sector ended up 3.27 percent, boosted by Evergreen Marine Corp., the largest container cargo shipper in Taiwan, which rose 2.25 percent to end at NT$136.50, and rival Yang Ming Marine Transport Corp., which jumped 8.08 percent to close at NT$140.50. However, Taiwan High Speed Rail Corp. fell 0.51 percent to end at NT$29.40.
In the financial sector, which under-performed the Taiex, down 0.19 percent, Fubon Financial Holding Co. lost 0.41 percent to close at NT$72.30 and Cathay Financial Holding Co. dropped 0.55 percent to end at NT$54.00.
"After today's gains, a further upturn is possible, but the Taiex is likely to face stiff technical resistance ahead of 17,500 points," Huang said. According to the TWSE, foreign institutional investors sold a net NT$6.87 billion worth of shares on the main board Thursday.