TSMC down but off low after American depositary receipts plunge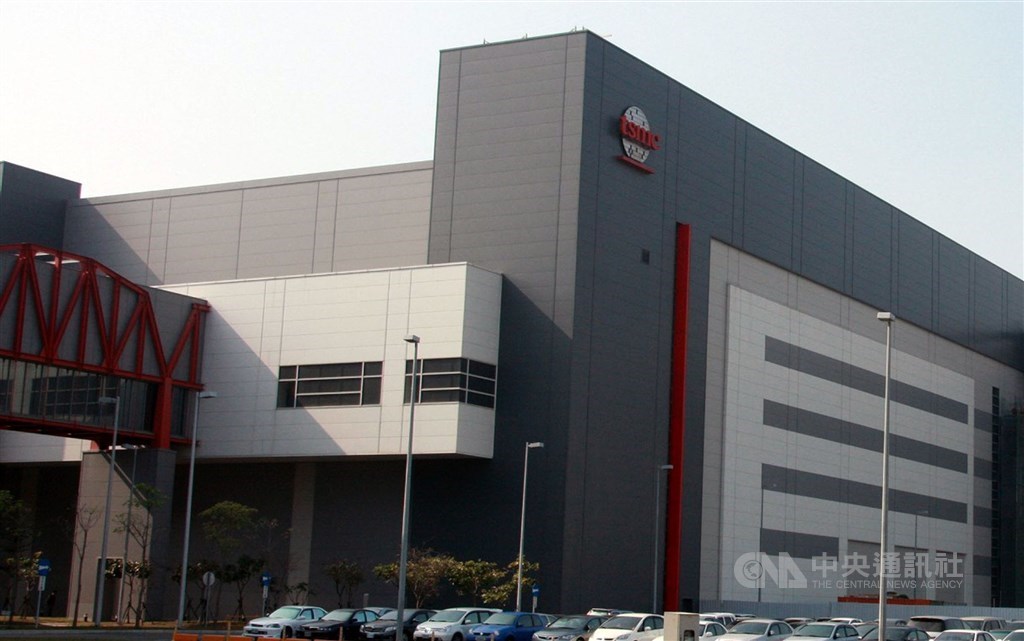 Update: Taiwan shares end down, but bounce back as TSMC recoups earlier losses
Taipei, March 5 (CNA) Shares in contract chipmaker Taiwan Semiconductor Manufacturing Co. (TSMC) suffered heavy pressure early Friday morning but came off an early low after an almost 6 percent plunge in its American depositary receipts (ADR) on U.S. markets overnight, dealers said.
Market sentiment has turned cautious over a spike in the yield of benchmark 10-year U.S. treasury bills and an increase in interest rates has impacted tech stocks like TSMC, with a high price to earnings ratio after a recent strong showing, they said.
As of 10:20 a.m., TSMC shares had fallen 0.67 percent to NT$597.00 (US$21.25), off an early low of NT$584.00 with 46.21 million shares changing hands on the Taiwan Stock Exchange, where the Taiex, the weighted index, lost 103.21 points or 0.65 percent at 15,803.20 on turnover of NT$150.25 billion. The stock opened down 2.16 percent, with investors shocked by the 5.94 percent dive in the company's ADRs on Thursday after the yield on 10-year U.S. treasury bills topped 1.5 percent overnight, dealers said.
"The increase in the bond yield was not in favor of many tech stocks with a high valuation after their shares soared in recent sessions," MasterLink Securities analyst Tom Tang said. "It was no surprise that TSMC shares dipped below the nearest technical support of NT$600 soon after the local equity market opened."
"However, compared with its ADRs, TSMC's shares in Taipei appeared resilient after recouping earlier losses. I suspect government-led funds as well as local investors rushed to pick up bargains, while foreign institutional investors stood on the sell side," Tang said.
TSMC has strong fundamentals and the pullback in the past few sessions came as investors seized on rising bond yields in the U.S. market as an excuse to lock in their profits, he added.
According to a recent research paper by U.S.-based market advisory firm IC Insights, the average revenue per wafer at TSMC, the world's largest semiconductor foundry, was US$1,634 last year, the highest among all wafer foundries globally.
"The stock is expected to see strong technical support at around NT$575.00, the 60-day trading average if it sees more downward pressure amid global volatility," Tang said.
In the semiconductor sector, which dominated the local main board Friday, United Microelectronics Corp., a smaller contract chipmaker, had lost 2.96 percent at NT$47.60, off an earlier low of NT$46.35 after its ADRs tumbled 7.39 percent overnight as of 10:20 a.m.
Integrated circuit designer MediaTek Inc. had lost 2.01 percent at NT$879.00, and IC packaging and testing services provider ASE Technology Holding Co. had dropped 0.97 percent to NT$102.00.
Also in the bellwether electronics sector, shares in iPhone assembler Hon Hai Precision Industry Co. bucked the downturn, rising 0.44 percent to NT$115.00 as of 10:20 a.m.
As for the broader market, Tang said the Taiex will continue to follow U.S. markets, in particular the movement of high tech blue chips down the road if the bond market remains unstable.
Tang said the Taiex could see technical support at around 15,200 points in the near term.